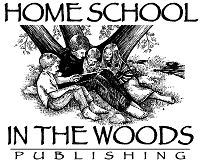 Home School in the Woods
has once again generously provided a variety of hands on history products to the Homeschool Review Crew for review. This time my youngest and I took a look at the
Make-A-State Activity Pak
, part of the
Activity-Paks
series. Crew members received other titles in the Activity-Paks series, as well as titles from the Time Travelers American History Series, the Lap-Paks, and others received the Timeline Trio, so if you've been wondering about any of these products, make sure you click through the link at the end of my post to read those reviews.
You can also check out my previous reviews for Home School in the Woods:
Activity Pak: New Testament
(2009),
Olde World Style Maps
(2010),
Great Empires Unit
(2013),
Project Passport World History Study: Ancient Egypt
(2015),
Lap-Pak: U.S. Elections
(2016)
Project Passport World History Study: Renaissance & Reformation
(2017)
My first experience with Home School in the Woods was using their New Testament Activity Pak, which is still one of my very favorite resources (I love the Armor of God project!), so I was looking forward to using the new Make-A-State Activity Pak. It is a little different than the New Testament Pak in that it allows your child to make a Lap Book for each state in the union! Shew! That's a lot of bang for your buck right there! :)
Each State Lapbook will have some similarities and some differences. Some activities use the same template for each state that just need to be filled in with the pertinent information, and others are state-specific.
Topics covered (With printing hints)
State/Generic Template (print multiple copies at once to save time)

Key State Facts
Origin of State Names
State Song
State Wildlife
Regions
Sports Teams
State Timeline
State Government
Famous People From...
Native Tribes
State Industry/Agriculture/Climate
State History
Combination~ some components are Generic and can be printed in multiples, others are Specific and only need to be printed once

State Symbols
State Quarter
State Seal and Flag
State/Specific (Print one of each page)

State Motto
State Landmarks
Recipes
State Vocabulary
State Geography
We chose to start with the state I was born in, and will move on to the state we live in, and the state where my Eldest is going to go to college, OR possibly one of the Dakota's per Youngest's interest. We're also going on a cross country road trip this summer, so he may add some states to his interest pile. ;)There are a number of ways that the Make-A-State Activity Pak can be approached. You could study them in the order they entered the Union? By Region? Alphabetically? You could simply study them as they come up in core subjects, or study them as you visit them if you are a homeschooling family on the go, or if you have relatives spread all over the place, you could start with the states of their residence.
HOW WE USED OUR ACTIVITY PAK
We received the downloadable file for this Pak, so when I want to get started on a state, I head to that folder, and click the Start.htm file which opens a browser window with a welcome and instructions on how to proceed. If you haven't ever used an Activity Pak before you will definitely want to go through the Introduction.
From there, my habit has been to print the papers needed for each activity. This can be a lengthy process (think an hour and a half for the entire project), but I like to get it done all in one fell swoop if possible. I enlisted the help of my eldest to load the printer with the colored and white paper and/or cardstocks required for each activity as they came up in the Project directions. Nice thing those directions! They tell you exactly what you'll need to complete each project. You'll see in my screen shot below that I had the project directions open. I also had the window you see on above on the left open on my computer that has all the pdf files. I find it easiest to work this way, because the directions tell me (how many) of which kind of paper to load for each activity.
I will mention that I took this printing opportunity to print a
bunch
of the pages that had multiple state information on them (ie: I printed ALL of the motto pages, so that next time I go to do a state, that will already be printed), and I printed 3 copies of all the generic project templates so that I would be ready to go with the next states that we decide to study. You can see that I ended up with a pretty hefty stack of printed pages! *Note~ one thing that I would appreciate, if any of these projects are revamped at all: Currently the pdfs for printing are all separate files, which is helpful at times. However, with the advent of smarter printers that can handle printing front and back, I would appreciate the ability to have a single pdf file with ALL the pages~ the few that require front and back printing took me sooooo much longer than they would have if I could have simply printed them "duplex."
Once the pages were printed...
I created the lapbook. The first project was to color the Montana postcard for the cover page, so we put that on right away, and then began to work through the activities. Our pace because it is summer-time was one or two projects/week, but if doing this during the school year, I would anticipate completing one/day. At that rate, you could complete one state in four weeks, as there are 20 activities for each one.
A generalized note about boys and girls and different ages~ it has been my experience that girls
tend
to be more interested in the crafty side of things~ cutting and pasting and coloring in, while boys
tend
to be more about getting the task done.
My son enjoys doing some of the coloring, but he's not big on cutting and pasting, so I pre-assembled the majority of the projects that required a little bit of fancy work (to avoid frustration on his part), and just let him fill things in. (The Industry and State Gov't booklets are cool, with pop-up pieces! ~ not a terrible rendition of the Montana State House! :) )
All this to say that if you have crafty kids, they are going to LOVE these paks, and mom will only be minimally involved~ but if not, plan to do a fair amount of cutting, gluing, and taping yourself (this isn't a problem for me, because I enjoy it!). If you have older kids (And yes, I do think this can be a valuable resource to supplement history or geography for an older student), you probably won't have to do anything beyond purchasing the paper and ink to complete it! :)
A bonus project is included~ Name that State! ~ a file folder game. I haven't created this just yet, because I want to laminate portions of it, and I just haven't had time to get that done, but I hope to do so before we head out on our road trip~ because everyone can use a little help brushing up on their US Geography! :) You can see it in the bottom right of this sample graphic...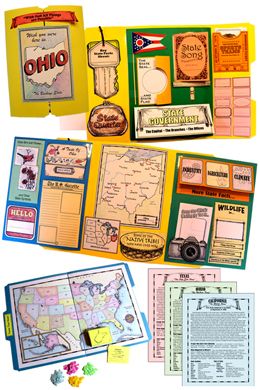 Really, for the amount of material included in this Pak, I think it is a HUGE deal. If you are planning to cover any states in detail, I highly recommend checking out Amy Pak's Make-A-State Activity Pak!
If you'd like to check out a mini project, Home School in the Woods now has an
A' La Carte page
with (currently) about 50 component projects/activities from larger packets available individually (fantastic for adding a little pizzaz to your current studies!). They are offering the Erie Canal project on that page
for free
if you use the code
alacarte
at checkout. It was specifically chosen because it is the 200th anniversary of the beginning of the canal this past week!
Not So Nutty Nitty Gritty
You can visit Home School in the Woods on their social media pages ~ I'm sure Amy Pak would be delighted to hear from you! :)
Facebook
,
Twitter
,
Pinterest
,
Google+
, and
YouTube
Please click the banner below to visit the TOS Homeschool Review Crew and see what others had to say. As always, I hope that this review was useful to you as you choose where best to spend your homeschool budget.
Blessings~