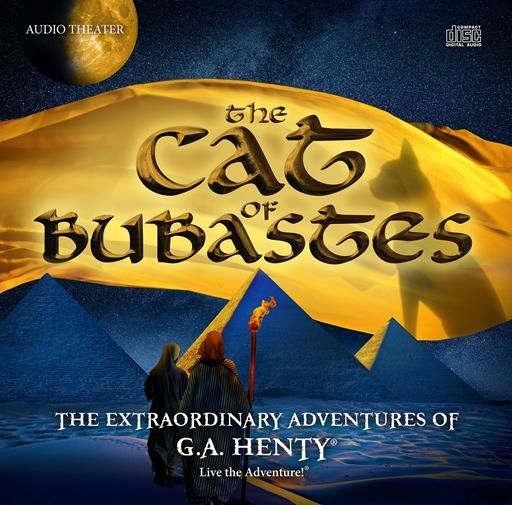 My Middlest was delighted when a package from
Heirloom Audio Productions
(HAP) arrived at our door with their latest offering (and the first Henty book I had ever read ~ as well as one of the first e-books I had ever read),
The Cat of Bubastes
audio drama. He thoroughly enjoys listening to these Audio Dramas, with exceptional actors and actresses.
*I* was delighted, because this went along quite nicely with our start to World History, Ancient History being a subject we have only lightly covered in the past.
The story follows a prince (Amuba), who is sold into slavery when the Egyptians conquer his father's kingdom. Through the story we learn about Egyptian culture, customs and religion, a major aspect being that the Egyptians highly regarded cats, and killing a cat was punishable by death, even if it was an accident...
Heirloom Audio Productions always puts out an amazing product, with highly regarded actors and actresses, as seen above. The Extraordinary Adventures of G. A. Henty will rival any audio drama for professional and riveting production. See my reviews of other Heirloom Audio Productions:
In Freedom's Cause,
With Lee in Virginia
,
The Dragon and the Raven
, and
Beric the Briton
. As you will see, we have found them all to be first-rate.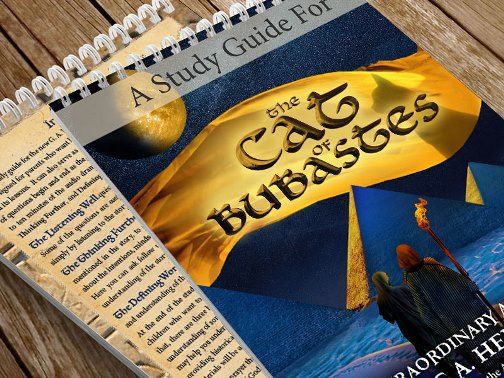 Study Guide Printed and bound
Although my son did not use the Study Guide (which is geared more toward the middle school ages), I want to take a minute to mention a few things, because I really like the way this particular guide is set up.
I discovered a detail I missed in other HAP study guides (although it is there, I just didn't notice it right away): The section of the story for each chapter in the guide is clearly listed and includes the disc and time stamps for the portion of the story being reviewed. Very helpful when your child wants to go back and listen to catch details they may have missed.
I also enjoyed reading the "Expand Your Learning" notes on many of the pages that gave background on some things that are not obvious, but add to your understanding of the culture in which the story takes place.
While every chapter/lesson doesn't include an "Expand Your Learning" note, they do all follow the same format:

Listening Well (Comprehension Questions)
Thinking Further (Deeper discussion/application questions)
Defining Words (Vocabulary).
At the end of the study guide there are some extra pages, which are also useful and interesting.
More on Ancient Egypt book suggestions and resources
Bible Studies

Bible Study 1 "God Meant it for Good"
Bible Study 2 "The Knowledge of God"
Bible Study 3 "Idolatry and Tyranny"
Here is a screen shot of the e-book from my computer screen. This works very nicely on the computer~ you can zoom in to make the text fairly large (For those who might require reading glass... ahem..). I did find that if I zoomed in, the pages refreshed in their entirety once I reached the end, but if I used "Zoom to fit" the text scrolled seamlessly, and the background remained static.
A word about the
Live the Adventures
E-Newsletter (Available as a bonus with the 4pack purchase). It includes a Kids' Corner with hands-on activities and printables for all of the Henty stories that have been produced, Parent resources (inspiring and motivational blog posts), and more.
For a little taste of the quality as well as some behind-the-scenes action, you can watch the trailer here, or directly on their
website
.
Not So Nutty Nitty Gritty
Company: Heirloom Audio Productions
Product: The Cat of Bubastes Audio Drama (2 hours)
Ages: Publisher recommended 6 - adult, My recommendation, 10 - adult
Price:

$19.97 Download Version, Includes:

Study Guide (approximately 40 pages of actual
Downloadable Poster

$29.97 Single Pack, Includes above and:
$99.97 Four-Pack (Great for Gift-giving), Includes all of the above as well as:

The Cat of Bubastes ebook with colorful graphics and illustrations
Access to Behind-the-Scenes documentary (18 minutes)
Access to Live the Adventures E-Newsletter
Printable Promotional Poster
You can visit Heirloom Audio Productions' Social Media pages here:
Facebook
,
Twitter,
Google+
, and on Instagram: @HeirloomAudioOfficial
Please click the banner below to visit the TOS Review Crew and see what others had to say. As always, I hope that this review was useful to you as you choose where best to spend your homeschool budget.
Blessings~