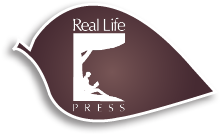 The Firmly Planted Bible Study series is set up to be just what it says, a family devotional/Bible study, although it could be appropriate for other group study situations as well (just be sure to read and adhere to copyright information for the student books). Finding devotions that are appropriate for a wide range of ages can be difficult, which makes it especially handy that the Family Study Guide is set up to be read to/with a mixed age group.
Each lesson incorporates the Scripture for the lesson (generally ESV) directly in the text. The Bible stories are condensed (with the chapters and verses designated), which on one hand makes sense (saves space, and helps with focus), but can be a little confusing if one's children know the story well, and pieces are missing from the telling ("What? Wait a minute! What happened to___? Did I miss something?"). My oldest was concerned about not reading directly from the Bible when we first started, but the Daily Devotions do give the scripture references for the lessons, which relieved her on that point.
There is a "Seed" for each lesson (The main idea) which is "Planted" in hearts via memorization (with an additional challenge for older children). A conversational discussion of the Scripture story "Waters" the seed.
The Daily Devotionals each emphasize a section of the Scripture, directing the reader/listener to think about the "Seed" in relation to their lives. Next, there is a "Digging Deeper" section for upper level students that cross-references other verses and encourages deeper thinking and discussion. Each Daily Devotional ends with "Tasting the Fruit" which is the Life Application portion of the study.
Once we completed reading/discussing the Scriptures, I gave my children some of the pages from the Student Book to further their engagement in the study (please note that families are allowed to copy pages for their own children, but in a group setting, a Student Book should be purchased for each child/family). Because I have children in 2 levels, and I wasn't planning to have them do every activity, I appreciate being able to make copies for my two older, and have my youngest only do select pages.
My youngest had some questions to answer, as well as fun activities: crosswords, word-searches, mazes and more. There are also coloring pages for the very young, or those who enjoy coloring while listening to the lesson. I loved the variety of options for the younger set especially. The comprehension questions, the puzzle worksheets and optional activities mean that there is something for everyone.
My older students participated somewhat in the Student Book activities (answering questions and filling out acrostics were some of the things they accomplished), but because they have outside Bible Studies with fairly heavy loads, I didn't have them do as much as my little guy.
For more sample pages be sure to check out the links below. :)
Not So Nutty Nitty Gritty
Visit Heidi St. John on
Facebook
,
Twitter
, and
Pinterest
Please click the banner below to visit the TOS Review Crew and see what others had to say about this and other products from Real Life Press. As always, I hope that this review was useful to you as you choose where best to spend your homeschool budget.
Blessings~