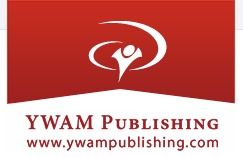 We have been fans of
YWAM Publishing
's
Christian Heroes: Then and Now
series and
Heroes of History
series for a number of years. I pick up a new title at almost every homeschool convention I attend, because my daughter, in particular, enjoys these titles. I was extremely pleased when I was offered the opportunity to review a book we didn't own, as well as the Unit Study Guide that goes with it, as I had never used one of their study guides before. Our choice was
Jim Elliot: One Great Purpose
and the
Jim Elliot: Unit Study Curriculum Guide
.
We received the ebook version of the story, as well as an ebook version of the study guide, but my understanding is that the study guides are available variously as paperbacks and CD guides.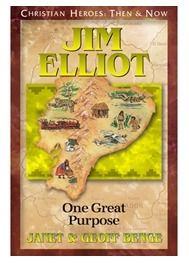 "Jim Elliot: One Great Purpose"
is 235 pages filled with the exciting and riveting account of Jim Elliot's life, mission and death (Which made world news in 1956). Although my daughter was slightly familiar with the story (Perhaps more of the Elisabeth Elliot and Nate Saint perspectives?), when she got to the climax of the story she was shocked (She had been so "into" the story that her words were "They were surprised... *I* was surprised... We were *ALL* surprised!").
The story of Jim Elliot is one of great purpose and dedication. Now that she has read his story, my daughter wants to go back and re-read Elisabeth Elliot's story, as well as Nate Saint's (which she knew not from literature, but as a background to a song by Steven Curtis Chapman). The Jim Elliot story has tied together a bunch of stories that she didn't realize were related, and really one larger story. ;)
Study Guide: The Unit Study Curriculum Guide
is 43 pages long, and covers:
Introduction ~ helpful organizational information for the classroom or homeschool teacher. It is useful to note here that this guide is written to both group and individual teachers, so not everything will be applicable.
Bible Memorization ~ 4 verses that can be used for memorization, discussion and/or devotional/display.
Display ideas ~ This is good for those families who have space and enjoy creating themed displays, with suggestions of items to include that relate to Ecuador, the Amazon, and Wycliffe Translators.
Chapter Questions ~ there are 4 questions for each chapter: a vocabulary question, a factual question, a comprehension question, and a discussion question. These would be great for the elementary/middle school student, and the discussion questions could be very easily used as writing prompts.
Student Explorations ~ these include a number of opportunities for the reader to get more involved in the story~
Essays, Creative Writing, Hands-on Projects, Audio Visual Projects, Arts and Crafts, and some Language examples. Because my daughter is a high school student, I didn't require her to do as much with these as I would for my boys, who would be more interested in some of the hands-on projects. She created a basic timeline on my ipad, which helped her to remember key personal as well as world history dates during Jim's life.

Some of the Audio Visual and Creative Writing suggestions could be very interesting and engaging if you have a student who is geared in that direction!
Community Links ~ I felt this section was more geared towards a classroom setting with field trip and "Invited speaker" suggestions.
Social Studies ~ This section has a large variety of geographical jumping off points~ including mapwork, familiarity with the setting, geographical vocabulary, and questions that relate to the cultural, geographical and political details of the setting. There are maps included for a lot of this work.
Related Themes ~ offers some suggestions for planning purposes~ to help round out the unit study potential, there are suggestions for other related topics that could be pursued following or concurrently with this study.
Culminating Event Ideas ~ Suggestions on a spectacular wrap-up for the unit, not limited to food ideas, as well as activity/presentation ideas. I know that there are many families who have the occasion to create and present a fantastic event with their children. My children are bears when it comes to presenting *anything* so I didn't push on this section either. ;)
There are an additional 10 pages of resources (Books, documentaries, internet sites, and articles) and an appendix with answers to the chapter questions.
I will say that I find the e-version of the curriculum guide to be a little more difficult to navigate, and work from. I would like the ability to highlight and flip back and forth between pages. If you are like me that way, you might prefer to choose a guide that comes in the paperback printed version, *or* print pages from the CD version. :)
The YWAM books are written on a very readable level, and this was no exception. Because of the content and outcome of the story, and because I *do* have children who are "sensitive" when they are on the younger side of things, I actually only had my 16 yo read this one. I think my 13 yo could handle it, but am saving it for just a little later for him. I couldn't use it as a read-aloud because it would have been too much for my 6 yo. As with all reading material, use your own discretion.
There are certainly biographies in this series as well as the history series that are appropriate for even the most sensitive reader/listener, so check them out!
Finally, I want to mention that there are some
bonus materials
for all of the Heroes books available on the website that include samples, coloring pages, maps, crossword puzzles and word puzzles, so you can get a taste of what they are all about for yourself.
Not So Nutty Nitty Gritty
Please click the banner below to visit the TOS Review Crew and see what others had to say. As always, I hope that this review was useful to you as you choose where best to spend your homeschool budget.
Blessings~