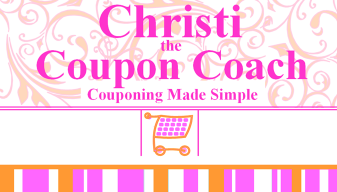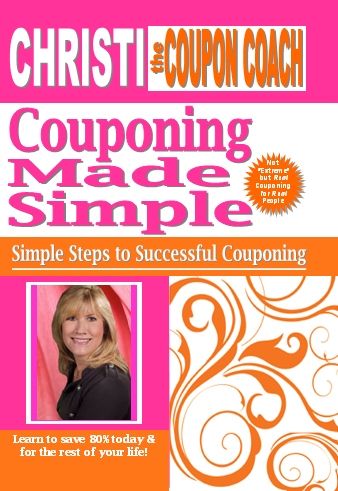 This next review is not a "Homeschool Product" review, although it *is* written by a homeschooling mom! Christi Bassford aka
Christi the Coupon Coach
offered her book
Couponing Made Simple
as a Molly Review, which is a branch of the TOS Review Crew. Most of us hope to be good stewards of our resources, and Christi's book is a great "kick-starter" for those who are looking to save money on their purchases.
Christi's book is 10 chapters long and covers the following:
Success Stories ~ This chapter starts off by giving some examples from real shopping trips, with photos of the products, their total list price, and the price paid/amount saved. It's really a way to help on see that couponing CAN make a difference, even if one is not inclined to be an "Extreme Couponer."
A New Way to Shop ~ A short chapter that introduces the concept of couponing today vs couponing years ago~ The stores are a little different, and the resources vary much more widely now than they did before the internet!
The Language of Couponing ~ is what is says~ if you don't know what blinkies, BOGO, OOP, Coupon Kiosk and Stacking are, or what they have to do with saving money, you will by the end of this chapter! :)
Organization System~ Christi shares her coupon organization system in this chapter. While I already have a system set up (File folders for each month, with 4 colored sheets in each folder. Each week's set of coupons from the Sunday paper goes in the folder by date, with each week separated by a colored sheet), Christi's is very useful, especially for those who are able to take advantage of her suggestion to purchase multiple Sunday papers (For the coupon inserts). I don't think that my simple system would work as well if I had that many inserts to deal with.

In general, this is one of the most useful pieces of information for the person who is just beginning to coupon, as the "Set-up" can seem terribly overwhelming. Having a step-by-step process to follow can help.
Step-by-Step Process ~ Christi has an 8-step process (Sounds scary, but really it isn't!) from getting the coupons to planning the shopping trip to celebrating and sharing.

The most time-consuming portion of this process (For me, anyway) is researching the upcoming deals and planning my trip(s).

While Christi doesn't list any online resources in her book, you can find some of her favorites linked on her website. The resources that I use the most are HotCouponWorld (Love their coupon database if I'm looking for something specific) and CouponMom. I use CouponMom to plan most of my shopping trips, except those to our local grocery store (Market Basket) as they don't have their sales listed online. *Note~ you do have to sign up as a member of CouponMom, but they do not spam you, and I've never had any issues with them.
Tips & Tools ~ This fairly lengthy chapter goes over some things that will continue to help you save money. These are tips that it can take quite awhile to glean if you are doing this on your own, and even though I've been a semi-regular couponer for a few years, there were some tips that I hadn't thought about. Her main couponing rules are reinforced in this chapter:


Rule #1 - Buy on Sale

Rule # 2 - Stack Coupons

Couponing Ethics ~ It is unfortunate that this chapter even had to be written, but apparently there is a fair amount of coupon fraud. Everyone might accidentally hand a cashier an expired coupon once or twice, but things like copying coupons, and grabbing "peelies" off products you aren't purchasing really are not the right thing to do. Christi shares an story where she was able to be a great example to her children.
Networking & Communicating ~ This chapter talks about networking amongst couponers, sharing their knowledge, and sharing deals~ just a little more about "why" it can be helpful.
Bonus Section ~ discusses yard sales and thrift stores, which could be new to some folks.
Beyond Couponing ~ Christi shares her heart, and the message about the greatest deal in Heaven or on Earth. :)
Much of the material covered in this book is material that I was familiar with, but it was gleaned over many years of using coupons, and visiting various websites. It is really nice to have it all written down in one place! I think this could be a good book to help
anyone
start couponing and saving money.
For those who think their eating habits (ie, from scratch, whole foods, etc..) don't coincide with couponing, they might be surprised! There are coupons for cleaning supplies (including sponges), health and beauty supplies, paper products (Doesn't everyone buy trash bags?), and sometimes there are even coupons for milk and 100% juice! It's worth checking out! :) Even living in the northeast where we don't have all the grocery stores with amazing deals that exist down south and in mid-America, I have been able to save a fair amount of money using coupons and drugstore loyalty programs.
Not So Nutty Nitty Gritty
I hope this review has been helpful to you, as you choose where to spend your money, and contemplate where you can save it!
Blessings~