Supplementing traditional learning is something homeschoolers understand very well, as do many other-schooled families. Many of my children's friends have parents who are effectively taking on their children's education themselves "After-school hours," as they explain the math, help stimulate ideas for projects, and read the text aloud for those who are more audio learners. For those who are interested in some sort of supplementation, particularly audio/visual,
Zane Education
is worth a look.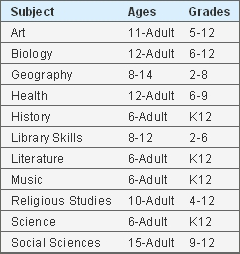 Zane Education
offers
online educational videos
for all of the subjects you see listed in the chart on the left. There are 1544 videos that cover 384 topics. That is a LOT of information!
In addition to the videos themselves, teacher resources are provided in the form of Lesson Plans and
quizzes.
The videos tend to be narrated stills, and each one is entirely subtitled. The subtitles are what Zane Education calls
the missing piece.
From the managing director of Zane Education:
"The typical child finds the opportunity to learn visually much more fun, interesting and compelling – and it often helps motivate their desire to learn. However for those children with special abilities and special educational needs, it offers an opportunity that the more traditional text-based style of learning often does not, or cannot satisfy. Similarly, if you are the parent of a child learning English as a Second Language, you will quickly find the difference it makes.

The benefits of the audio-visual nature of video combined with the essential subtitling should not be ignored."
I will admit that the range of videos is rather stunning, so it is rather helpful to utilize the array of
catalogs and user guides
that can be downloaded (note: scroll down the linked page to locate the user guides). It may also be wise, when contemplating Art, Science, History and Health videos to use parental discretion(Nudes in the art section, evolution in Science and History, and sex education are topics to be aware of).
What we liked:
The vast array of topics, particularly history, music, and science!
A variety of narrators
Number of resources available beyond the videos (quizzes, guides, etc...)
The range of ages for which videos are available
Availability of a Christian Learning Guide written specifically for the Zane videos which helps to present the Christian Worldview. This is most useful for high school aged students, and parents.
What we didn't like:
The inability to enlarge the screen
The icons on the screen that don't appear to do anything
Inclusion of the aforementioned "PG-ish" and/or humanistic topics, although they could be good springboards for discussion if you determine your children are the right ages for that.
The slightly dated feel of some of the videos (Not a deal-breaker, just not current in visual appeal)
To sum up, I feel that Zane Education Online Videos are a little bit like having an audio-visual encyclopedia at hand~ great for introducing, supplementing, and researching MANY topics.
Disclaimer: I received this/these item(s)/service for free as part of the TOS Review Crew Program. I was not required to write a positive review. The opinions I have expressed are my own. I am disclosing this in accordance with the Federal Trade Commission's 16 CFR, Part 255: "Guides Concerning the Use of Endorsements and Testimonials in Advertising."