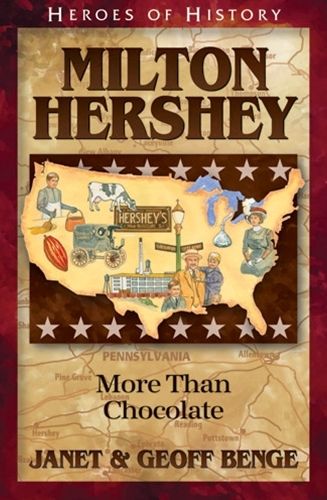 My family always enjoys receiving new books to read, and some of us are especially fond of
YWAM Publishing
books. We have been purchasing books from their
Christian Heroes: Then & Now
series for years (possibly even a decade +!), and I always appreciate the opportunity to review their books as well. I was particularly excited to receive
Heroes of History: Milton Hershey
from the
Heros of History series
(currently 27 books published in this series!) for review.
We have been interested in Hershey, PA since 2006 when we first visited on our initial "Great American Road Trip." My (then) two kids and I were delighted with the "Sweet" lights and even a picturesque drugstore wall... we even were able to find that wall 10 years later for a photo op this past summer!
Our interest was piqued even more when my daughter and son briefly visited the Hershey School in 2014 when they were in PA on a youth group evangelism trip.
Now, my daughter is going to college not too far away, on the other side of Harrisburg, PA, and one of her soon-to-be classmates is a soon-to-be-graduate of the Hershey School. (You can
click on this link
to view a video on the Milton Hershey School's facebook page that features this student and others as the walk the elementary school halls in their caps and gowns~ inspiration! ).
OK, so on with the Review!
This was a perfect book for my 9 year old to read and enjoy (and pique *his* interest in Hershey as well), so I let him read it... after I finished. :) His big sister is next in line, and eventually his older brother will get a chance to check it out.
Although I knew about the Hershey School thanks to my older kids' visit, I really knew very little about Milton Hershey (in spite of going on the Hershey Factory tour with the singing cows both in 2006 and 2016). What an amazing rags to riches story this is... a story of perseverance, character, and ingenuity as well as generosity and love. Milton Hershey was a great man who amazingly enough held on to his humility in spite of his riches.
YWAM has developed study guides to go with the books in their series in both
Downloadable
and
CD format
. They have created documents with helps on how to use the study guides in various settings, including homeschooling, group, and classroom settings (I appreciate that they are making their materials accessible for a variety of learning environments!). Some of these resources included in the study guide are also available on their website on the
bonus materials tab
. You can check that page out for more information including word puzzles, coloring pages, samples, maps, chronologies of the books, and more. Definitely an informative page!
We received the downloadable study guide on Milton Hershey to check out for this review. The file downloads as a zip file, and opens as an html document in your browser.
Here is a screenshot of the Table of Contents to give you an idea of how the study guide is set up (Aren't the kisses cute? Just like the street lights in Hershey!) :
The Key Quotes included are great for memorization or copy work.
The Display Corner gives ideas for those who have space for it. For this particular study it includes fun things like Hershey Kisses as well as suggestions of books, pictures and other items that would coordinate with this particular story.
The Chapter Questions are comprehension questions~ pretty straight-forward there.
Student Explorations include suggestions for a variety of age groups: Essay/Research Topics, Creative Writing assignments, Hands-oh Projects, Audio/Visual Projects, and Arts and Crafts projects.
Community Links give suggestions for taking the study outside your home or classroom by going on a field trip, or bringing someone into your classroom/co-op group.
Social Studies includes Places, Journeys, Terms/Vocabulary, Geographical Characteristics of places Milton Hershey lived or visited, Timeline, and Conceptual Questions concerning the social history of Pennsylvania.
Related Themes to Explore includes charts with topic suggestions for History, Math, Science, Literature, and Business
The Books and Resources Appendix includes titles and descriptions for many books, movies, and articles (suitable for a variety of different ages) that may enhance your study of Milton Hershey if you so choose, as well as a number of websites that can be visited to add to the wealth of knowledge you and your children will be acquiring.
Not So Nutty Nitty Gritty
This was one of my bookworm boy's favorite books of late ~ he kept popping his head out to tell me some nugget he'd just learned about Milton Hershey and his life. I love that he is so invested in this biography, as Milton Hershey led a life of great character, with excellent values, and I don't mind if Youngest chooses to model that at all!
And who knew~ America's love affair with chocolate (Hershey Chocolate to be precise) has been the source of countless lives changed and given opportunities they otherwise would not have had~ but you need to read the book to get the whole story! So many things to learn, appreciate and enjoy about the man, Milton Hershey. His trials, triumphs, creativity, and genuine care for those around him make for an inspiring read for all ages!
Company: YWAM Publishing
Product: Heroes of History: Milton Hershey
Ages: Publisher recommended age 10+ (Unusual for me, I would actually say 8+ is fine with this particular story. If you read my reviews often, you will know that I'm very conservative in my age recommendations. ;)
Price: List Price $9.99/ YWAM Price $7.50
You can visit YWAM on their social media pages:
Please click the banner below to visit the TOS Homeschool Review Crew and see what others had to say about this book or any one of the others that were reviewed this time around. As always, I hope that this review was useful to you as you choose where best to spend your homeschool budget.
Blessings~