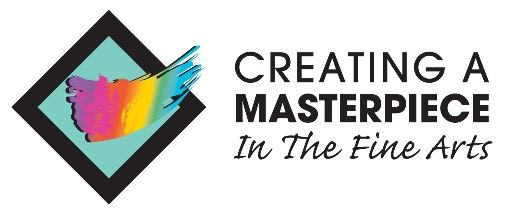 This is turning out to be an "artsy" year for us!
Creating a Masterpiece
allowed me to have art projects to explore with all of my age groups for this review, with access to many techniques, media, and levels through a
Monthly Plan
subscription.
About the Program
Sharon Hofer offers detailed video classes in a wide variety of media. I meant it when I said there was something for everyone! There are lessons in:
Acrylic, Batik, Block Printing, Conte Crayon, Copper Tooling, Glass Mosaic, Ink, Oil Painting, Oil Pastel, Pencil/Charcoal, Sculpture, Silk Painting, Soft Pastel, Watercolor, and Wood Burning
Each level offers eight or nine projects. The Beginners Level projects are completed in one lesson (which is broken down into smaller segments) and can be done by children as young as 4 years of age! Level 1-5 projects take three to seven lessons to complete, and the complexity increases with the level. Again, each lesson is broken down into smaller segments, and should take around an hour to complete. There is also an Art in History level offering seven projects. Some are suitable for younger children, others are more advanced.
Our Experiences With Creating A Masterpiece
Aren't these pretty??? So many shades!
We sampled a few different projects, with multiple students/artistic levels/abilities.
The first one attempted was the
free sample project
offered on the website. Youngest and I pulled out our old chalk pastels and some black construction paper and... well, we discovered that sometimes using the cheap stuff really isn't the best. Time to purchase some black "pastel" paper and some "soft" pastels, which are a little different from chalk pastels.
*Side note: Sharon Hofer definitely suggests using the best supplies available that you can afford, and she maintains links for the supplies required for each lesson to Dick Blick Art Supplies on her website. I will note here that Dick Blick generally has some of the lowest prices around for quality merchandise if you are looking to purchase online ~ Having an art education major in the family next year, I've been checking out resources, and Dick Blick is great! :)
OK, on with the review~
Youngest angsted over his work as he frequently does, but second time through, using the new paper and pastels I set him up with the lesson on the ipad and left him to his own devices (this particular day I was getting ready for an outside activity, taking a shower, running around like crazy, and didn't have time to offer him "at his elbow" support and guidance). Although there were a couple of shouted questions through the bathroom door, I didn't really do a thing besides offer encouragement.
I was delighted by the end result and so was he:
He was so incredibly proud of his work, and insisted that we go purchase a frame to hang it on the wall immediately. :) (I have to admit that I was pretty proud of his accomplishment as well!)
His other project was in a medium that I really don't have much technical experience with, watercolor painting.
I think that perhaps his paper wasn't quite as wet as was recommended (hard to judge these things through a video), so he will be trying this another time, but even so, it turned out alright.
Pencil in hand to sign his masterpiece...
I do need to note that I did assist a little on this one, as he needed guidance in how to hold and use a flat brush, so some of the strokes are mine, or guided by my hand. Again, I'm interested to see how this turns out on a second go around.

I fiddled around with this project as well:
Middlest tried his hand at wood burning (handy that I had a wood burning tool from a project I undertook decades ago~ less handy that the tip broke part-way through... again with the quality tools?). Even with the snag, I think we've finally hit on an artistic endeavor my 16 year old enjoys and may continue. I do have to note that he chose not to do the actual project (a lion), but went with something he loves... fish...
I will note here that if you have a dedicated school space, or art space that would be ideal for some of these projects. My upstairs hallway smelled like a campfire (a nice campfire smell, not a stinky campfire smell, but a campfire smell none-the-less...). However, my home is old and has weird air-flow, and I expect that your experience will be different than mine. ;)
A couple of things to mention~ Sharon does speak through the early lessons to the 4-6 year old crowd (she may come off as "talking down" to an older child), so your older students might be a little put off by her tone but the instruction is solid, so I recommend that this be a lesson in being attentive even if one doesn't care for the tone. I did find that it changed in the higher levels, although Sharon still maintains her cheerful encouragement, which in and of itself is a good thing. :)
I also want to address the cost. I seldom mention anything about cost, as every homeschool family has a different financial structure. I just want to mention that if one were to spring for a local art class for one student it would $15-$17.50/ one hour class (price-checked in my area today). Ten weeks of classes run $150-$175/ student. While these video classes remove the feedback of in person classes, and are not "inexpensive" they *are* an economical choice when considering art classes for just one child, and even more so if there is more than one in the family.
This isn't your run-of-the-mill video art instruction. I feel your children really will create their own "masterpieces" that they (and you) will be proud of, and will want to share if you choose to use Creating a Masterpiece as part of your homeschool art instruction.
Not So Nutty Nitty Gritty
Company: Creating a Masterpiece
Product: Monthly Plan
Ages: PreK-Adult
Price: $39.99/month (Alternate plans are available, $349/year, individual level access starting at $119/year, and group membership plans)
Visit Creating a Masterpiece on
Facebook
Please click the banner below to visit the TOS Homeschool Review Crew and see what others had to say. As always, I hope that this review was useful to you as you choose where best to spend your homeschool budget.
Blessings~