High school science can be a tricky subject for many homeschoolers and their parents, wouldn't you agree? There are solid textbook curricula, which I used for my eldest, but textbooks aren't always the best answer for different types of learners. I am grateful to have been given the chance to preview
Chemistry 101
, one of three DVD courses offered by
The 101 Series
.
My Middlest is doing Biology this year, so this was a chance for ME to check out an alternative Chemistry course for his use next year. I did not take Chemistry in high school, so this is also a good way for me to get a handle on what he'll be learning.
A short back-story~ my Eldest used a more traditional Chemistry curriculum. As I have been watching the lessons on our TV, she has been "listening along" as she works on a piece of art, and expressed the feeling that Chemistry 101 would have been much more interesting for her.
Video
The video production is excellent, which isn't surprising when you realize that Wes Olson has 15 years of corporate film production experience. Each lesson is very well done, with excellent "lecture" set in in visually interesting backgrounds (fields, streams, libraries, the home, etc...) interspersed with narrated multi-media presentations.
The "lessons" definitely caught my Eldest's attention, as well as my Youngest's (Middlest was elsewhere doing his schoolwork, which is fine, because he'll be seeing this next year :). That is another point in Westfield Studio's favor~ the videos are geared towards the high schooler, but as the producers are homeschoolers themselves, with a variety of ages, they made great effort (in my opinion) to ensure that the videos were family friendly and appropriate for most ages. As I am writing my review, and watching a portion of a lesson again to catch some details, my Youngest is sitting beside me asking if we can finish watching the lesson that included "The Grand K." If that isn't an endorsement to the engaging quality of the DVD portion of the course I don't know what is!
I am sure that this will be an engaging course for my "Techie" Middlest, who greatly prefers to watch and listen versus read.
Guidebook
Included on the last DVD in the case is a pdf Guidebook, which is essentially the text book for the course. It includes and expands on the material presented in the DVD lessons. There are interesting side bars, discussion questions, and multiple choice quizzes.
I appreciate all of the above, although I might wish that there were some slightly more rigorous testing options for portfolio purposes. However, in true homeschool form, and following my favorite methodology, much of the assessment of your student's comprehension comes in during times of discussion, so I can't complain too loudly. :)
Schedule and Course Accreditation
Speaking of High School portfolios and credits, there is also a file on the DVD that gives a comprehensive schedule, with estimates on the time spent for the course, and places to record actual time spent if this is how you assess credit hours. I know that this schedule is going to come in handy with my Middlest, as he does well when his requirements are clearly spelled out.
I am very impressed with what I've seen so far, and believe this will be a good fit for my family. Be sure to check out the other reviews which will include more reviews on Chemistry 101, as well as
Physics 101
and
Biology 101
.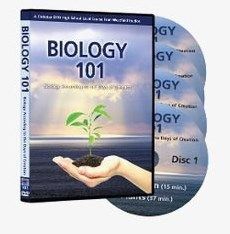 Not So Nutty Nitty Gritty
You can visit The 101 Series on
Facebook
,
Twitter,
and
Pinterest
Please click the banner below to visit the TOS Review Crew and see what others had to say. As always, I hope that this review was useful to you as you choose where best to spend your homeschool budget.
Blessings~