Every once in awhile I like to post some of the notes from our local homeschool support group meetings, in the event that they might offer some helpful information to the general public. ;)
Our October meeting started off with Sally Clarkson and a devotion on the importance of prayer~ how praying for our children is important for both them and us! It's a very good read, if you happen to have time to click on over.
Next we discussed some of the different styles of homeschooling. This was particularly helpful for those who have only been acquainted with traditional schooling.
I found a fabulous blog post by Pam Barnhill that discusses many styles of homeschooling, listing pros and cons, as well as offering resources to further explore each one. One of my favorite resources for each style was a link to an interview with a family that utilizes that method. I was delighted to see my Five In A Row friend Heather Woodie listed for the Unit Study method.
Pam's post covers the following methods:
Unit Studies

Charlotte Mason

School-in-a-Box (Or "School-at-Home")

Classical

Unschooling
She doesn't discuss the "Eclectic" homeschooler, which is more where I fall, so I'll discuss that a little bit here. As you might guess from the description "Eclectic" I don't fall 100% into any of the other categories. Part of that is because of my role for the past 8 years as a reviewer of homeschool curriculum for The Old Schoolhouse Homeschool Review Crew... which means that I receive a variety of things to review that fall into many different categories.
I am, at heart, a Unit study homeschooler. I love the concept of using a specific topic or piece of literature as the base, and pulling in Science, History, Geography, Literature Arts, Writing tools and Art that relate to the topic or book. My very favorite elementary curriculum, Five In A Row, is a Literature Based Unit study. I love the simplicity of the manual, and the conversational style of learning.
If you like to add more bells and whistles you can get lost in the world of Pinterest. However, Pinterest and Facebook pose the danger of becoming overwhelmed with all you *could* do, as well as potentially losing the accessible ease that is the core of this curriculum. Whenever I hear "It's too much work!" in relation to Five In A Row, I know that the person has been looking at resources beyond the manuals, and my advice is to KISS (Keep It Simple, Sweetie).
Examples of some FIAR-inspired activities
Whenever I hear "It's not enough!" I *might* recommend checking out a few of the Pinterest ideas, but by and large, just reading and talking about the concepts, and doing the activities recommended in the manual is more than enough, and trust me~ your children will retain what they learn with Five In A Row... I have a graduated child who recalls her years with Five In A Row, and the lessons learned with great fondness.
OK, so now you know I love Unit Studies~ what else works for me, and my children? I tend to go for the Charlotte Mason "Nature Study" approach as well. The members of my family all tend to be fairly appreciative of and notice the small things that make this world so beautiful, and declare the Glory of God in such amazing ways, both big and small, so a focus on "nature" is a natural fit for us. If you search "Charlotte Mason Inspiration" on my blog you will find a set of posts A-Y (I haven't come up with a "Z" just yet) that are photos with Charlotte Mason Quotes on them. Hopefully you'll take a look, and be inspired! :) Here's an example:
Ambleside Online is a good place to check for Charlotte Mason resources...

I like some Classical ideas like a history rotation, but our unit studies send us off track chronologically on a regular basis, so I haven't ever fully implemented the Classical model. I had one child who loved Latin, so I suppose that leans more on the classical side of things.
Unschooling~ well, we go with "rabbit trails" to some degree, and I suppose you could consider our National Parks visits this summer something along those lines...
We don't do much School-in-a-Box, although my oldest two LOVED their spelling workbooks (even though they are fairly natural spellers). They liked having that weekly "Busy-work" and the challenge of improving their test score from Monday to Friday, but I think that is as close as we get to traditional school, unless you include some of their math and science, which tend to follow a more traditional style of text, quizzes, tests.
As you can tell, we truly are fairly eclectic in our approach. :)

The conversation turned to History (Classical) and "Living Books" a'la Charlotte Mason, and I had some resources to suggest there as well:

The Mystery of History is something of a Classical Unit Study approach, with a Christian Worldview, and something that we are using this year, along with readings from The Story of the World (Classical). I have a review on my blog from a few years ago that includes the second volume of Mystery of History if you'd like to take a look at that~ We are using the 1st volume for Ancient History this year.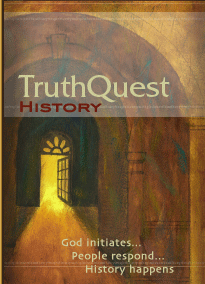 I mentioned TruthQuest History which uses a "Spine" text, and then has loads of great book recommendations for reading. Love this resource! Truthquest introduces each section and then lists books, film, audio and activities by grade level, along with a very brief summary of the resource (sometimes one sentence, sometimes a paragraph). Check my blog for a review of this curriculum from a few years ago. I get excited just looking at it again myself! :)

Another resource (pretty much just a list of literature with notations as to whether or not they are from a Christian Perspective) is "All Through the Ages" History through Literature Guide by Christine Miller. This is another nice resource to have on hand.
This discussion led to talking about some really good historical fiction books, which may end up being a future series of posts... but I wanted to include a few books that were mentioned specifically~
The Next Fine Day
is one of those stories/classics by Elizabeth Yates that hasn't received a lot of press, but is one of my favorites~ I enjoyed the gentle and lovely unfolding of this beautiful story as a young boy, struggling with his worth learns that he *is* important.
Swallows and Amazons
by Arthur Ransome isn't really about birds and South American Natives. Instead it tells (with very British Flavour) the adventures of the Walker children, Nancy and Peggy Blackett (the Amazons) and a little catboat (The Swallow) with the stories starting in the 1930's or so. This is the first book in the series and any child who dreams of spending their days on their own, outdoors, exploring and solving mysteries will surely enjoy these books. What a great set of books to read on lazy summer afternoons! (Or cozy Autumn or Winter afternoons...) :)
The Trumpeter of Krakow
was one of the Middle Ages books that I recommended, probably for the tween/early teen set. Based on Polish history and legend, it is set in a time an place that doesn't receive nearly as much press as many others.
I think I'll leave my historical book suggestions here, and add them to a future post or two or three...
This week at Apple-Picking I mentioned another series by an author friend of mine that is not historical fiction, but fantasy for the younger set... (Copying from a previous post)



Eisley Jacobs is a great Indy Author who writes sci-fi/fantasy books




Her most recent series Dragons Forever is currently a trilogy (Hoping there might be additional stories to be told???)
**UPDATE** Book 4, Dragons and the Ruse will be published in the near future.
In
Born to be a Dragon
we are introduced to Meia (the orphan girl) and Deglan (the dragon). The worlds of human and dragon collide, and it is high adventure as Meia and Deglan begin to unravel the tangled web that has woven the two of them together...
Blink of a Dragon
is my daughter's favorite in the triology as well as mine. This is the book that we both read and thought "THIS book needs to be made into a movie!" Wow~ so descriptive and action-packed. Super themes of great character and personal development as Meia and Deglan search for the only way that their world(s) can be saved, and send the rising dark dragons away.
Dragons of the Deep
brings the story to Scotland and the ever-enchanting (?) setting of Loch Ness, as Meia hopes to unlock more of the mystery of her past, and Deglan continues to fight back the forces of evil that would like to destroy both humans and dragons forever.
If you like reading books on an electronic device,
Dragons Forever Series, Books 1-3
are available as a set on Amazon...
I hope you enjoyed this peek into our monthly support group meeting, and maybe I'll see you again here (Or in person) again next month! :)
Blessings~