Three years ago, when I was heading towards the end of my first year on the TOS Crew I received a hard copy of TruthQuest History: American History for Young Students III (grades 1-6), for review.
TruthQuest History
~ What's that???
A QUEST for TRUTH in the study of history?
How does one find TRUTH in the past?
The typical frame of mind and worldview that public/secular schooling presents is that history is just events, and the dates, places and people related to those events. Michelle Miller would like to take that view of history and turn it on its head! She has put together a history program framework that looks at the BIG PICTURE using "binocular" lenses that focus on two "Big Beliefs" or main questions. Your answers to those two questions will color everything that you think and believe about the past, present and future, and indeed will shape the "history" of YOUR life.
The two Big Beliefs have been around for
millenia
~
Who is God?
Who is Man?
You will find, succinctly distilled, that a secular worldview and a
Judeo
-Christian worldview will see history through very different-colored lenses.
The secular worldview will see events as being orchestrated solely by man, because in the secular worldview, MAN is the driving force on earth.
The Judeo-Christian worldview sees God as the driving, indeed the CREATING force on the Earth, and that the study of history is actually the study of HIS-Story.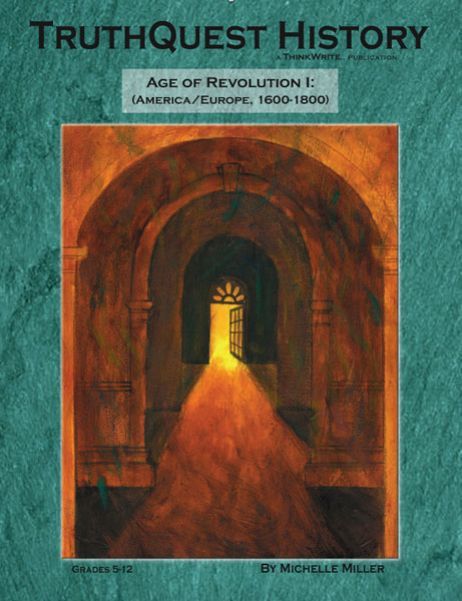 This looking at the Big Two Beliefs as they relate to HIStory continues into the high school years, and I was excited to have a look at The Age of Revolution I (America/Europe, 1600-1800) for grades 5-12. *Note~ I received the PDF downloadable version of this guide for review.
My children were very pleased with the way TruthQuest approaches history. It starts with a discussion that introduces the general time-period, and occasional
ThinkWrite
questions, which give your students things to look for in their reading. Then comes the meat of this program~ Reading, Reading, and more Reading! Michelle Miller has put together huge lists of available resources. She includes:
Spines, Insight Books, Snapshot Books
Topic Specific books that include a mix of fiction and non fiction.
One of the big things to remember when using TruthQuest guides is that it is almost impossible to read every resource listed, and as a matter of fact it would be overkill to do so. Having such a wide variety of books and resources listed is one of the
strengths
of this program, as it doesn't rely on only one or two texts that may or may not be currently in print, but it
can
be intimidating~ remember to pick and choose! So far I have been able to request from my library or through Inter-Library Loan a more than reasonable number of books for each topic that we have looked at.
So, WHY were my kids so happy with this way to learn?
Well, for one thing, we chose one (Typically) historical fiction title to read aloud. This is one of the things that they enjoy the most, but sometimes it is one of the things that gets neglected because it is time consuming. I admit that reading aloud to your student isn't REQUIRED by TruthQuest, but *I* highly recommend it~ even into the high school years. (For more on why reading aloud is so important, check out this excerpt from Jim Trelease's book The Read-Aloud Handbook*). We had some interesting discussions based on the stories that we read, and we built some good memories as well.
My next point was appreciated more by the bookworm (Eldest) than her brother. Depending on how many I could locate, I assigned 1-2 extra books to each of them (At middle and high school levels) for their own silent reading.
How much they are remembering with this 2-pronged approach to reading history. Absolutely fascinating.
Now, I have to say that I *could* have added worksheets and we *could* have made minute books, or utilized some of the companion resources(by
A Journey Through Learning
) offered on the
TruthQuest website
(scroll down to view each manual and the corresponding companion materials), however, we just read and discussed.
From a planning standpoint, I looked at the table of contents, and figured out where we were in our American history, and we picked up from there. I chose to spend 1-2 weeks on each topic that we read about in general, so that I wouldn't have to read more than 3-6 chapters in any given book each day. I really appreciate how flexible this program is, although I have a suspicion that I might have been intimidated by it as a new homeschooler (That
smorgasbord
concept can be
difficult
to deal with. Just like the real thing, it's so to tempting to overload your plate, and then not feel very good afterwards. Be picky~ choose only as much as will work best for your family! Don't *stuff* your kids... even with good *stuff*... or they will get SICK!)
I do have one thing that I noticed in the manual that bothered me just the tiniest bit(not at all a big deal, really, but my kids picked up it too, thus I must mention it). Because the manuals are written in a first person narrative~ TO the student, and because they were clearly written in an orderly manner, we kept running into phrases that referenced topics covered in earlier time periods and manuals (
you already know.... , you remember...., etc....
). If you are picking up TruthQuest NOT at the beginning of history, you may get this "I missed out" feeling that we were experiencing. Like I said~ not a big deal, but something that might be worded differently in future editions.
Wow! Is that the only negative I have to present? Um.... yeah, I think so~ Although I'm not positive yet that it will work for my purposes as a totally Stand-Alone History Curriculum, I know I appreciate TruthQuest as a
resource
when studying any historical time-period their guides cover.
Just a quick note about the PDF version~ I realize that not everyone has e-reader capability, but more and more folks are utilizing them, so I thought I'd include a little bit of our experiences here. I have an ipad, and both of my older children have an itouch. I finally purchased an app that is extremely useful, and can be used on all of our devices. ~ I open the file in
pdf-notes
and highlight the books I want to look for at the library. I can add a checkmark in another color if we've actually checked the book out, and I have also added hand-written notes, adding in resources that I have, so that I don't forget to utilize them. Oh, and I can highlight books that we own in our home-library in another color as well. Pretty cool! :)
Alright now for the Nitty-Gritty~
Product~ TruthQuest History Guides
Price~ $24.95 to $34.95 for printed copies, $19.95 to $29.95 for pdf versions
Ages~ American History Guides for Young Students (grades 1-5) World History, American/European (grades 5-12)
Samples for each guide available on the product purchase page
How to choose the appropriate level, or how to place multiple children is addressed very competently by TruthQuest on this page as well as 1-8 year plans for covering History. (I appreciate their treatment of Ancient History, for example... The question, then, may be whether your young child is capable of this analytical look at Greek beliefs, or will he be spiritually confused if he hears mythology only as adventurous stories? Families with both older and younger children can, of course, feel free to cautiously include the youngsters in studying ancient history as God directs, and many, many families have successfully and enjoyably done so. Other families decide to have their younger children wait to study the ancients until they are older, and instead put their (American) children into our special "American History for Young Students" series. )
FAQs and How to Use TruthQuest are addressed
For more reviews of TruthQuest History Guides, (including reviews from Beginnings to AD 2000) please check out the
Crew Blog.
As always, I hope that this review was helpful to you as you choose where to spend your homeschool dollars. If you have questions about this or any other product I've reviewed, please feel free to ask them in the comments, and I'll do my best to answer! :)
Blessings~
Disclaimer: I received this/these item(s)/service for free as part of the TOS Crew Review Program. I was not required to write a positive review. The opinions I have expressed are my own. I am disclosing this in accordance with the Federal Trade Commission's 16 CFR, Part 255: "Guides Concerning the Use of Endorsements and Testimonials in Advertising."