Because my favorite overall curriculum for Youngest's age is more of a literary unit study, with science topics that skip around topically to follow the curriculum, he hasn't done as many complete science curriculums (even though I own a few). I have been interested to see how he would take to a
new-to-us
online resource,
Science Shepherd
's
Introductory Science
.
Science Shepherd (as might be inferred from the name), is a Christian Worldview, Creation Science company offering Introductory Science for ages 6-11, Life Science for Jr. High/Middle School, and Biology for High School. While we are reviewing Introductory Science (Level B), others on the Crew are reviewing Introductory Science Level A, Life Science and Biology, so if you have a younger or older student, you might want to check their reviews out through the link at the bottom of this post.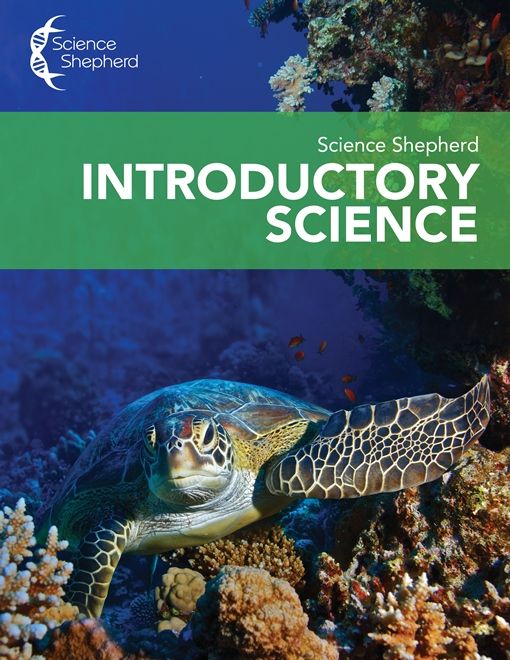 On with the review! :)
The backbone of Introductory Science is the online video content (which takes the place of a textbook). Host Scott Hardin, MD uses photos and graphics to to underscore the information being presented in his lecture. Dr. Hardin has a very calm voice which is pleasant to listen to. This is a huge plus for my children who have rather discriminating ears, and can be turned off by too much hype. ;)
Screenshots of some of the "Rock" information in the introductory Geology week.
As Dr. Hardin speaks, there are 4 possible screen areas used for illustration, creating an interesting slide-show type of presentation. The videos are short and direct (2-5 minutes each), and are to be followed up with worksheets in the Science Workbook (which comes in two levels A for ages 6-8, and B for ages 9-11). The videos are the same for both levels, and can be accessed through any browser, including tablets, which makes this a great "on the go" option. :)
The workbook (383 pages for Level B) and video lessons are split into 35 weeks, with daily lessons each week. The units include:
Introduction (God's word is true/Creation/Science Skills and Tools)
Earth Science

Meteorology
Geology
Oceanography
Astronomy

Life Science

Plants
Underwater Creatures
Flying Creatures
Land Creatures
Human Beings
Be Healthy
Ecology and Natural Resources

Physical Science

Matter
Energy
Motion
Magnets
The Worksheets include fill-in-the blank, multiple choice, matching, wordsearch, crossword, true and false, and some open-ended questions. Fairly well rounded. :)
Because the lessons (both video and worksheets) are of fairly short duration, those with a traditional school frame of mind might wonder if this is rigorous enough. In this instance, I am very pleased with the Charlotte Mason-like quality of Science Shepherd BECAUSE it keeps the lessons short and sweet and to the point. When there is less "stuff" it is easier to focus on the details. :) It also makes for a happy boy who can complete his lessons quickly, and move on.
We used a mix of doing the short lessons daily, and sometimes doing a whole week at once, depending on the topic and our schedule. Either way works well, and Youngest has been retaining the information gained, regardless of the way we approached the lessons.I liked the ability to set him up with the video lessons and the workbook pages, and not be required to be right at his side as he worked through it. The beginning of an independent learner. ;)
Optional activities can be found in the video portion as well as the workbook portion of the curriculum. Sometimes it is drawing pictures, and making lists/charts. We also saw the option to make a pinecone/peanut-butter birdfeeder, and a quick scan of the meteorology unit showed experiments showing storm activation and building an anemometer. We skipped the Meteorology Unit, having covered that fairly recently, and moved on into the Geology Unit. The first week in this unit didn't have any hands-on experiments, but next week is the ever-popular volcano (vinegar and baking soda) experiment and and erosion activity. The experiments are explained in the workbook, and illustrated by video. Love that reinforcement of a concept.
While there aren't really any tests for this curriculum, it would be an easy thing to use the unit review puzzles to create your own tests (with or without word-banks), if you are so inclined.
My son has enjoyed using this curriculum, and I appreciate the Biblical Worldview, as new articles pop up with regularity showing advances in Science continue to prove the Word of God true.
Not So Nutty Nitty Gritty
Company: Science Shepherd
Product: Introductory Science
Ages: 6-11 years old
Price:

Video Course $35 for one year access
Introductory Science Workbook~ Level B $15

An Answer Key is available for each workbook for $3
Science Shepherd can be visited on the following Social Media pages:
Please click the banner below to visit the TOS Review Crew and see what others had to say about this, and the other Science Shepherd courses. As always, I hope that this review was useful to you as you choose where best to spend your homeschool budget.
Blessings~