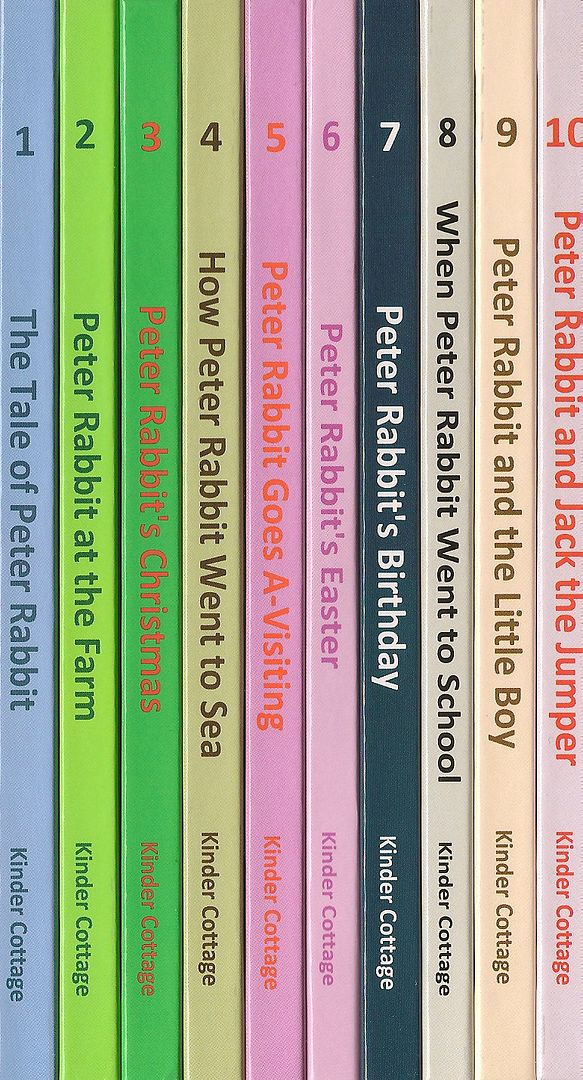 Have I mentioned that I enjoy books? I am delighted when I get to review books, and some of my very favorites are children's books! This latest review falls into the nostalgic children's book category.
Kinder Cottage Publishing
, a small publishing company has republished a series of Peter Rabbit books originally published in the early 1920's by the Henry Altemus Company. We received two of the books to read and review,
Peter Rabbit and the Little Boy
, and
Peter Rabbit and Jack the Jumper
.
These books have old-fashioned illustrations that I love, and the stories mirror many of the moralistic children's books of the time (with the common theme of obeying parents).
The further adventures of Peter Rabbit will be familiar to those who have read of Peter, Flopsy, Mopsy, and Cottontail. Peter continues to get into mischief in one way or another, sometimes simply having fun, and other times a little more willfully, as one might expect. Peter Rabbit sometimes encounters somewhat frightening situations, but it all comes right in the end.
Peter Rabbit and the Little Boy:
Peter Rabbit is off on his adventures once again~ this time after a few bits of excitement (including a somewhat frightening encounter with a "Scissors Man" ~ listening to Mother Rabbit and staying home would have been a better choice~ Littlest didn't like this part, and said the Scissors Man was a "creepy guy"), Peter and his friend Jack end up playing with.... a McGregor!
Mr. McGregor's grandson seems to be at loose ends on his own, and is happy to befriend the two rabbits, generously giving them some of his toys.
Peter Rabbit and Jack the Jumper:
Peter once again has *not* obeyed his mother and stayed at home with his sisters. Instead he goes frolicking with his friend Jack. They visit Mr. McGregor's garden, where they are frightened in a somewhat surprising manner, that might make your child chuckle. Peter gets stung by some bees while trying to be helpful, and I found it interesting that a folk remedy of plantain leaves was used to relieve the pain, as we have been known to use plantain from our yard for bug bites.
Peter has a few more adventures with his friend, including a delightful interlude with a hurdy-gurdy man and his dancing daughter.
When all is said and done, Peter decides that he is HAPPY to be home, safe and sound with his mother and sisters, and he vows never to run away again!
These 64 page 5x7 hardcover books from Kinder Cottage are a nice size for tucking into a bag on the run, or for littler hands to page through on their own, once they know the story.
Littlest liked it when the characters Peter met were kind, and also when Peter was thoughtful and kind himself. He most emphatically did NOT like the Scissors Man, as mentioned before.
I like the stories for an afternoon read, and they would be the perfect go-along for a unit on Rabbits, gardening, or even a unit on obedience. :)
Not So Nutty Nitty Gritty
Currently my Readers are being offered a 20% discount off the product price on the website with the coupon code TOS.
Please click the banner below to visit the TOS Review Crew and see what others had to say. As always, I hope that this review was useful to you as you choose where best to spend your homeschool budget.
Blessings~