I reviewed
IXL Math
(an online Math program membership) about a year and a half ago with my two boys (then 6th grade and Pre-K) I was blessed to once again receive a subscription for review (With my boys being in 8th and 1st grade this year). A few things have changed since then, the major difference being that IXL has added Algebra 2 and Geometry to their offerings, as well as
Language Arts
for grades 2-4. However, I cannot speak to those additions, as they are not applicable to my boys' ages and the work they are currently doing (be sure to read through to the end, and click on the link to read other Crew Reviews, as I am sure that some of them covered the Language Arts and upper level math additions).

Because not too much of the program that we used has changed since we reviewed it before,
and
I think it gave a pretty good overview, I will link here to my
June, 2012 review
(I hope you'll take a minute to click over and read it).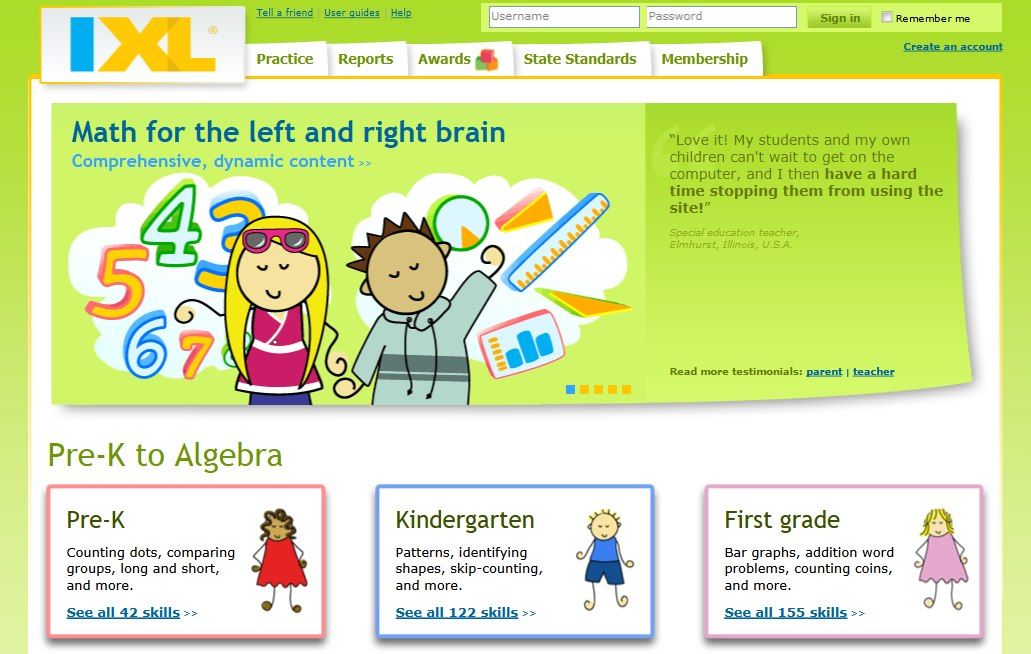 Some of the basics~
Beginning in 2nd grade, there are over 200 "skills" that available for your child to practice and gain mastery of (PreK-1st have less). If you have to align your curriculum to state standards, IXL makes it easy. If you are more eclectic, and/or your children learn at varying paces, IXL allows for that as well, by making ALL of their skill sets available to every subscription.
Screenshots from pages Littlest was working on.
(Dog and Marble pages were taken at his request because he liked the pictures)
There are different kinds of math problems:
Those that are simply math sentences (ie 5+8=__)
Problems that include graphics
Problems that require the child to choose from multiple choice, or to type in the correct answer.

These are ways to engage children with different learning styles, but without a huge number of bells and whistles.
Prek-1st grade pages offer audio, so that pre-readers don't entirely need an adult nearby. They can click the Audio button to have the problems read to them (in an admittedly automated voice, so inflections are sometimes odd and/or confusing, but since this is math, that's not really an issue. :) )
The student can work systematically through the skills based on topic, or they can try to complete challenges by going to the awards page and clicking on a question-marked square. It will let them know how many skills or which specific skills they need to complete in order to reveal the "sticker" under that square.
We did discover that the older students get fancier stickers, (which may cause a little discontent~ Littlest (1st grade) really hopes to find some fish stickers, and "Animated" stickers like the ones Middlest (8th grade) has found ~ but then again, it's a good lesson in character training).
Both boys have enjoyed the report emails that I've gotten with certificates of achievement~ it's pretty cool to realize that you've completed over 1000 math problems correctly, and to have that recognized.
Middlest still enjoys the ability to skip around and try different topics, although I'm thinking that he needs to apply himself a little more to completing a few of the categories...
Littlest really likes getting his award stickers, so we tend to base his "path" on the reward chart, choosing to complete skills that will earn his stickers.
I still wish that there was an overall "placement" test, so that time wouldn't be spent on skills that have already been mastered, but then again, it really doesn't take long to whip through a skill that is familiar territory.
Not So Nutty Nitty Gritty
Please click the banner below to visit the TOS Review Crew and see what others had to say. As always, I hope that this review was useful to you as you choose where best to spend your homeschool budget.
Blessings~