Finally, after YEARS of mentioning the potential of learning "French" to my eldest, she finally acquiesced when we were given the opportunity to review
French Essentials
's
Full Access Online Program
Middlest came along for the ride, and Littlest sometimes participated.
French Essentials is a unique product, in that it offers something of a classroom experience in the comfort of your own home using a variety of multimedia presentations.
The "Core" lessons are downloaded pdf files with audio and video enabled. They must be viewed through Adobe Reader and not a generic pdf viewer (like Preview on my MAC) in order for these special features to work.
We were fairly impressed with these techie pdf files!
We particularly enjoyed watching M. Legnetil as he spoke the words of each lesson. Very clear and precise! We decided that this was quite helpful, as sometimes the woman in the audio portions of the lesson wasn't quite as clear.

*Funny story that goes with that last comment. Eldest was doing the very first workbook page from Lesson 1, with the following instructions: In this exercise your instructor will spell out an English word (with French letters). Click the box (in the pdf on your computer) to hear the letters. Then, fill in the blanks (on the sheet you printed) with the letters that you hear to complete the word.
She found the first 6 words to be rather easy, but the 6th word had her stumped... "BEOBNU.... What kind of word is that?" Turns out that she had trouble catching some of the sounds... the word really was PEOPLE. It gave us a laugh, at any rate.
Back to the beginning:
Once you have logged in, you will see something like this:

The Download area is where you will download the mulitmedia PDF zip files for each lesson in each module.
In some of the Modules there will be a "parent corner" that is found at the bottom of that modules lesson download page~ this usually includes a "Checklist" as well as the printable exercises and the "key" to those exercises... make sure you scroll all the way down to find them!
Here are a couple of samples of the videos found embedded in the lessons:
and as the lessons and vocabulary grow, so do the videos~ real conversation here!
The online Exercises make use of the website Quizlet for each lesson's exercises and tests. They are reached easily by clicking through to the correct module (As seen below) and then to the correct exercise or test for each lesson.
My kids have enjoyed using Quizlet in the past, so they were pleased to have something familiar to use in this curriculum.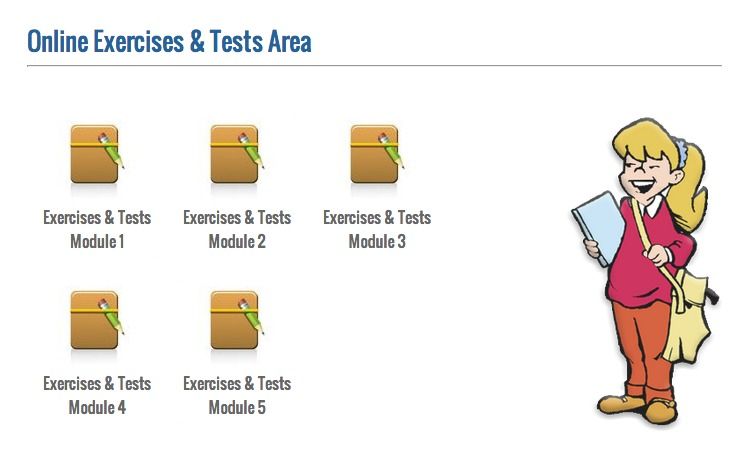 The final area of that can be explored online focuses on the culture of France, with some interesting information found in various pdf files and photos.
There are samples of each Module (Found on
this page
... scroll down).
Some of the unique hallmarks of this learning experience include:
Audio: the ability to hear the words spoken as they are seen on the page
Video: which incorporates watching, listening, repeating and speaking
Workbooks: printable exercises that reinforce grammar and sentence structure
The authors of the curriculum are a married couple from Quebec who got their start tutoring homeschoolers by request. They clearly have a background in the language, teaching, and they understand the homeschool community.


Not So Nutty Nitty Gritty
We have been very pleased with our first foray into French Language education.
There are a couple of quirks, like sometimes having a hard time hearing/understanding some of the female instructors in the lesson audios. However, that isn't much of an issue, when M. Legnetil speaks so clearly~ and he usually shows up somewhere in the lesson. :)
By and large I think this is a very well laid out program, with many ways to engage your learner, whether their strengths are audio, visual, or kinesthetic.
Company: French Essentials
Product: Full Access Online Program
Ages: currently 3rd/4th grade - 7th/8th grade
Price: $149.95 for full access to all modules for one year
(Stress-free download the lessons and workbook exercises)
$69.95 for access to an individual module for 90 days
*Note~ once the lessons and workbooks are downloaded, you can access them at any time, including up to and beyond the year or 90 days~ that time frame appears to be strictly for downloading purposes.
Please click the banner below to visit the TOS Review Crew and see what others had to say. As always, I hope that this review was useful to you as you choose where best to spend your homeschool budget.
Blessings~