As part of the TOS Review Crew I've had opportunity to review
Kinderbach
a number of times, in
2009
,
2010
, and this past spring
2012
(Click on the dates to read my reviews). Kinderbach is an introduction to piano playing, timing, rhythm, notations, etc~ for the early elementary crowd, via the use of videos and printable activities. So... can there possibly be anything new for me to say about Kinderbach?
Yes, indeed~ Kinderbach's new app for the iPad is now available. Because my Littlest is frequently found using apps on my iPad, I was pleased to check the Kinderbach app out.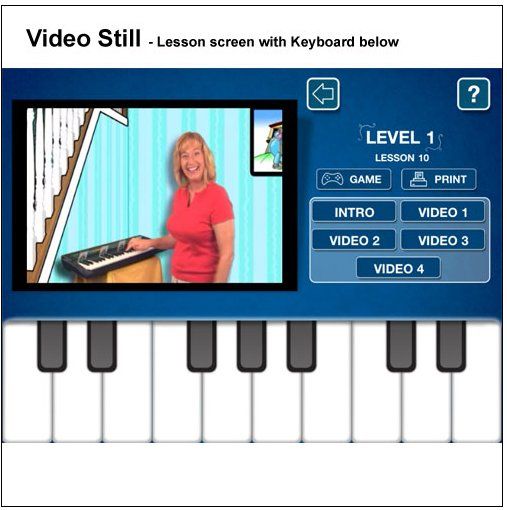 One major benefit that I see in our household, is that the iPad screen incorporates a "working keyboard", as you can see in this picture. The keyboard can be played at any point, and is obviously just as portable as the iPad. :) That means that once each lesson video is downloaded, the lesson can be accessed anywhere, without benefit of a connection, and without the need of a physical piano or keyboard. Although nothing can take the place of playing on real keys, this is a pretty decent alternative for those who don't have easy access to a piano, or have only a small keyboard for use.
I also like the fact that the keyboard is right there, in front of you, so that there is no looking up to the screen, then down to the keys for early learners.
There are a couple of potential "Cons" to note~
If you don't have a compatible air-printer, then you will be unable to print the pages that go along with each lesson from the student activity book. The student activity books are available for a separate fee ($1.99 each or all 3 for $5.95) via a link in the app (Check out the ? on any lesson page in the app~ it will bring you to a "FAQ" page, and the link to purchase the Student book pdf's is under the "How do I print the lesson pages" question). However, hopefully your printer is more up-to-date than mine, and this won't be an issue for you (Thankfully it wasn't an issue for me either, as I had the student activity books downloaded from my previous reviews). Littlest certainly enjoyed having his pictures to color this time around. He is definitely in the right target age for this music curriculum.
If your children are used to a variety of other apps that ask them to do something (Say, color something in), then usually they can do that right on the screen. At this point, the Kinderbach app does not have that capability, and just like the online or DVD lessons, those aforementioned student activity pages are to be printed, and colored in while watching the lesson. This may be a little disconcerting to kids who are used to full iPad interactivity.
I wish there was a way to mark each lesson as having been watched, as sometimes we forget what lesson we're on, AND that way I could see if Boyo decides to go skipping ahead. Not a big deal, but would be helpful.
The app includes some mini-games for each level. Unfortunately there was some unforeseen coding confusion (Thanks to an Apple update), so the more advanced game for the level my boyo is on wasn't working. However, the developers were on it, and a fix should be done this week. Youngest is anxiously awaiting the opportunity to finally try the game out!
Not So Nutty Nitty Gritty
Company: Kinderbach
Product: Kinderbach iPad App (levels 1, 2, &3)
Ages:3-7 years old
Price:Free 2 lesson trial~ "School edition" reviewed costs $26.99
All in all, this is a nice way for Littlest to take control of his music time (Because he certainly knows his way around the iPad). I do need to make sure that I have the appropriate pages from the student book printed up, and I tend to participate with him during the musical games, but in general he can go play a video/lesson any time he wants.
Please click the banner below to visit the TOS Review Crew and see what others had to say about the ipad app, and the online lessons, which were also being reviewed. As always, I hope that this review was useful to you as you choose where best to spend your homeschool budget.
Blessings~
Disclaimer: I received this/these item(s)/service for free as part of the TOS Review Crew Program. I was not required to write a positive review. The opinions I have expressed are my own. I am disclosing this in accordance with the Federal Trade Commission's 16 CFR, Part 255: "Guides Concerning the Use of Endorsements and Testimonials in Advertising."