I have heard about a
A Thomas Jefferson Education
(TJED) for awhile now, and been intrigued by the concept. I mean, what exactly is A Thomas Jefferson Education? I was recently given a chance to find out as part of the Schoolhouse Review Crew. We were given a subscription to the online resource
This Week In History
, one of the offerings of Oliver and Rachel DeMille, founders of
A Thomas Jefferson Education.
The basic concepts behind TJED are utilizing classics, and mentoring~ the style of learning/teaching that many of our founding fathers were raised with. Those familiar with Charlotte Mason's style of education will recognize many similarities, I think.
7 Keys of Great Teaching according to Oliver DeMille (
Italics are my comments
)
Classics not Textbooks (including original sources when possible)
Mentors not Professors (Discover strengths and weaknesses and tailor the learning experience)
Inspire not Require (Light the fire, don't fill the bucket)
Structure Time not Content (Slightly unschooling concept here)
Quality not Conformity (for years George Wythe University utilized a two-grade system: "A" and "DA", which mean

A

cceptable andDo it

A

gain.)
Simplicity not Complexity (If you, the teacher have a hard time figuring out the curriculum, you've already lost the student... KISS~ Keep It Simple Sweety)
YOU not Them (Model YOU learning, and they will be inspired to learn alongside you)
So, with some of "What exactly *is* TJED?" out of the way, let me tell you a bit about the resource
This Week In History
.

This Week In History
is a monthly subscription. It is a daily resource accessed via a weekly email, or directly on the dedicated TWIH blog feed at TJEd.org. It touches on most subjects through a historical
lens
. There is no actual scope and sequence per se, but once subscribed, the year's articles are searchable by date, topic and keyword, which is handy if you are using this as a resource, and following your own scope and sequence. Otherwise, it can simply be an exciting journey each day(or week) to see what comes next.
There are usually 2-3 entries per day, with a little synopsis of the topic(s), and then a number of links to explore them further. To get an idea of what it looks like, check out this
sample week.
One of my favorite entries this week dealt with Annie Oakley, the "Wild West" sharpshooter. I enjoyed learning a little more about the real lady, as my children are very fond of the musical "Annie Get Your Gun" which is based on her life. One of our disappointments in the musical has to do with a line in our favorite song, "Anything You Can Do, I Can Do Better." In it Frank Butler sings, "I can drink my liquor faster than a flicker" and Annie replies, "I can do it quicker and get even sicker." This would
not
have been true to either of them, as Frank Butler and Annie Oakley didn't drink
spirits
.
While I'm not ready to throw my chosen curriculum or method out the window, I find that TJED has been a good resource. It has been handy for starting discussions, and inspiring *me* to look up more information about various people and events, which in turn plants a little seed in the minds of my children. It's also nice because I don't have to really organize anything to use it. I am signed up for the emails which come a couple of days before the the current week ends, so that I have time to peruse it and see if there is anything I want to know beforehand. Otherwise, I just keep the link open in my browser and visit each day to check out the daily topics and resources.
If we don't know history, we can certainly never learn from it, be inspired by it, or seek to change the present course by avoiding the mistakes of the past.
This Week In History
is one way to gain a wide base of historical knowledge, from many disciplines. It comes packaged in that electronic form that seems to be so interesting to many of today's
wired
kids, and is easy to use and implement for mom. :)
*Many of my readers, I am sure, will appreciate being made aware that the founders of TJED hold to a Mormon worldview, which hasn't come into play so far, but is worth noting.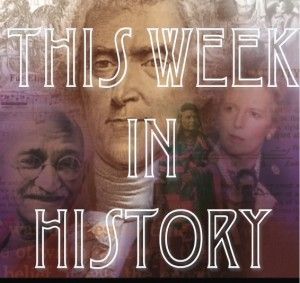 Not So Nutty Nitty Gritty
Company:
A Thomas Jefferson Education
Product:
This Week in History
(Pictures, Videos, Links)
Ages: Appropriate for all ages, with parental guidance
Price:$9.99/month subscription
Please click the banner below to visit the TOS Review Crew and see what others had to say about This Day In History. As always, I hope that this review was useful to you as you choose where best to spend your homeschool budget.
Blessings~
Disclaimer: I received this/these item(s)/service for free as part of the TOS Review Crew Program. I was not required to write a positive review. The opinions I have expressed are my own. I am disclosing this in accordance with the Federal Trade Commission's 16 CFR, Part 255: "Guides Concerning the Use of Endorsements and Testimonials in Advertising."