If you've ever looked up at the night sky and been arrested by the beauty of the stars, but wished that you knew a little bit more about them, you might be interested in this latest item I received for review from TOS.
The Celestial Almanack (Vol 1, Number 2, February 2012)
is published by Jay Ryan from
Classical Astronomy
. (Is is a star? a planet? Which one? Where IS the Big Dipper???)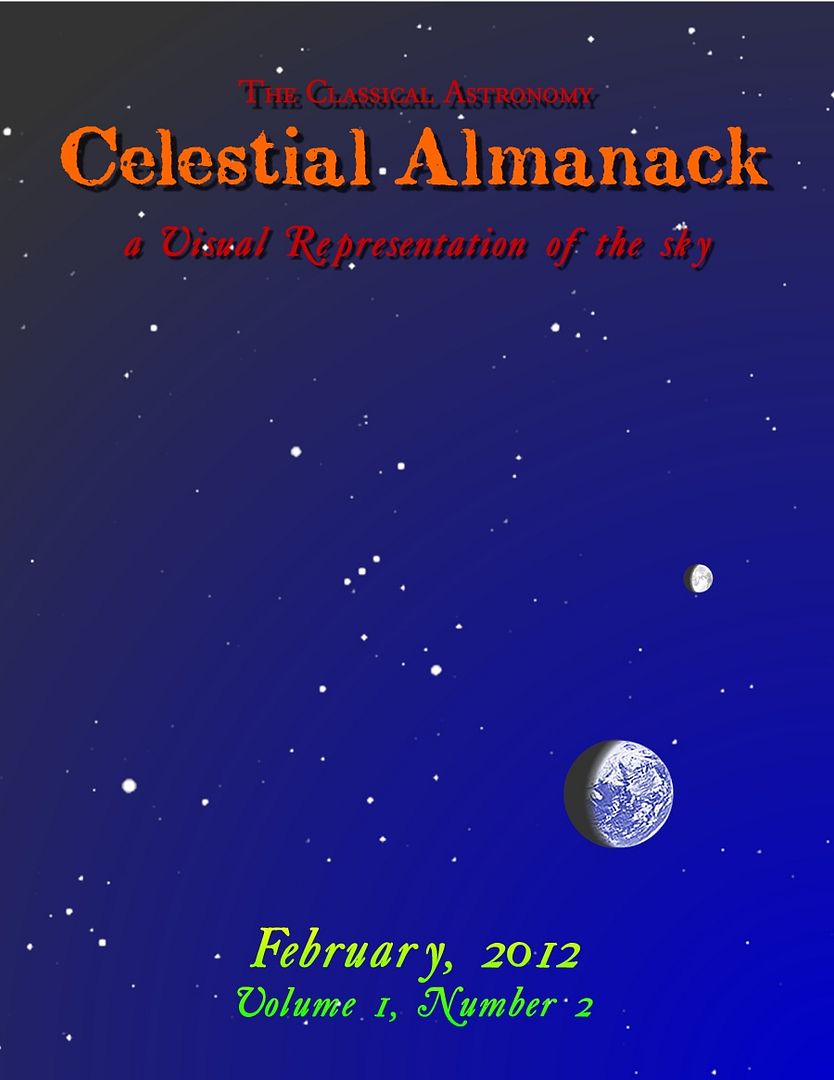 In this day and age of technical gadgets and gizmos, it is something of an anomaly to answer these questions without the use of an electronic device, not to mention begin learning the age-old science (or art, if you will) of figuring out locations and seasons and times through Astronomy. I mention age-old because Genesis 1:14 tells us that God created
the lights
to "separate the day from the night, and let them be signs to indicate seasons and days and years..." and we know that sailor have used the stars to guide their ships for nearly as long. What a fun way to introduce your children to the beauty and design of the heavens. Go out and look up, armed with the information gleaned from your almanack. (Alright, it IS an ebook, and you MIGHT be using an electronic device to read it, so there goes a little of that theory) It might even be useful someday, if one ends up a sailor or an avid hiker.
It is also a delight to be able to learn the specific constellations that populate the northern sky in the winter, and to understand that they are "Seasonal" constellations~ there are those that aren't seen in the winter due to being on the other side of the Sun. I hadn't thought of that for some reason. I do remember seeing Orion's Belt when I was a child, but didn't realize that it must have been in the winter!
I would never have thought of going outside and measuring our "Moon-shadows" if it weren't for the Celestial Almanack~ (Fun exercise, and rather interesting ). I expect now that the Moon is beginning to wane, we should be able to see some of the constellations a little more clearly, even in our light-polluted city. It will be nice to actually recognize a few more, and teach them to my children. Did you know that there are 35 Constellations? I can recognize only a handful~ future issues of the Celestial Almanack will be offering "The Orion Challenge" to learn 35 constellations in one year, so keep your eyes out for that!
My Eldest was struck by the fact that Orion and the Pleiades are even mentioned in Scripture by name... more than once. These are things that have not changed for thousands of years. Because "The heavens declare the glory of God"(Psalm 19:1) it is a good thing to at least recognize and observe that glory upon occasion.
*Just a side note~ the Celestial Almanack and the study of Astronomy is not to be confused with astrology, which does NOT bring glory to God.
There were a few references to the previous issue of the Almanack (January 2012), but I didn't feel as though we missed out on too much information overall. Truly there is a lot packed into this little 21 page ebook! You can download a
5 page "Sample"
to get a feel for the depth of the information included.
The Nitty Gritty~
Price~ Available as an instant download from Currclick for $3
Ages~ 11- High School/Adult (I learned some terms that I have heard before but didn't totally understand, and some of them are quite technical so the high-school age recommendation is very appropriate)
Homeschool styles that will appreciate this include Classical, Charlotte Mason, Waldorf, and Unit Study types as well as others~ Really, I think it is appropriate for just about everyone, but those are the ones that come to mind first.
As always, I hope that this review was useful to you as you determine what items will fit with your family's learning style, and where to spend your homeschool budget. Be sure to check out the
TOS Crew blog
to see what others thought, and learn how they used the Celestial Almanack in their homeschools.
Blessings~
Disclosure of Material Connection: I received this/these item(s)/service for free as part of the TOS Crew Review Program. I was not required to write a positive review. The opinions I have expressed are my own. I am disclosing this in accordance with the Federal Trade Commission's 16 CFR, Part 255: "Guides Concerning the Use of Endorsements and Testimonials in Advertising."