here
. The basic format remains the same in the second book "Who am I?" but the questions being asked are, obviously, different. :)
Lesson 1: What Are We Doing Here?
Lesson 2: What Will You Make Today?
Lesson 3: What's On Your Mind?
Lesson 4: Can You Trust Your Feelings?
Lesson 5: Will You Choose Wisely? (Free Sample Lesson)
Lesson 6: How Will You Run the Race?
Lesson 7: What Kind of Fruit Are You Growing?
Lesson 8: Who Do You Think You Are?
Apologia describes the answers to these questions briefly~
The second book in the What We Believe series, Who Am I? (And What Am I Doing Here?) helps children understand what it means to be fearfully and wonderfully made in the image of the Most High God. This study will enable students to develop a healthy self-image based on these biblical truths: God made me in His image and crowned me with glory; He has given me special gifts and a unique purpose in life; I can creatively express God's love; I am meant to think about beautiful and praiseworthy things, especially God and His Word; I must make decisions based on God's truth; I can always know the wise thing to do; I must cultivate the fruit of the Spirit in my life; I am a beloved child of God whose true identity is found in Christ.
Once again, there are a variety of methods employed to help your children dig into the Biblical answers to these questions ~ Object lessons learned through both Fact
and
Fiction stories, memory work, and life application ideas. Scripture is woven throughout the text.
New to this book are
fictional
biographical stories of the lives of children being brought up in homes with belief systems that sometimes are very clearly opposed to the Christian worldview, and sometimes are somewhat similar in many ways~ enough that some people don't even realize that they have a different worldview! I know that some parents prefer not to introduce other specific worldviews until after their children have a firm foundation in what they believe, so feel free to save these portions until your children are at the upper range for the study (Tween/teen).
This year we received some additional resources to go along with the study~
A Beautiful Spiral-bound Notebooking Journal that perfectly matches the hardcover text.
open spaces
) can write their thoughts and answers to the discussion questions from the book. This really is a delightful journal, and if you download the offered sample (
Journal pages from Lesson 2
), you'll see what I mean! In addition to that white space (Which my children are allergic to....;}) there are also some fun activities like word searches and crossword puzzles as well as a few "mini books" to put together and paste in the appropriate place in the journal. If you are a "notebooking" family, this will most likely appeal to you!
My son is less of a notebook-type of kid, so this wouldn't be an automatic purchase in our house, but there are some features that I particularly appreciated:
The Journal has a helpful "Lesson Plan" grid which keeps you on track with your studies, and coordinates the journal pages with the sections of the book you are reading. Having the readings broken down this way made it much easier on me from a planning standpoint, and we took one of the recommended approaches of 2x per week, taking 3 weeks to complete a lesson. Very doable! :)
There are also some great literature and music resources listed at the end of each lesson that mesh well, for further reading and listening.
"Things to do" gives some hands-on activities to add to the application of each lesson~ very nice!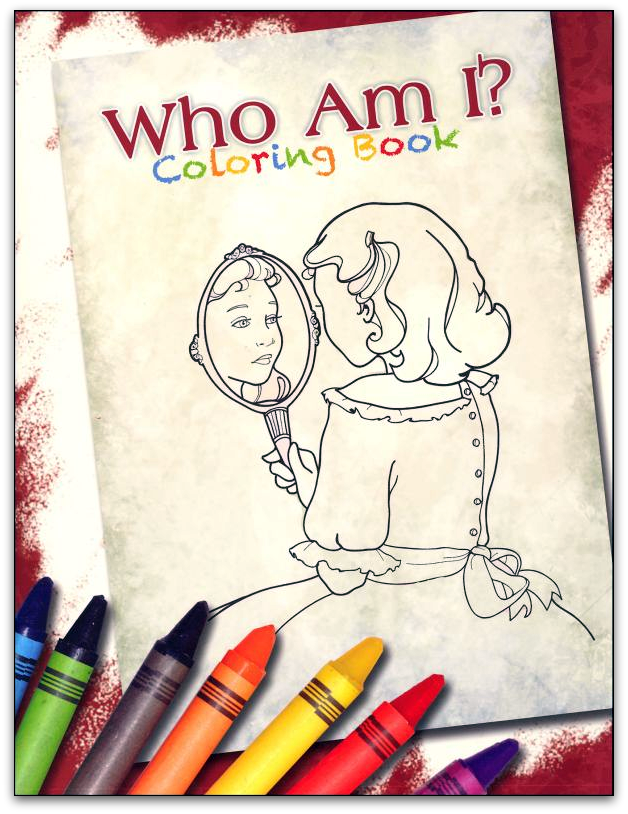 Another new item this year is the Who Am I? Coloring book~ this can be great if you have the kin-esthetic learner who wants to "Doodle" while listening to you read the text~ You can see a
sample
which includes 5 of the pages from the coloring book to get a taste of the style and quality.
And if you have an auditory learner, but circumstances don't allow you to read the text to them, Apologia offers an mp3 CD (must be played on an mp3 compatible CD player or computer) which narrates the entire text (each "Section" of each lesson is a separate track). We didn't really use this because I prefer to read to my children, but I can see this being a big help on the occasions that mom is sick, or
can't
do the reading for some other reason. Also good for the more independent child who has reading difficulties.
The typical
book extras
from Apologia exist on a password protected webpage, and include pdf files that include teacher helps with extra discussion ideas, questions and resources, and more basic notebooking pages.
So far I have been impressed with the content of the study, and haven't found much (beyond the occasional word or phrase that I edit out due
personal family sensibilities
that are probably
very
different from others~ specifics about Rahab, for example, aren't things I think my kids need to hear just yet, so I skip that bit) that would make me concerned about recommending this to any of my Christian friends.
Nitty Gritty~
Age recommendation: 6-14
Prices
Who Am I? (Text) $39.00
Disclosure of Material Connection: I received this/these item(s)/service for free as part of the TOS Crew Review Program. I was not required to write a positive review. The opinions I have expressed are my own. I am disclosing this in accordance with the Federal Trade Commission's 16 CFR, Part 255: "Guides Concerning the Use of Endorsements and Testimonials in Advertising."