I recently received the downloadable version of
Homeschool Spanish
for review as a member of The Old Schoolhouse Homeschool Crew. I received a downloaded Textbook, Activity Book, Answer Book, and Audio Files recorded by native Spanish Speakers.
This is a curriculum that uses a variety of options in order to teach Spanish to your children. However, this is not a "Set them loose, and off they go" sort of curriculum, it is much more teacher driven. Here is the "Weekly plan" from the text to give you an idea of how the curriculum is set up with additional notes on how we used it in that framework (There is a handy reproducible "planning guide" included in the book which makes it easy to keep track of what you're doing and where you're "going" each week)~
Weekly pattern of use of the material is the following:
Plan which vocabulary you will study and how you will present it using the Tips to the Home Educator section for each unit. Use the Audio if you need it. (Um... yep... needed it here!) Dr. Karyn Williamson-Coria, the author has provided loose guidelines on multiple ages, as far as how quickly or slowly one might choose to move, or how to integrate multiple ages into the learning. I basically used it with my 11 yo Middlest, but Eldest listened on the sidelines, so learned some vocabulary, and Littlest may pick things up, but he is not my focus at 4 years old. :)
Present the new vocabulary and have you and your child become familiar with the new words and sentences in the Vocabulary section. (We accomplished this by listening to the audio while looking at the vocabularly/phrases page. Because we were reading from the computer, it was fairly easy to pause the audio and repeat if necessary.)
Use the IDEA section to come up with fun and interesting activities to continue using the language throughout the day/week. Have your child listen to the Audio to reinforce his/her listening and pronunciation skills. (Did the audio as mentioned above already~ our favorite sort of "Activity" tends to consist of using the vocabulary throughout the day as we remember, and singing songs, generally practicing in appropriate situations)
Practice writing the language with the ACTIVITY BOOK. (These pages were my "homework" for Middlest. At 11 years old, he found certain aspects of the work very challenging, and various activities would definitely be appropriate for an older student)
Set aside some time for CULTURE learning with the FREE CULTURE LINKS section found on our website. (We didn't have a LOT of time to spend on the culture, but there are some great links included~ you can easily check them out. There are definitely some sites that bear revisiting!)
Above all... Relax, Enjoy, Aspire and Learn Spanish!!! (R.E.A.L. Learning!)
I will say that at first I found the multiple files (text/activity/answer/audio) a little disjointed, and would really prefer to have a hard copy in hand (Seems like I always feel this way when presented with a new e-version of a curriculum), but I have gotten into the flow of how to use them, so it's working nicely now. (*note to self ~ don't give up on e-books~I generally get along with them fine after an "adjustment period")
Now for a quick set of pros and cons~
Pros~
written by a highly qualified homeschool mom
many tips and techniques and ideas on how to engage a variety of personalities and ages
(auditory, visual and kinesthetic, all covered)
interesting worksheets for the mid-older students
Cons~
a little more teacher intensive, particularly for the younger ages (Although not my focus at this time)
not much material in the "Activity book" for non-readers or early readers~ again, more teacher intensive for that age, but as I mentioned~ many ideas in the "Text" for engaging the younger student
occasionally background or "room sound" in some of the audios is distracting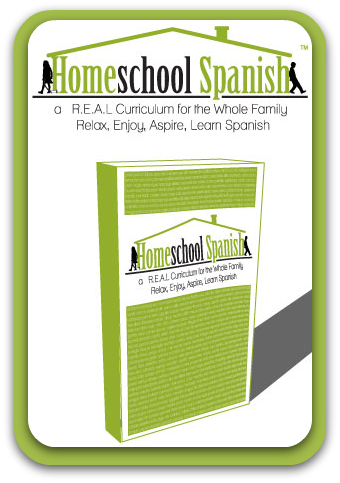 Nitty Gritty~
The course could be taken very slowly (3 years or so) for early elementary, or used as a fairly intensive 1st year high school Spanish course. Either way you should end up with a decent conversational Spanish ability.
Age~ adaptable for Elementary-Middle School (With a High School Supplement coming soon)
Price~ $49.95 download, $89.95 hardcopy (Purchase here)
Includes~ Text, Activity Book, Answer Book, and Audio Files
Samples are available
There are also monthly drawings at the site for Spanish Language Related gifts, which is a fun addition!
For more reviews and opinions, please visit the
TOS Homeschool Crew blog
.
As always, I hope that this review is helpful to you as you choose where to best spend your homeschool budget.
Blessings~
Disclosure of Material Connection: I received this/these item(s)/service for free as part of the TOS Crew Review Program. I was not required to write a positive review. The opinions I have expressed are my own. I am disclosing this in accordance with the Federal Trade Commission's 16 CFR, Part 255: "Guides Concerning the Use of Endorsements and Testimonials in Advertising."