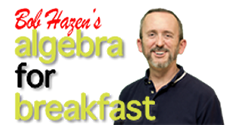 Youngest has just about finished his math program for the year, so the timing of our latest review, an
algebraic math supplement
from
Algebra For Breakfast
was pretty good. Let me tell you a little bit about it.
Bob Hazen has produced a number of video lessons for grades 3/4 and 5/6 to introduce them to algebraic concepts and help them to work comfortably with the unknown. Each lesson includes the video (sometimes as short as a minute or two, other times closer to 10 minutes in length), and more often than not a worksheet as well. You can see what the dashboard (where lessons are accessed) looks like below, and further down are some screenshots which also show where worksheets can be downloaded in each lesson.
There are 45 lessons that can be accessed in the 3/4 level (Which is the one we received to review). The lessons cover basic concepts such as identifying (or naming) known and unknown numbers and end with trinomial factoring and polynomial addition using the manipulative blocks included in the full membership pack. The blocks enable young children to experience the symbolic work of algebra in a concrete manner. You can learn more about the
topics included
and
how it works
directly at the AFB (Algebra For Breakfast) website.
There are some definite plusses to this program~ *I* actually learned how to utilize skip counting songs (Which have baffled me from the very beginning of my homeschooling career~ I had never seen the value in them until using this program! What I missed all those years! :) ).
The concrete expression of these algebraic functions using blocks should make doing algebra later on more accessible and successful. The progress in the 3/4 lessons is fairly incremental (slow).
A couple of cons to this particular program, which are more superficial, but I feel they should be mentioned. One of the benefits to homeschooling is the ability to complete lessons swiftly without "crowd control" and the negativity that tends to bring to the classroom. Unfortunately, because these are videos of a "live" class, much of that comes through. Bob repeats his instructions three times for almost everything he says in every lesson (Which is wearying to *me* although I admit that it could be helpful for a child who processes more slowly), and he often calls out kids in the class (who aren't even really misbehaving that I can tell) which makes all of us watching uncomfortable. This could easily be remedied if the same material were taught simply to the video audience, and not to an actual live class. I believe that would greatly enhance my overall impression of the program. However, another option is to watch the videos yourself and teach your student the material.
An additional thing that might be an problem for some of those children with auditory processing disorders is that the classroom of children using manipulative blocks on plastic desk surfaces creates a noisy, squeaky background which could be more than simply annoying, if your student has a sensitivity to sound. Again, this can be solved by simply watching the videos yourself and teaching the material to your child.
Other than the matter of the live class video negative, based on the lessons we used (and some that I skipped ahead to check out before teaching the concepts to my son), this seems to be a very solid program that has the potential of showing great benefit in later math studies.
Oh, and one of the fun things that is part of the program is the inclusion of math games utilizing math dice. The games are fairly simple, but are a great way to practice moving numbers around in a variety of combinations while having fun.
Not So Nutty Nitty Gritty
Company: Algebra For Breakfast
Product: Algebra For Breakfast
Ages: 3rd-4th grade (5th-6th also available)
Price:

Complete Member Package $122 first month (For materials included below), $22/month thereafter

164 piece Math Manipulatives
Skip Count CD
Math Dice

Reduced Membership Package $42 first month (For materials included below. This package assumes that you already own the Mortensen Math Manipulatives) $22/month thereafter
Content only package $22/month (This package assumes that you own a skip count music of some sort, the math dice, and the Mortensen Math Manipulatives, as they are all required to use and complete this course)
You can visit Algebra For Breakfast on
Facebook
.
Please click the banner below to visit the TOS Homeschool Review Crew and see what others had to say about this as well as the 5th-6th grade package. As always, I hope that this review was useful to you as you choose where best to spend your homeschool budget.
Blessings~