I am always interested in new art curriculum offerings, so was very pleased to be able to review the
Entire Level II
art lessons for children from
ArtAchieve
. These lessons are accessed online, and are available for a variety of levels, ages, and abilities. Because Eldest is very busy with life, and has officially graduated, and Middlest's time is mostly filled with baseball and fishing these days, I didn't consider any of the more advanced levels, and chose to do lessons with my Youngest.
The ArtAchieve lessons are "world-culture" oriented, and cover a projects from a variety of cultures, which makes it easy to add in some social studies lessons (there are also social studies, science and language arts suggestions included in the lessons).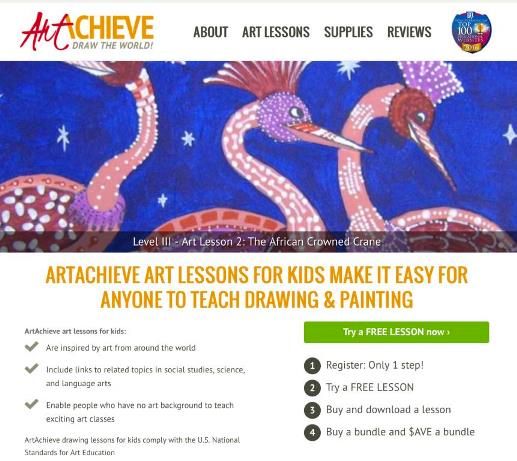 As I mentioned, the lessons are accessed online. You can purchase an entire level, or each lesson individually, and your purchase gives you access to the lesson/level for an entire year. Each lesson comes with downloadable pdf "warm-up" sheets, sometimes some additional printables, a video lesson and a powerpoint presentation that covers the same information. I like the fact that they offer both the video lesson and the powerpoint, as kids learn differently, and what works for one may not be as helpful for another.
OK, how did this work for us? Funny you should ask.
When I first knew about the opportunity to review, I had my son check out all of the lessons, and he chose the level which had the most projects he was interested in. When we were finally ready to start... the reaction was: "I don't want to do this... this is too hard... too much work..." (sigh) However, I reminded him that he had *chosen* to do this, and we needed to get started.
First we went through the warm up in lesson 1-1a (This is available free... you can give it a go yourself!). He complained and whipped through it, and the results were predictably not so wonderful. I reminded him that he needed to *think* about the lines and shapes he was drawing, and concentrate on them and the improvement was marked! So much so that he did the advanced warm up as well! Keep in mind that these were done over the course of more than one day.
The next lesson chosen, 1:2 Czech Cat we had more of the same~ "I don't want to do this... this is too hard" but he persevered through the warm-ups, started the video and then switched to the powerpoint slides because he wasn't in the mood to listen to someone else. The initial result wasn't too shabby, and by the time Youngest completed his first Czech Cat he was hooked... he wanted to draw more.
This particular project is drawn on glossy photo paper, so after the first one at regular size, when he wanted to make many to give away (and possibly sell some as note cards... haven't gotten that part figured out yet, but maybe...), I suggested moving down to 4x6 photo paper. The results were great, and he continued doing these for another week!
He chose to do the Swedish Dala Horse, with a little less complaining this time around... :) The results were fantastic.
He ended up using the 4x6 photo paper to make more of these as well. Nice!
We had a crazy busy week, so didn't get anything done school/art-wise, and with the missed week the crabby attitude came back when we started work on the Korean Wedding Duck project. Once again I heard "I don't want to do this... It's too hard!" Sigh!
For this lesson we made some adjustments (in typical homeschool style), because drawing with marker that can't be erased doesn't suit his personality most of the time, we didn't follow that suggestion for this particular project, even though the program recommends that. It would lead to great frustration on his part. Know your child and proceed accordingly. We moved to pencil drawn and watercolors instead of acrylics. Sadly, I couldn't locate the watercolor paper that I know lives in my house, so he did this project on paper from a nice drawing pad that we
could
locate.
Pencil lines that were made with a bad attitude got erased and redrawn the next day at HIS request~ love the bits of character training that can come into play here. There is a reason to listen and follow directions, and when they figure that out on their own, that is the BEST lesson! :)
The duck took awhile to draw, and awhile to paint, but he was very pleased with the final product, which will be taking its place on our living room walls.
It is so funny to me how my Youngest will dig in his heels and be negative about something, but once he gets into it I can't get him to stop. And as we continue, I just remind him that he felt the same way (didn't want to do it) about previous projects, but look how they turned out. I also remind his perfectionist little self that he probably won't get it perfect, or even great the first time through, and it is good to do things more than once. He has even realized and vocalized that when he concentrates the projects turn out better. That is a really simple concept, but not one that is always grasped. :)
A little side note: the videos and instructions in the powerpoints recommend some "Focusing" exercises, not speaking, and playing music while doing the projects. We found those to be take-it-or-leave-it recommendations, based on personality. :)
Not So Nutty Nitty Gritty
Visit art Achieve's social Media pages:
Facebook
,
Twitter
,
Pinterest
,
Google+
, and
Instagram
Please click the banner below to visit the TOS Review Crew and see what others had to say about this and other levels of ArtAchieve. As always, I hope that this review was useful to you as you choose where best to spend your homeschool budget.
Blessings~