interesting
math year for my Middlest (who has not gotten as far in Algebra as we might have hoped), so I looked forward to checking out
LearnBop for Families
, a new offering from
LearnBop
. We reviewed the family plan, which allows for up to 4 students, so I had space for Youngest to check out the third grade level as well.
LearnBop is designed to be an adaptive, self-paced, learn-as-you-go program for students from 3rd to 12th grade. The main benefit I see in a program of this type is to free up time for mom (or dad) to focus on another student and give them one less thing to teach/grade, or to help parent/teachers out if they aren't confident in teaching math. The program assesses, teaches, and shows the progress of each student.
The LearnBop Program: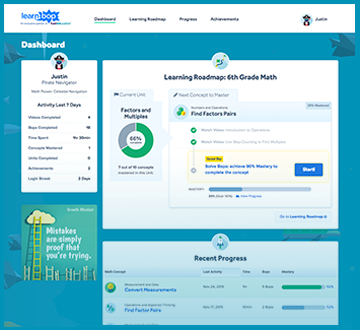 First a
learning roadmap
is chosen (we went for the graded roadmaps vs the mathematical concept roadmaps, but either is an option).
From here you go to the student dashboard. There is a widget showing activity for the past 7 days on the left. The main body of the page shows where the student is in the current unit as well as the current concept to master, and recent progress is seen at the bottom.
The main portion of the page shows the student exactly where they are in the unit, what they have completed (green again), and what they have to work on.
Most of the concepts have a number of explanatory videos, and then a set of "Bops" which refers to the actual working of the lesson problems. Each concept requires 5 completed Bops, and at least 90% accuracy to move on. If the student gets the problems correct, he can move on to another concept in the unit. If he makes an error, his mastery percentage goes down, and he has the opportunity to try the problem again (with or without "hints" to help him along). After successfully completing the problem, the percentage goes back up, with additional correct answers being required, until he reaches a 90% mastery.
Youngest had a kind of love/hate relationship with LearnBop. He was frustrated on numerous occasions (often with just cause), and his score would plummet~ however, he was gratified with how quickly the score returned to a high level once he started to get correct answers. When he ran into trouble, he liked the hints that were included that showed him how to work the problem step by step. He really felt that those helped him (as long as the program wasn't in error~ then it was simply discouraging)
Now... on to our frustrations with the program:
This was our first time running into Common Core (?) , and wouldn't you know it, we had difficulties:
Youngest was given this problem to solve:
Youngest was baffled~ Because Janine knows her 5's, and the problem employs a 5 fact, (a
ny math program I have ever seen teaches facts up to ten, and sometimes up to 12)
, it just didn't make sense to him. I
f Janine knows her 5's, she already knows what 5x7 is...
It seems the answer the program was looking for was to split the rug into 5x5 and 2x5 (I sent an email to check, and this was the answer I received).
This was clearly a case of making a child who already knew the answer to the problem feel totally confused by being asked to break it down in an illogical manner, using the given the information. Unfortunately a similar problem showed up in another bop, using a rug that was 5x6, and Janine still knows her 1's, 2's, 5's, and 10's, and therefore, one assumes she knows 5x6... argh!
This has become a program for youngest that requires either myself or oldest sitting next to him (even though he mostly seems to enjoy it), to help figure out what the program is looking for when it isn't a straightforward problem. So hard (and a bit of a time-waster) sometimes to have to break something down into numerous little steps, when one already knows and understands the answer.
Beyond that, there were other answer errors which we reported. This became somewhat exasperating, both for my child, who couldn't figure out why he was getting things wrong (because, in fact he wasn't), and for me, because I had to check each incorrect problem, and figure out whether he was truly wrong, or if the program was erroneous, so that I could send in that information to the company.
Middlest also had issues with the Algebra program, running into errors in the very first concept. There were other problems, and I began to feel that it would be ever so much easier to hand him a text book, pencil, and paper, and do things the old-fashioned way, where we know that the correct answers are correct, and the incorrect answers really are incorrect.

I think I expected more accuracy for a program that has been in use in the public schools for some time, and that the errata would have been taken care of by now.
Other constructive criticism from my Algebra boy:
He felt that the Videos could use some work. The instructors are fairly blase' and gave him the impression that math is simply to be done... no interest or excitement in the topic at all. Meh...
He also had a very good point about the beginning assessment for each concept~ there is no option to say "I don't know" for any of the problems~ so if you guess correctly, the program assumes you understand more than you really do, and might dump you into a more complex concept than you are ready to deal with just yet. Better to have the option to leave the answer blank.
My suspicion is that at this point, LearnBop is more useful for the younger ages, particularly for those who might be distracted by some of the more flashy programs, as their problems are easier to check up on. However, I do like the ability to monitor the older ages, and see exactly how much work they have been getting done, and how much time has been spent~ accountability!
If LearnBop can debug their software, and if they can tone down or remove the confusing and illogical Common Core pieces (like the Janine and the rug problems), as well as add an "I don't know" option (which would be useful for assessments, and can go directly to hints in the lesson), this could be a solid program that encourages students with step-by-step hints, and fairly rapid advancement on to the next topic.
Not So Nutty Nitty Gritty
Company: LearnBop
Product: LearnBop for Families
Ages: 3rd -12th grade
Price: Family Plan (up to four students) $19.95 monthly or $199.95 for one year
Visit LearnBop on Social Media:
Facebook
and
Twitter
It is possible that we were using levels that haven't gotten as much use, and therefore the bugs haven't all been worked out just yet. Please click the banner below to visit the TOS Review Crew and see what others had to say, as their experiences may have been very different than ours, in different levels. As always, I hope that this review was useful to you as you choose where best to spend your homeschool budget.
Blessings~