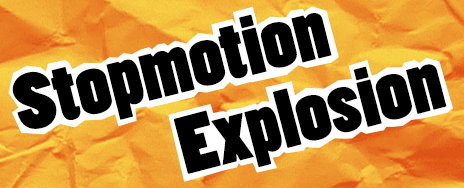 My boys have been great fans of stop motion Lego shorts on YouTube, and we've seen some interesting things over the years. Every once in awhile my eldest has also mentioned how fun it would be to try to do something with stopmotion, so when the opportunity came up to review the
Stopmotion Explosion Animation Kit
by
Stopmotion Explosion
I jumped right on it! We weren't sure just exactly what we'd end up doing (I was expecting some LEGO Police action from the boys), but whatever we did, *I* was fairly certain that it would be fun AND educational.
This is what the package looked like that showed up at our door,
and this is what was inside:
What's in the Box? A quick start guide, software on CD, an almost 300 page manual, and a 720 HD video camera with internal microphone, manual focus, and clip.
I'll start out with some of the basic techie information, but keep going down the page to see our final product.
The quick start guide was useful in figuring out how to run the program. The software on CD gave us some issues, but thankfully, if you purchase the book you have the ability to download the software directly from the web, which is what my son ended up doing. The software is compatible with Mac and Windows... we chose to use my son's Lenovo for the recording of the videos, and an app (videoshop) on my iphone to stitch the clips together.
The software connects to the video camera, which is a fairly basic webcam (you may also be able to use a regular digital camcorder or other webcam with it). The manual gives information on using a variety of cameras, and how to go about setting it up, but the basic webcam is a good place to start.
The manual is FILLED with very useful information! From how movies work to building sets, writing stories, techie details on lighting, composition, animating, specific tips for lego and stickfas fighting scenes and all the information you'll need to share your creation, links to resources, and more. It is really amazing, and I feel like we've only just scratched the surface while getting our first video off the ground.
So... now I'll give you a bit of a "tour" of how our video came together...
Eldest decided that she wanted to do a Playmobil Stopmotion Music Video. The first order of business was choosing a song. We love Blanca's "Different Drum," so that decision was made. Next was choosing characters and coming up with a "theme."
Here is a bit of "staging"
Some of eldest's original artwork (isn't it fabulous???)
that had to be completed in steps
and a view of the workstation.
You can see that we really only had overhead ceiling lights (that aren't terribly evident), and one halogen light serving as our spot light. It is ideal to have 3 point lighting, but we worked with what we had. I think that the camera may have been a *little* easier to focus if we had had more appropriate lighting, but again, for a first attempt, using what we had at hand, I think the end result was pretty great!

Without further ado...
We are delighted with Stopmotion Explosion! My daughter said she would have LOVED this when she was younger and did huge set-ups with her playmobil, with elaborate story lines. She enjoyed putting together this music video and has ideas for a few others as well. I really loved how she put her own personality and appreciation for Contemporary Christian Music into the message of this video.
The boys (15 and 8) were planning to work together to create a LEGO stopmotion video specifically for this review, but unfortunately they were both hit with influenza one after the other, and weren't able to get anything put together (it does take hours of preparation for something that lasts more than 20 seconds or so). However, I have great hopes that this was just the first in a set of videos that will be produced in our home.
"Stopmotion Explosion Animate ANYTHING and Make MOVIES" is an invaluable resource, jam-packed with so much incredible knowledge, and would make a marvelous gift for any budding videographer!
Not So Nutty Nitty Gritty
You can visit Stopmotion Explosion on
Facebook
and
Twitter
@stopmoexplosion
Please click the banner below to visit the TOS Review Crew and see what others had to say. As always, I hope that this review was useful to you as you choose where best to spend your homeschool budget.
Blessings~