Because I tend to use unit studies most of the time with my Youngest, we haven't followed any lengthy science programs, so I was very interested in seeing what he thought of one of our latest review items, an online subscription to
Rainforest Journey
by
EdTechLens
. There are 34 lessons of material, which can be completed in a full year, if utilized as an enrichment program (Ed Tech Lens is developing a supplement which will eventually make the program a full curriculum).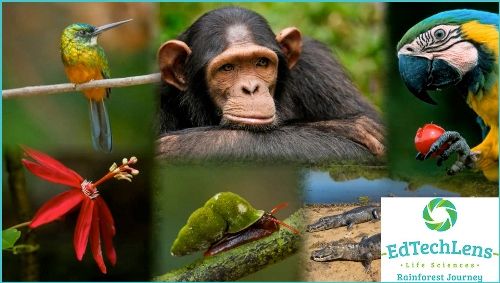 Once you sign in and set up your student (with his/her own login and password), they can access the site and go through their lessons on their own. The course is split into 5 Units with a variety of Lessons, Chapters, Assessments and more, which can be seen when they click on their "my classes" tab. This is what youngest's looked like, with the first unit expanded to show the chapters and lessons. The green on the bar, and the checkmarks for each portion show what has been completed.
The lessons have gorgeous "coffee-table book" photos with a little text, and more text and "enrichment" that can be accessed by clicking on the blue and green circular icons. While my son doesn't have any sensory issues, I do understand that there are those children who are overwhelmed by too much text on a page, so this should be very helpful to them.
I wanted to illustrate how the lesson opens up, so I chose to use the following 3 specific screen shots of ONE lesson page because we thought this was one of the most amazing animals we have been introduced to so far. Isn't it cool???
We took turns reading the text, but there is also the option for the text to be read automatically by pressing the audio icon next to it, perfect for delayed readers or those who tend more towards auditory processing.

The enrichment button sometimes is text (As seen below), or a link to a video or more pictures to expand on the theme. The "lesson review" pdf tends to ask some open-ended questions (List 5 interesting things. What else would you like to know? etc...)


Screen shot of finished assessment
As each chapter is finished you have the option to print up the assessments or have the students take the assessments online. There are three styles of assessment:
Depth of Knowledge
Open Ended Assessment
Factual Assessment
<--- a="" assessment="" finished="" of="" p="" portion="" sample="" screen="" shot=""> My son said he's happy that we are learning about the rainforest because it was the first time that he heard about the capybara (which has produced a desire to move to Pennsylvania, one of the few states to permit pet capybaras... oh boy! ;) ). He also liked the fact that the lessons weren't terribly lengthy or wordy.
Youngest enjoyed the photos and information but there were some disappointments, mostly with the videos... they are of good visual quality, but often don't seem to have as much substantive information. For instance, there was a video of the red howler monkey, and rather than the hoped for and expected sound of the howler monkey (since the text talked about the sound of the howler monkey and how loud it is), nothing but background music was heard. There also seemed to be a number of short (15-20 second) video clips that didn't seem to serve more purpose than to fill a little time.
On the plus side again, on the parent/teacher side of the website (parent login), there are many resources to extend the learning. Each Unit has "Home User Activities" that should take an extra 1 to 1 1/2 hours, once the Unit is completed. Each activity has separate pdfs of the teacher and student guide. The guides promote skills like recording, observing, and analyzing various data, depending on the unit being studied~ from graphing rainfall to observing the lifecycle of a butterfly using a butterfly kit, plant life, and more.
--->
Rainforest Journey really IS something like a fancy coffee-table book (you know, those $25-$45 full color, glossy, unwieldy tomes with gorgeous photography and interesting text), but it is complimented by educational assessments and activities, and can be accessed anywhere you have a browser (yes, it's tablet friendly), with the added benefit of not collecting dust or having the potential to be dropped on someone's toe (OUCH! And yes... this has happened to me before... big, gorgeous books are HEAVY!) :)
Not So Nutty Nitty Gritty
Company: EdTechLens
Product: Rainforest Journey
Ages: K-5th Grade
Price:

One grade level/one student~ $50/year
One grade level/2-5 students~ $75/year
Multiple grade levels must be purchased individually at the above prices (Check their Special Offers Link for current offers and discounts~ currently they are offering a 50% discount celebrating their new site!)
Blessings~