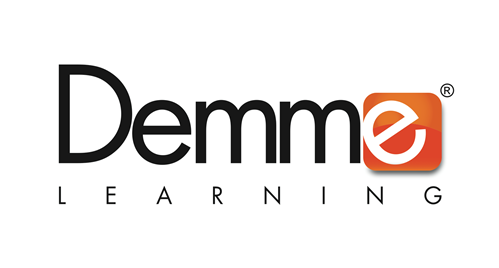 Unless you are very new to the homeschooling scene, you have probably heard of
Demme Learning's Math-U-See
products. I have heard many people recommend Math-U-See products, and have even had the pleasure of introducing Steve Demme at a homeschool workshop (what a personable gentleman!). However, I've never had the opportunity to use Math-U-See in my homeschool, or peruse it up close and personal until now.
The TOS Review Crew members were sent a variety of levels and variations of the sets available. We received the
Delta Universal Set
, which includes Physical Instruction Manual with Solutions, Instruction DVD, Student Workbook, Tests Booklet, Integer Block Kit, and 12 months access to the new
Delta Digital Pack
.
Having listened to Mr. Demme at the aforementioned workshop a number of years ago, I *was* familiar with the way he teaches, and very interested to see how my eight-year old felt about this concrete way of learning math. After a number of weeks using Delta, I asked him how he liked this math. He queried "The Block Math? I love it!"
Because we hadn't used blocks in math previously, we took a week or so to become familiar with using them and learning how they illustrate math problems... addition, subtraction, and multiplication.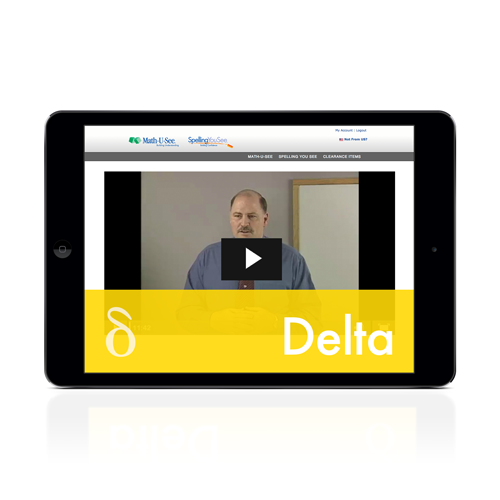 Mr. Demme can travel
with you if you are a "mobile"
homeschool family!
After that we started right in with division (which is the main theme of the Delta level), watching the lesson videos on my computer (Streaming the Digital version, rather than popping in the DVD), typically, and then Youngest would delve right in to the lesson in his student workbook. If we plan to be out out of the house, the Digital Packs make it a simple option to watch the lesson from any browser, in any location. They include a digital manipulative set that can be used on any browser, including phone browsers (I found it was easier to use the manipulatives on the phone, rather than on the computer, and I appreciated not having to bring out and clean up the physical blocks each time, although we have been enjoying using them as well).
I really like the way the workbooks are set up with multiple pages per lesson:
3 Lesson Practice pages which can all be used, or some can be skipped depending on how quickly the topic is grasped.
3 Systematic Review pages to review previous skills and keep them fresh. They include a "Quick Review" reminder of things that might be tricky, before moving on to problems of that type. If the student flies through the first Systematic Review page with no problems I have no issue with not completing the others, and moving on, but appreciate having them all, in case there are some rough spots that need extra work.
1 Application/Enrichment page. So far they have mostly been age-appropriate math fact coloring pages, which is great for my youngest, as we've done so many online programs that he hasn't run into as many "fun" written math pages. :)
Back Side of a Systematic Review page, with a Quick Review included.
If you are carrying your schoolwork out of the house, and want/need to travel light, the pages are perforated, so that you can bring just what you need. My son enjoyed having just one double-sided page of math to do each day.
Now, having experienced both the Universal set and the Digital Packs, I thought I would share a little bit about the similarities and differences, and some of the benefits of each
Both sets require the use of the Student Workbooks and Tests~ that doesn't change.
The Universal Set includes a hardcopy of the Instruction Manual/Tests, Instructional DVD and the 133 piece Integer Block Set. This is probably a good option if you have multiple students that will be using each level of Math-U-See, as you will only have to purchase the non-consumable portions of the curriculum once. It is also a good plan for those who have slow internet or have data plans that would be more quickly consumed if using the online lessons.
The Digital Pack includes printable pdfs of the Instruction Manual/Tests, as well as the streaming Instructional Lessons with Mr. Demme. As I mentioned above, this is very useful for families that are on the go. The ability to use the Digital Manipulatives is great too, since they don't take up space, and can't get lost! The Digital Pack is also helpful for those who have some of the newer computers that don't include a DVD drive, have issues with TV DVD players (Yup~ been there, done that...), and have no other option for viewing the lessons other than streaming.
Whichever set/pack you choose, Mr. Demme will teach your children to SEE how to find mathematical answers, not just to memorize them by rote, in short, easy to handle lessons that teach mastery incrementally. So far, I really like what I see!
Not So Nutty Nitty Gritty
Company: Demme Learning
Product: Digital Packs (we reviewed Delta)
Ages: K-12
Price:

Universal Set (Delta): $153
Digital Packs : $31-$61 (depending on level) /year access (Delta is $38)
Student Packs : average $40 per level(Workbooks and Tests)
You can visit Demme Learning's Social Media Pages on
Facebook
,
Instagram
,
Twitter
, and
YouTube
.
Please click the banner below to visit the TOS Review Crew and see what others had to say. As always, I hope that this review was useful to you as you choose where best to spend your homeschool budget.
Blessings~