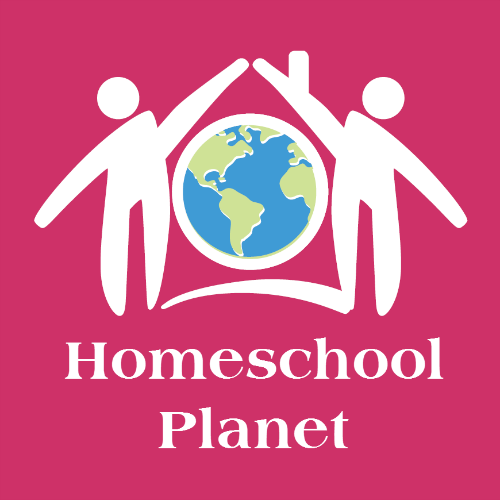 Some of you may find this graphic somewhat familiar, but possibly not the name. That is because the
Homeschool Planet Planner
is a new product by the
Homeschool Buyers Co-op
. I have been a huge fan of Homeschool Buyers Co-op and their group buys for years, so was interested to see how their online planner would work out for us.
I can verify that the Homeschool Planet Planner offers a WORLD of planning opportunities, useful for home AND school.
Create (and sync) a calendar for everyone, view, share, or print the full calendar, individual calendars, or individual portions of any and/or all calendars.
Each individual's calendar can have their daily homeschool assignments, chores, church activities, medical appointments, etc... pretty much ANYTHING that needs to be scheduled CAN be scheduled here.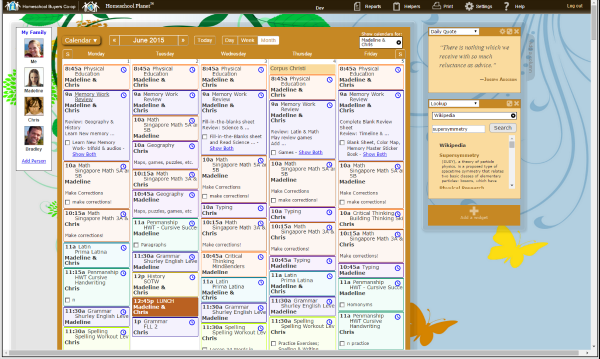 Calendar View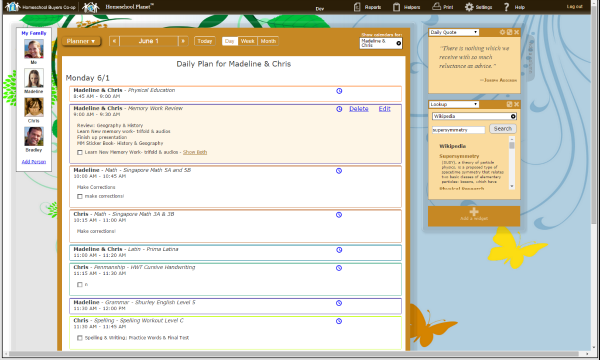 If that's too much for you to look at all at once, you can use the "Planner View" which shows what needs to be done in a more simplified list format. Super flexible (And for some people like me, a little overwhelming with all of the possibilities)!
Each student is given their own log-in so that they can access their assignments and check them off when they are done. Great idea! Accountability!
Each family member with entries on the calendar is sent a daily digest with their schedule, assignments, and chores so they know what's going on that day. If your family is really techie, you can also schedule in reminders for events or assignments to be delivered via text message or email to any family member (we're not quite that techie here just yet...)
By now it should be apparent that this is a much different animal than the calendar that came on your computer, whichever model you have (PC/MAC).
One of the main differences comes in with the homeschool assignment scheduling~ You can enter in detailed daily assignments, including web links and notes, if you need something more than chapter and page. When life happens and you don't get to an assignment one day you can reschedule the assignment.
Here's a screenshot of the Homeschool Planet Planner open to the "Rescheduling Helper" on a sample calendar.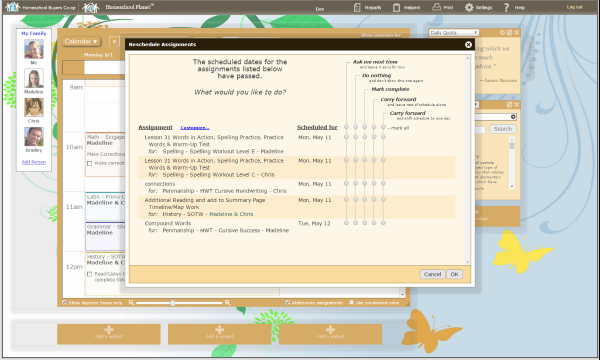 And here is a screenshot of the rescheduling tool in detail so you can see all of the options you have for moving things around.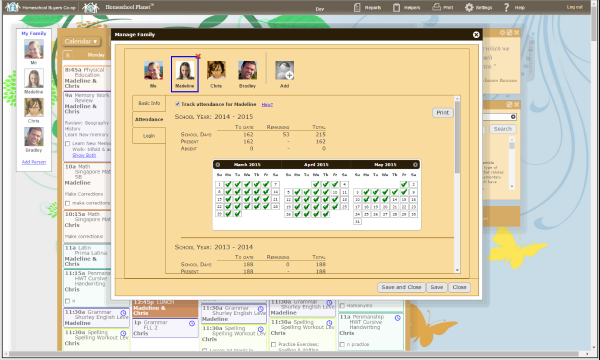 Attendance Chart for each Profile
For states where attendance is required, the Homeschool Planet Planner includes an attendance chart for each student... and a transcript form that I would suggest is filled out at the end of each high school year, to help streamline the transcript process. You can also set up grading categories and scales for each class, allowing you to enter grades for each assignment, if you choose to use grades. *Note: when your student reaches high school you may want to consider some sort of grading scale for use in calculating grades/GPA on their transcript.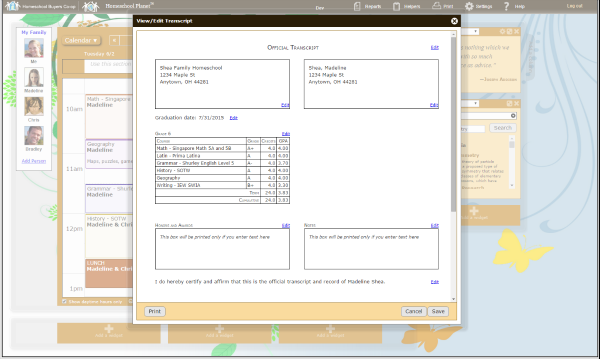 Create a Transcript
Beyond the homeschool planning aspects, the planner includes widgets that you can add to your dashboard for Shopping Lists (you can create one for each store if you like), To-Do lists for general household/life tasks, Daily Quotes, Daily Bible verses, Look Up (you can choose where you want to look, for each type of information; reference, shopping or web search), a Weather Widget, and a Messaging widget.
At this point it should be clear that there is an enormous amount of flexibility with many tools available, and you may wish to take advantage of the 30 day free trial (Or if you're quick, a 3 month free trial... see below) so you can play with the Homeschool Planet Planner and see if it will work well for you.
Some folks are all about the electronics when it comes to planning, and others just need to use a pencil and paper... if you like the ability to utilize all of the features that the electronic offers, but want to have a paper copy, you can print any or all of the assignments, schedules, calendars etc, and have it both ways. Personally I'm more of a paper and pen sort of gal for the most part, but as I have time, I am going to play with this a bit more (When I have a full schedule to put in, vs the
summer homeschool light
that we have right now), and we shall see how it goes.
You can visit Homeschool Buyers Co-op via Social Media on
Facebook
,
Twitter
, and
Google+
and I highly recommend watching the 4 minute video on the Homeschool Planet Planner page (linked below) to see a live demonstration on how to use the planner. Sometimes seeing it in action is the best way to see what is offered.
Not So Nutty Nitty Gritty
Company: Homeschool Buyers Co-op
Product: Homeschool Planet Planner (Link to 30 day free trial, no credit card required)

If you act fast, you can try it for 3 months free, thanks to Homeschool Giveaways , but this offer ends Friday, July 17 at 11:59pm EST
If you use either of the free trials and decide to purchase, all of your information will transfer over!

Ages: For Mom/Dad to organize all ages! :)
Price: $65/year or $6.95/month
Please click the banner below to visit the TOS Review Crew and see what others had to say. As always, I hope that this review was useful to you as you choose where best to spend your homeschool budget.
Blessings~