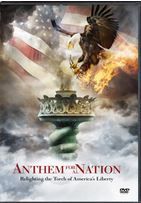 Our DVD contained the main selection, Anthem for a Nation which runs for about 42 minutes, as well as two special bonus features which also run about 42 minutes together, for a total of about one hour and twenty minutes. There is a variety of music used throughout, from "This is My Country" in the opening to Lee Greenwood's "God Bless the U.S.A." in the last main scene, as well as some pieces that I assume were written specifically for this film. The cinematography is stunning through much of the film. Here is a short preview:
ANTHEM FOR A NATION (Main selection)
There are 10 scenes, which I will summarize below, listing approximate lengths for each.
1.

Opening (2.5 min) includes sweeping American vistas, underneath lovely, Patriotic music.
2.

America the Beautiful (5 min) is filled with historical concepts and information about the beginning of our nation, with more patriotic music and historical photography.
3.

One Nation Under God (6.5 min) has a soundtrack that isn't my favorite style, but it is followed by one of the best quotes by French philosopher Alexis de Tocqueville when he came to America to discover what made it so great. His conclusion includes a warning to us all: "America is great because America is good. And, if America ceases to be good, America will cease to be great."

References to God on many buildings in our Capitol are detailed, as well as quotes from many of the Founding Fathers. It shows that the foundation of our Declaration of Independence and indeed 94% of the ideas in the Constitution are based either directly or indirectly on the Bible. It amazes me people can say that our country was not founded on Christian Principals, when shown these facts.
4.

A Christian Nation (8 min) Details some interesting facts about our nation's capitol and the thoughts and dedication to God of our Founding Fathers as they build the Capitol.
5.

A Nation Adrift (2.5 min) Shares the beginnings of the removal of Christian influences from the public sphere… Depending on what discussions you've had with your children, you may wish to skip this section, as it highlights the violence and immorality the sometimes runs rampant in out schools, and society at large.
6.

The War on the Unborn Child (3 min) This next section also has good information, but is one that you may wish to skip based on the maturity of your children, and/or the topics that you have chosen to discuss or leave to a later age. It ends with a dramatic bit that may (should?) be disturbing, so use your judgment.
7.

Have They Died in Vain? (3.5 min) Honors those who have died for our freedoms, and asks the question "Have They Died in Vain?" Have we preserved the nation that they died for?
8.

America You're Too Young to Die (2 min) Another section with music that isn't my favorite style, but carries a good message while it shows clips of Americans from many walks of life…
9.

The Rebirth of America (4.5 min) promotes personal responsibility, and calls Christians to repent from their sins, humble themselves, and pray (with another choral track that doesn't move me, unfortunately).
10.

God Bless America (5 min) After being moved in the previous sections from patriotism to concern to despair to conviction, this final section ends with hope, and a return to National Pride.
SPECIAL BONUS FEATURES
Hansi runs about 15 minutes. Hansi lived in the German Czech border land. She went through the Nazi Youth Leadership School for 5 years, and ended up in a Communist Labor camp after the war. The piece has a Graphic novel running under Hansi's audio, as she tells her journey from brainwashed Nazi to strong Christian.

Kitty Werthman of Austria runs close to ½ hour and tells Kitty's story from her childhood through the 2nd World War. She narrates her story over a secondary story of new reels and film showing Hitler's "peaceful" take-over of Austria, and the events that followed.
FINAL THOUGHTS
I felt that there were portions of this DVD that were spectacular, striking, and appropriate for all ages. There were a few that I feel definitely need to be watched through your family's own filter, but over-all, this could be a great resource for a High School Government or history curriculum, and used more sparingly for younger ages.
Not So Nutty Nitty Gritty
Please click the banner below to visit the TOS Review Crew and see what others had to say. As always, I hope that this review was useful to you as you choose where best to spend your homeschool budget.
Blessings~