It has long been a regret of mine that I have not taught any of my children to play piano. I play the piano (classically trained), and my husband plays by ear, and none of our children have really played to this point in time. Of course, a major part of that regret is the fact that we don't own a piano, and our keyboard hasn't always been available. However, when the opportunity came up to review
Homeschool Piano Complete Set of Books
lifetime access to
Homeschool Piano
with the TOS Review Crew, I determined that we would make sure our keyboard was accessible. So... it's on the dining room table~ it's been on the back porch during the day... it's portable (kind of...).
Homeschool Piano is the brainchild of Willie Myette, a graduate of my husband's alma mater, Berklee College of Music in Boston. His style of teaching is very different from the way I learned, as it is very jazzy, with a heavy emphasis on improvisation. In the past, when I have brought up the idea of piano lessons, my eldest has been generally resistant, but this time around she thought it might be worth a try. Hurrah!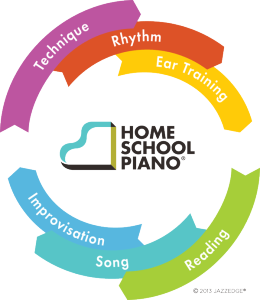 The lessons are split into a "Core" Beginner book, and Books 1-3. Each book contains 6 Units with 7 Lessons in each. They cover the 6 topics in the circular graphic to the right, with an additional
Bonus lesson.
Some of the Lessons include tests, to ensure that the student comprehends the material, and there are accompanying worksheets and sheet music in pdf files that are to be downloaded and printed. *Economic note: I actually printed the manuals up 4 to a page for each unit, and then cut and stapled them together by Unit. I did print the songs and a few of the other sheets out full size so they could be more easily read while playing.
Homeschool Piano lessons are largely video based, with the lessons available via tablet, computer, and presumably mobile phone, if you have a smart phone (which we do not). It's a very unique set-up, with a video of Willie in the lower left corner, and the top 2/3rds of the screen are split into two lengths. The Top portion is a "Virtual Keyboard." The notes are highlighted in red as they are being played and are identified by name. The lower portion is video taken from above the keyboard, showing Willie's hands actually playing the notes, as you can see in the graphic below. I find it a little amusing that my daughter's first reaction to the video set-up was very dubious (She thought it was odd...), but after going through some of the core lessons and 2 units of book 1, she has determined that she enjoys the lessons, and is challenged to complete them. Her take now, after going through a few units, is that Willie knows how to make the lessons fun, while helping his students play successfully right away.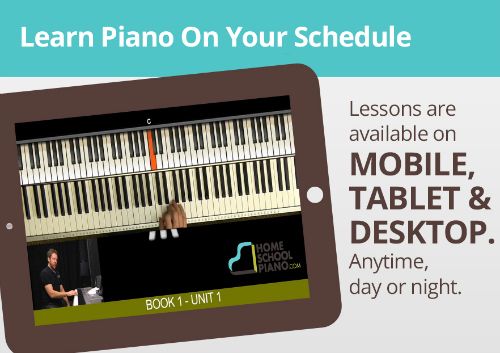 Eldest's favorite part of the lessons is learning the new rhythms (which coordinates with her interest in dance), and learning the improvisational licks that are taught in each Unit. It is very gratifying to be able to play something that sounds a little more complex than the first songs I remember learning to play. This can be important when the student is starting out at an older age.


Keeping in mind that my daughter has not played piano before starting this program (other than a little bit of picking out melodies on her own, 1-finger style and using her very own "number system"), here she is playing the 2nd full song in book one (We're both happy with her headway in a relatively short period of time)
Now some improvisations based on the notes learned so far. (And no, our set-up isn't optimal as far as "sitting at a piano" is concerned, but it is working for us at this point in time)
The Lessons and Songs that are learned build on one another (for example, the base line in the improv is heard as part of a song later on, which helps to increase the success of the piano student).
Sadly, my youngest student is being very "seven" and thinks he doesn't currently like music (ha! I know better~ he's singing all the time...). However, in my opinion, music isn't something that should be pushed... he will come around, I'm sure, as his sister continues to progress, and starts playing even more fun and funky music, and Homeschool Piano will be waiting for us when he's ready.
Middlest~ will be joining his sister in learning piano this fall. Having *not* taught the older two until this point, I'm interested to see how he does, *and* how music affects other areas in his schooling.
If you would like to get a taste of Homeschool Piano Lessons before purchasing, you can check out 6 free lessons covering Technique, Rhythm, Reading Music, Song, Improvisation, and Bonus.
I am very impressed with the thorough but engaging manner in which Willie teaches. Having been classically trained, and having been thrown into some more contemporary situations, I am also picking up a few tips and pointers, so maybe one of these days I'll be able to more closely rival my "play-by-ear" husband who also has that Berklee music theory training. Sad to say, I don't think I'll ever be great at "grabbing the keys," which is a much more useful technique in a jazz situation than in my usual Church Musician or Classical environment, but it's fun to play around with a style that is a little looser.
Not So Nutty Nitty Gritty
Company: Homeschool Piano
Ages: All Ages
Price Options:

Success Package (One payment of $299)

Unlimited life-time access to HomeSchoolPiano along with all bonuses (downloads, jam tracks, sheet music) for up to 5 students.

Payment Plan (Payments of $99.97 per month for three months):

Unlimited life-time access to HomeSchoolPiano along with all bonuses (downloads, jam tracks, sheet music) for up to 5 students.
Please click the banner below to visit the TOS Review Crew and see what others had to say. As always, I hope that this review was useful to you as you choose where best to spend your homeschool budget.
Blessings~