Sometimes the TOS Review Crew gets something other than curriculum to review. These items are always interesting, and a nice change of pace. This latest review item is from
Trident Case
the
Kraken A.M.S. Case for Apple iPad 2/3/4
(other TOS Review Crew members received cases for other Apple, Kindle, and Samsung products, so if you don't have an iPad, make sure to check out their reviews as well!).
The Kraken case is available with a variety of accent colors~ black, blue, pink, red, lime green, purple, orange, and maroon.
I chose the purple case.
I felt kind of funny requesting the iPad case, as my iPad is... shall we say NOT in the best condition... In the photos below you can easily see the cracks that it acquired a year + after purchase. The case I had at the time didn't cover the corners, so it wasn't protected from the 1st drop, even though it was in its case. The case also wasn't very convenient for the 5 yo to use, so we would remove the iPad from the case and let him play with it on its own, hence the 2nd drop, and the 3rd drop happened while it was in the case, but the cover was open...
However, I was very hopeful that a GOOD case would help to protect my iPad from any further cracking, and be much safer for general use. You can bet that if I ever manage to upgrade to a 64G (or more) iPad, this case is going on pronto!
When the Kraken Case arrived I put it on, and found it quite easy to assemble and use. The middle silicone "Colorful" portion of the case fits snuggly around the iPad, and then locks securely into the hardened polycarbonate back shell and front frame. To help safeguard from dust and light water damage, every device control and port is protected with the flexible silicone plugs that are an integral part of the silicone layer. The case is Military Tough, and meets or exceeds Military standard MIL-STD-810F. If you don't know what that means, like I didn't, the specifics regarding wind, rain, dust, vibration, etc... can be found directly on the
Kraken information page
, but it seems like it should hold up to most of the abuse that a 6 year old might accidentally put it through. :)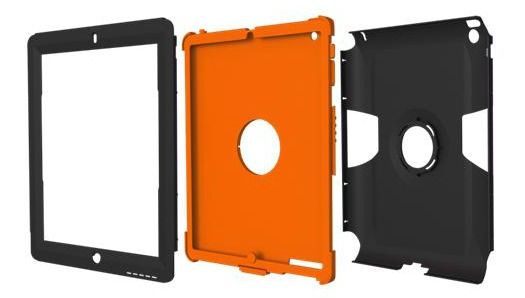 Shortly after putting the case on, I was in the waiting room at my daughter's dance class, where I can be found 2-3 times per week. One of the other moms who is also regularly there, and very familiar with all the cracks it has acquired over the past couple of years saw my iPad as soon as I pulled it out and exclaimed "Oh! You got a new iPad?!" With the included screen protector (part of the top frame), the cracks were camouflaged, and much more difficult to see. I replied of course, that I did NOT get a new iPad, but I did get this fantastic new case! :)
So far I have found the case to be protective, and haven't run into any problems using the controls. It has made me worry less when my 6 year old is walking with it or using it in various settings that aren't as safe as on the couch. Given that I already have damage, I'm not willing run any tests with it, but I can say that I browsed a bunch of the test videos for various cases on the Trident YouTube channel, and well... I'm pretty impressed! Here's their test on the iPad... with a bat! Other cases had doors slammed on them, and huge planks or wood dropped on them, among other extremes.
A few points of interest (pros/cons/sometimes both):
PRO~ It is made in the USA! Hurray!
CON~ I don't find it quite as easy to plug the charger into the power port as when it isn't in the case, but it certainly isn't a deal breaker~ PRO especially when it covers the port so nicely so that dust and debris don't get into it.
CON I wish that there was some sort of a thin flap/cover to protect the included screen protector on the front from scratches when the ipad is in my bag~ I tend to carry it with me most places.
My final CON (see photo below) is simply that this case isn't available for older Apple products~ we have ipods from 2nd to 5th generation, and have had a terrible time finding protective cases for the older ipods that do all the things the Trident cases do...
PRO cover ports (So that foil from candy wrappers don't get into the headphone port when the ipod is in your son's pocket...)
PRO have dust/water-proof cases with included screen protectors~ because they don't bubble or peel off like applied screen protectors, and are easy to clean
PRO have shock protectors on the corners, as the corners seem to be the most frequent point of impact.
*Note~ there *is* a case available for the ipod 4... but nothing for the 2nd or 5th... Aegis Series
As you can tell, I'm pretty delighted with our new Trident Kraken Case, and can fairly whole-heartedly recommend Trident Case if you are looking for an ultra-protective case for your electronic device.
You can find Trident Case on
Facebook
,
Instagram
,
Twitter
,
Google+
,
Pinterest
,
Vine,
and
YouTube
.
Not So Nutty Nitty Gritty
Please click the banner below to visit the TOS Review Crew and see what others had to say. As always, I hope that this review was useful to you as you choose where best to spend your homeschool budget.
Blessings~