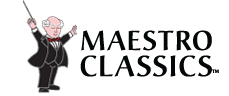 A little background information: Stephen Simon (Founder of the Washing Chamber Symphony) was influenced as a child by the New York Philharmonic's Young People's Concerts (led in earlier years at Carnegie Hall by Josef Stránský, and in later years as a televised series led by Leonard Bernestein). As an adult, he and his wife Bonnie carried on that grand tradition (as well as that of Prokofiev's Peter and the Wolf), and created a series of Concerts for Young People at the Kennedy Center in Washington D.C.. Now, with Maestro Classics, they are working to bring that experience directly to young people everywhere, making Classical Music more accessible to children and their families, in the comfort of their own homes (You can read a great interview with Stephen and Bonnie on their website, if you find the backstory as interesting as I do :)).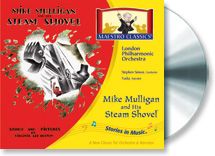 We love the story Mike Mulligan and His Steam Shovel (thanks to Five In A Row), and it is a well-loved read of my youngest, along with many other Virginia Lee Burton's stories. Steven Simon, (Conductor and Composer) has created an interesting piece of music, with many variations, to go along with the narration of the story. He used instruments (like the Irish Uilleann Pipes ~ since Mike Mulligan *is* such an Irish name), and snippets of well known songs in his composition which create a greater depth of interest as the story is told.
The CD has 7 tracks ~ 2 of them are the narrated story, and the others present more information about the story, the author, and the music, as follows:
Narrated Story

About the Author

Mike Mulligan Song (Written by Steven Simon)

About the Music

Now That You Know a Little More (A repeat of the story)

Want to Have a Little Fun? Prepare to Perform

Mike Mulligan's Song Sing-Along
Mike Mulligan CD and Activity Booklet
Each CD includes an activity booklet with information, music, word games and more.
The website expands on the educational aspect with Homeschool Music Curriculum Guides for the Maestro Classic CDs, with lessons and activities that focus on related History, Science, Geography, Language Arts, Art, Music, and Math.
Casey At the Bat CD and Activity Booklet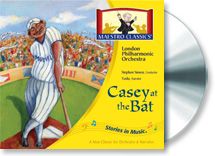 I thought Casey at the Bat would be a good choice, since I have two baseball players now. The baseball theme definitely resounds in our home. Side note: in the course of a rabbit trail, we discovered that the author of the poem, Ernest Lawrence Thayer grew up not far from our home, which added a little local flavor, and made *me* appreciate this review even more.
Interestingly enough, my son, who heard the poem for the first time when we listened to the CD, was not quite as pleased with the story~ he was very sad that Casey struck out. I wonder if he would have been struck as deeply if he had heard it without the music.
In the video snippet below you can listen to Stephen Simon talk about creating the music for Casey at the Bat, combining the moods and emotions of story and music.
The Casey at the Bat CD has 11 tracks (a little more music and "listening to music instruction")
Narrated Story

About the Poem

The Casey March (Written by Steven Simon)

In a Cabin in a Wood - How to Listen to a Story in Music

Flight of the Rabbit: A Very Short Story in Music

Casey a la Suzuki

Maestro Talks About the Music

Now That You Know a Little More (A repeat of the story)

Want to Have Some Fun?

and 11. The Casey Tango - Play Along
All in all I think these CDs are a great way to introduce Classical and Symphonic Music to the next generation of listeners!
Note: I would make sure to listen to the story in one sitting, and only one or two of the supplementary tracks, depending on the age of your child.
Not So Nutty Nitty Gritty
You can find Maestro Classics on the Web on Pinterest, Twitter, and Facebook (where they often run specials, so I recommend "liking" and "following" them if you are planning to build a Maestro Classics library :) ).

~~~ I personally think that these would make a great gift! ~~~

Please click the banner below to visit the TOS Review Crew and see what others had to say. As always, I hope that this review was useful to you as you choose where best to spend your homeschool budget.