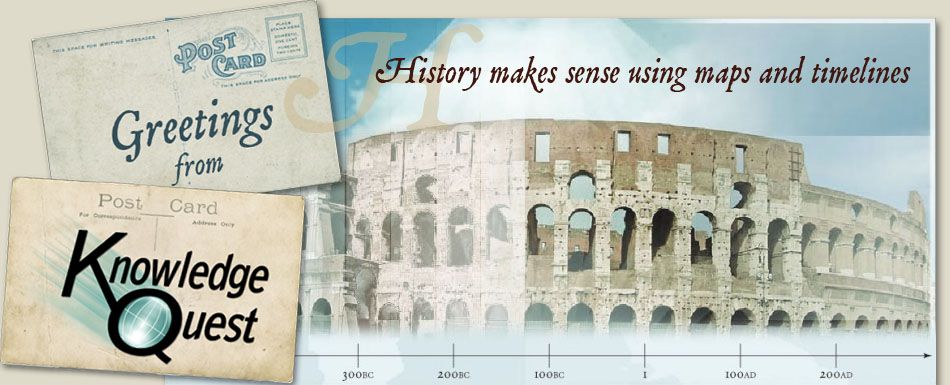 Terri Johnson of
Knowledge Quest
is a homeschooling veteran, who knows what it is to be looking for a particular resource while teaching her children, only to discover that no one has come up with it just yet. Now, many of us have come to love and respect Terri's knowledge and ingenuity in the history and geography fields as she has made available the resources that she created to fill those voids that she was finding on her own, and hearing about from fellow homeschool families and customers.
TOS Review Crew members were sent 2 of Knowledge Quest's newest products, the TimeMaps Dynamic History Maps Collection (Download version for either PC or Mac), or the MapTrek 6 E-book set.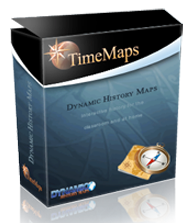 We were sent the TimeMaps Collection to use.
The collection itself is made up of 7 individual TimeMap units covering:
Ancient China
Rise of Rome
Fall of Rome
Rise of Islam
The Black Death
European Exploration
The Atlantic Slave Trade
Technicalities: Each map collection is presented via Flash, a free Adobe Software (Which means that this is not currently compatible with my iPad, just in case anyone is wondering...). Each collection includes the TimeMaps themselves, as well as coordinating Teacher notes.
The map is identified by the time period in the top right corner. Also included in that area is an information icon. When it has been clicked little information circles pop up on the map (You can see a whole line of these along the west coast of Africa). Each one of these can be clicked to open up a text box with some encyclopedic information relevant to the area and time being portrayed on the map. There is also a "Quiz" ("Q") button which opens up a text box with questions that relate to all of the information presented on that map page. Once each of the information buttons has been clicked and the text box read and reviewed, the time period arrow can be clicked to move to the next map.
If you'd like to see this "in action" please play the video below.
Because we have been studying Explorers and focusing on American history this year, I decided that we would use the European Exploration unit for the duration of our review period. Middlest would read through the information give for about 5 of the "buttons" each day that he did his history each week (Usually 2-3 days/week). After completing the reading for each map he would go through the questions accessed by clicking the "Q" quiz button/icon.
What I liked:
I really like the concept of being able to see the advancements (or decline) of movement on historical maps. The dynamic movement (In our case of exploring ships) makes it easy to follow what's happening historically.
The information is interesting and, again, the visual of seeing where the history took place and how things moved was much more memorable in my opinion that reading a plain chart or pages history.
The Quiz questions are more open-ended than one often sees, and can really help your student to stop and THINK about what they are reading, and try to determine why things might have happened the way that they did. While a clickable "Multiple choice" quiz might be more along the lines of what I was expecting, the actual quiz style is a much better measure of how well the material is being understood.
The included Teacher Notes which give extra background information on each map as well as maps to print out and use in the class.
What I didn't like:
I felt that the "Quiz" component was a little clunky. It would be nice to have all the questions included as printable sheets in the teacher notes. It seemed a little scattered to be scrolling through the little text box with the questions, and then potentially looking at the information text boxes to find the answers, all the while either having to answer orally or writing the answers down on paper. Having the questions on a printed sheet would eliminate a little bit of the back-and-forth motion going on.
The "Worksheets" are more like "Suggested Activity/Discussion" sheets than actual worksheets. I had imagined something more.... well workbooky, I guess, given the title. My dislike of the feature is simply that it was not what I expected. The activities themselves are good, and thought-provoking. If I can jump back a bit to the "Like" aspect here, I do like that the activities are printable through the Teacher Notes.
All in all, I feel that Time Maps is a "Cool tool" to use as a supplement to your history and/or geography lessons. The kinesthetic and visual child in particular will benefit from this particular sort of presentation.
Not So Nutty Nitty Gritty
Company:
Knowledge Quest
Product:
Time Map Set
Ages: Can be used by all, but probably most appropriate for Middle School and up, in my opinion.
Price: $9.95 for individual modules, 7 set collection for $44.95 downloads, or 7 set collection on CD-ROM for $49.95
Platform: Macintosh and Windows
Please click the banner below to visit the TOS Review Crew and see what others had to say about the Knowledge Quest Time Maps and the Map Trek e-book set. As always, I hope that this review was useful to you as you choose where best to spend your homeschool budget.
Blessings~
Disclaimer: I received this/these item(s)/service for free as part of the TOS Crew Review Program. I was not required to write a positive review. The opinions I have expressed are my own. I am disclosing this in accordance with the Federal Trade Commission's 16 CFR, Part 255: "Guides Concerning the Use of Endorsements and Testimonials in Advertising."