If there is one course that I have heard recommended by MANY present-day "pioneering" homeschoolers, but had never had opportunity to peruse in person, it would have to be
Hewitt homeschooling's
Lightning Lit & Comp courses. As a matter of fact, the "founder" of our local group had great success with her children who used Lightning Lit courses... with at least one professor at a prestigious Boston area University commenting on how well prepared one of her sons was for his University courses. With recommendations like that, when members of the TOS Review Crew were given the opportunity to choose one of Hewitt's courses, I jumped at the chance.
We were given 11 of the 12 high school Lighting Lit courses to choose from, as well as the 2 Jr. High courses~ a variety of K-6 and 3-4 courses were available for families with younger children, so make sure to click on the banner at the end of my review to get some more insight~ there should be a diversity of information in all those reviews!
Lightning Lit is split into time periods as well as themes, but most of the "Theme" options are for the upper high-school grades, so I was happy to choose American Literature:Early-Mid 19th Century as it meshed well with our history studies, and is recommended for grades 9-12.
Alright, so now on with the review!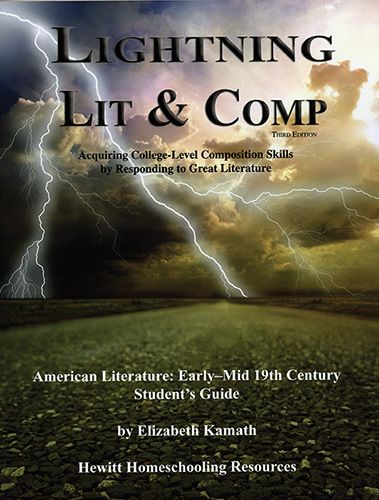 We received the softcover Student Guide (Approx 168 pages) and the stapled three-hole punched Teacher Guide (Approx 40 pages). The Student Guide starts with a comprehensive 22 page "Introduction" that talks about the course in general:
Why To Read Literature
How to Read Literature
How to Read Poetry
Why Learn How to Write?(With a "Paper Writing 101" mini-guide)
Perspectives on The Fluidity of Language and Pronoun Confusion
How to Use the Guide and Get the Most out of this Class.
Wow~ That is a lot of information, and we actually spent the first 2 "classes" just going through the introduction, because I felt the material was so valuable.
For the purposes of this review, my daughter completed
Benjamin Franklin
(
The Autobiography
), the first lesson in Unit One. The lesson started with an introduction to the person Benjamin Franklin and some questions to think about whilst reading the story. There were 11 sets of Comprehension questions, followed by a Literary Lesson on writing an Autobiography. The final section of the Lesson encompassed the Writing Exercises (There were 8 to choose from), which all related either to Benjamin Franklin and his autobiography, or writing something more autobiographical in content. My daughter chose to write about one of her favorite hobbies, Irish Step Dancing.
There are discussion questions that can be used to further depth and insight into the reading selection. I particularly enjoyed the question framed around this quote: "So convenient a thing it is to be a reasonable creature, since it enables one to find or make it a reason for everything one has a mind to do. " Hmmmmm......
The other selections included in this course, their styles, and Literary Lessons are:
Washington Irving (essay, text in the Guide: "The Angler", Sources of Ideas)
William Cullen Bryant (selected poems, text in the Guide, Rhyme and Lines in Poetry)
Frederick Douglass (nonfiction: Narrative, Persuasive Writing)
Edgar Allan Poe (short story, text in the Guide: "The Tell-Tale Heart", Tone and Mood)
Nathaniel Hawthorne (novel: The Scarlet Letter, Conflict)
Herman Melville (novel: Moby-Dick, Character Development)
Henry Wadsworth Longfellow (selected poems, text in the Guide, Meter in Poetry)
As you can see, the scope of style of writing and lessons is fairly comprehensive.
Hewitt recommends a semester for each lightning lit course. Adding in optional reading (including introductions to the books as well as multiple additional literature selections) comprises an "honors" course. It is also possible to use a one-year schedule without any of the optional reading for those who struggle with writing. Because our review time was during a very busy "Summer" month, we chose to do a mix of the 1 year schedule (completing the first lesson) and the Semester course (with some of the optional reading).
There are a number of project ideas in the student guide appendix that can further your student's enjoyment of their studies including suggestions for art, history/geography, science, religion/Bible, and others. Although she hasn't completed any yet, I expect my daughter will particularly enjoy choosing an art project for a future selection.
I liked the set-up of the entire program with the introductory reading, the comprehension and discussion questions, and the variety of writing assignments. I believe that the amount of "Choice" available for the composition portion is helpful for semi-reluctant writers.
I will add in a little note here~ Hewitt uses specific print versions of each book, and in the case of Benjamin Franklin, using that version would be the wisest course of action, as Franklin did not delineate chapters, so the comprehension questions are by page number. If reading a pdf version, this can get a little tricky (Guess what we chose to do???? :D). However, the other books are all organized by chapter, so if you've jumped on the Kindle/Nook/iPad bandwagon, those versions should work just fine.
The Not-So-Nutty Nitty Gritty~
Company:
Hewitt homeschooling
Product:
Lightning Lit
, specifically
American Literature:Early-Mid 19th Century
Age Recommendation:
9th-12th grade (recommended 1 semester course)
Price:
$29.95 Student Guide
$2.95 Teacher Guide (mainly for answers to comprehension questions and teaching and grading aids, with other information from the student manual included for convenience)
$46.56 Pack with Student Guide, Teacher Guide and the 4 books to be read by the student
As always, I hope that this review was useful to you as you choose where to most wisely spend your homeschool dollars.
Blessings~
Disclaimer: I received this/these item(s)/service for free as part of the TOS Crew Review Program. I was not required to write a positive review. The opinions I have expressed are my own. I am disclosing this in accordance with the Federal Trade Commission's 16 CFR, Part 255: "Guides Concerning the Use of Endorsements and Testimonials in Advertising."