Once again we were the recipients of a package from Classical Academic Press. We were sent us a bundled set of their new Bible Curriculum,
God's Great Covenant, New Testament 1: The Gospels
. The set includes physical copies of the Student Manual and Teacher's Edition, and a downloadable Audio book.
I'm going to start a little backwards here, and mention the audio first. The audio is a narration of most of the text in the student manual, typically not including the various charts. I can see this being very useful in a number of situations:
the auditory learner (Obviously)
a situation where Mom doesn't have time or inclination to read aloud
to encourage independence in the younger learner
OR for kinesthetic families where everyone (including Mom) likes to sit around and listen to audio while their hands are otherwise occupied (note, most chapters run around 5 minutes).
Now, I have to admit that we didn't choose to use the audios, even though they are very pleasantly and professionally narrated by Christopher Perrin, only because my children prefer to hear things read by my voice. ;) I will take that as a compliment. ;)
Next, the Teacher's Edition~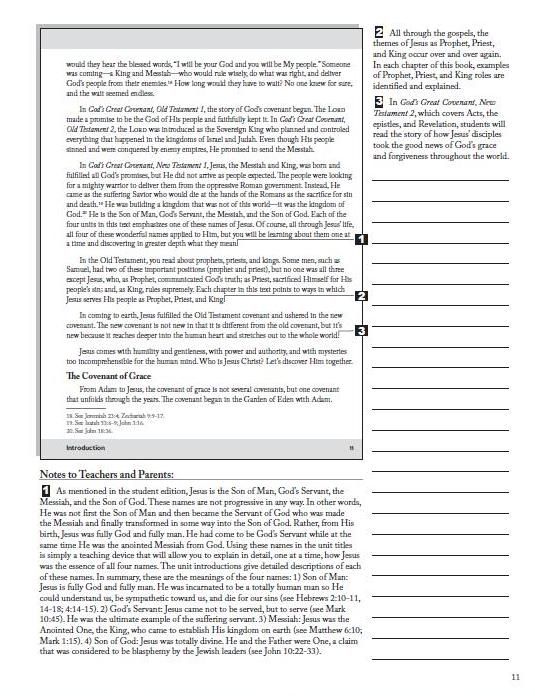 The Teacher's Edition includes everything in the student manual, in addition to some expansive notes, places to write your own notes, and answers to the review worksheets.
When I read, I varied between reading the text straight through, and then going back to cover the points included in the teacher text, and others reading them as they flowed with the text. You can see an example of a teacher edition page with one of the maps, and the extra note below, etc.... (Please click on the pictures to see them in larger detail)
Now to give a few more details on our use~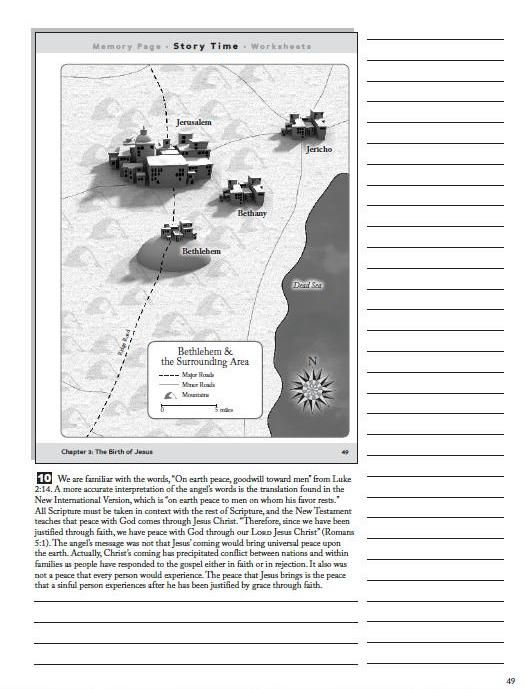 Although this could be used as a student-directed, independent course, we chose to use it as our Bible time, and as you may have gathered, I read aloud to my Middlest(6th grade) and Eldest (9th grade). Sometimes we looked up some of the scriptures referenced, at other times we just...
referenced
them (depending on whether they were included in the text, or if my kids already had a working knowledge of those verses).
One thing that we all really enjoyed was how
this
study, at
this
particular time, just
really
fit in with other things in our lives. We were reading the Bronze Bow, which was set in the Gospel time-frame, so the first couple of weeks spent covering the various
introductions
(Historical and Political, Chronological, Geographical, Religious, and Daily Life where we met the fictional narrator Simon) added to our appreciation of our literature readings.
It also tied in well with the sermons my kids have been hearing over the past few months, which have been more intensive looks at the Gospels. I just loved hearing them exclaim "Oh yes! We heard that a few weeks ago during church!" or "That was what the pastor was talking about before Christmas." Kudos to God's Great Covenant for reinforcing and adding to what they were learning, and kudos to our pastor for covering material in a scholarly fashion that they could understand, and kudos to the kids for retaining the information, and commenting on it! :)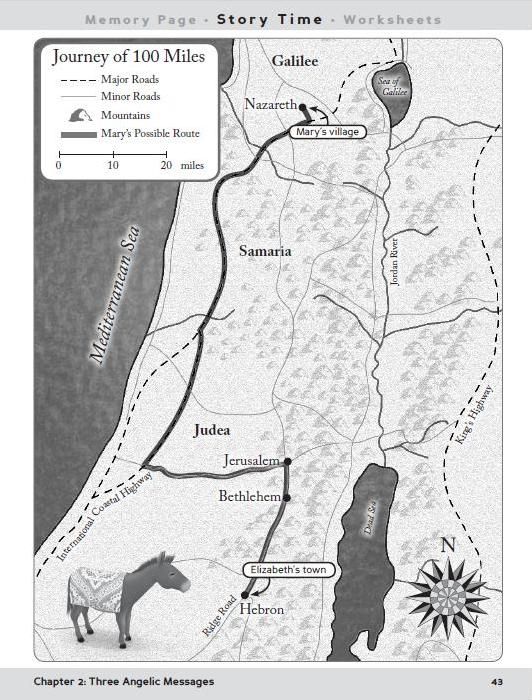 Here are a couple more pages, this time from the student text~ a map putting into perspective just how far Mary and Joseph had to travel and a sample review worksheet.
While the course is written for children in grades 2-6, it worked very nicely for our family Bible-time purposes, as we did cover all of the background information included in the teacher's edition, which seemed fairly scholarly to me.
I will mention here that each chapter is organized in the same fashion:
Memory Work Page~ covers the Theme, the Scriptures, Memory Passage, and Key Facts, which are usually in chart form, and Prophecy Fullfilled when appropriate
Story Page~ This is the material which is included in the audio download, including scripture and other historical information written in narrative form
Worksheet Page~ These were great to give to the kids as "Homework" just to test their comprehension. They include a nice mix of matching, true and false, fill in the blank, define the words, crosswords, word searches and so on. My children and I all appreciate the variation. :)
The book is split into 4 Units. Each unit ends with
Memory Worksheet pages ~ quizzing the student's retention and comprehension of the memory passages,
Devotional pages~ encouraging the student to dig a little deeper, and
Simon's World~ giving a look into what a child in Gospel times may have experienced.
While the course is written for children in grades 2-6, it worked very nicely for our family Bible-time purposes, as we chose to cover all of the background information included in the teacher's edition, which seemed fairly scholarly to me. You can download samples from the
Student text
as well as from the
Teacher Edition
to take a closer look.
Nitty Gritty~
Classical Academic Press
God's Great Covenant
, (A Bible Course for children)
Recommended ages 2nd-6th grade
While we reviewed the 1st book in the New Testament course (I am assuming that there is a book 2 in production... :) ), it is worth noting that there are also 2 books in an Old Testament course for your Bible teaching and learning application.
For other insights and opinions, please consider stopping by the
TOS Crew Blog
to see what others had to say, and I welcome your comments and questions here on my blog.
As always, I hope that this review was useful to you as you choose where to most wisely spend your homeschool budget.
Blessings~
Disclaimer: I received this/these item(s)/service for free as part of the TOS Crew Review Program. I was not required to write a positive review. The opinions I have expressed are my own. I am disclosing this in accordance with the Federal Trade Commission's 16 CFR, Part 255: "Guides Concerning the Use of Endorsements and Testimonials in Advertising."