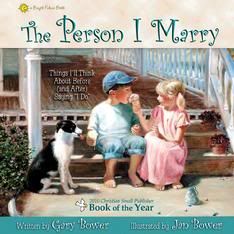 Little girls weave romantic dreams about weddings (Spurred on by all the "Princess stories" that abound, perhaps?), and little boys seem to try to avoid them... ("Yechhhh!!!" or "Not THAT again!!" are refrains heard from the lips of the boys in my home, whenever there is even the hint of a love story).
However, it is especially important in these days, where divorce is rampant and 30/40/50 year wedding anniversaries are becoming more and more rare, that we prepare our children from a young age to recognize, pray for, and prepare to nurture, outstanding qualities in themselves and their future mates.
Seldom have I seen the subject addressed so sweetly and innocently, but with profound impact, than in the picturebook, The Person I Marry by Gary and Jan Bower. Check out this video to get a glimpse of the book and the hearts of the authors:
The Person I Marry
from
Bower Books
on
Vimeo
.
There are a number of ways that I can see this book being shared~
Character building lessons when they are younger~ What sort of person do I want my children to be when they grow up? The character traits included in this book are all admirable!
Conversation points for discussions with your teen who is starting to show an interest~ What sort of person do THEY want to be, and reminders of character traits they should be looking for.
Celebratory Gift for wedding showers, or even significant anniversaries(Where it could serve as confirmation of choice).
I think that any husband or wife would do well to read this book to themselves (As motivation and gentle reminder/conviction) and together (As a chance for encouragement and affirmation, if you will)
All of my children enjoyed the artwork ~ Littlest was intrigued by the illustration of the children fishing (With a hook caught in a hat!). The children dressed up in far-too-large grown-up clothing caught my Middlest's eye, and Eldest (And I) really enjoyed the picture of the boy bursting forth into enthusiastic song at the piano. (And this was all in the first reading of the book!) The illustrations are delightful. :)
Although the Crew received access to a "not-for-sale" e-version of the book for review, it can be purchased in hardcover for $11.99 directly from
Bower Books
. Personally, I think this is may be one of those "must have" books for any family's home library.
The Person I Marry
strikes me as a solid, sweet, training book without being "preachy" ~ the tone is
just right
in my book! The more I read it the more I appreciate it.
Bower books offers 3 more "
Bright Future
" books~
What Do Heroes Wear? The Jingle in My Pocket,
and
There's a Party in Heaven
, each for $11.99 hardcover, as well as Board books and "Thinking of Others" books.
For further opinions and perspectives, please take a moment and check out a few of the reviews at the
TOS Homeschool Crew Blog
.
As always, I hope that this review was useful to you, as you search out meaningful gifts for your family and friends.
Blessings~
Disclosure of Material Connection: I received this/these item(s)/service for free as part of the TOS Crew Review Program. I was not required to write a positive review. The opinions I have expressed are my own. I am disclosing this in accordance with the Federal Trade Commission's 16 CFR, Part 255: "Guides Concerning the Use of Endorsements and Testimonials in Advertising."