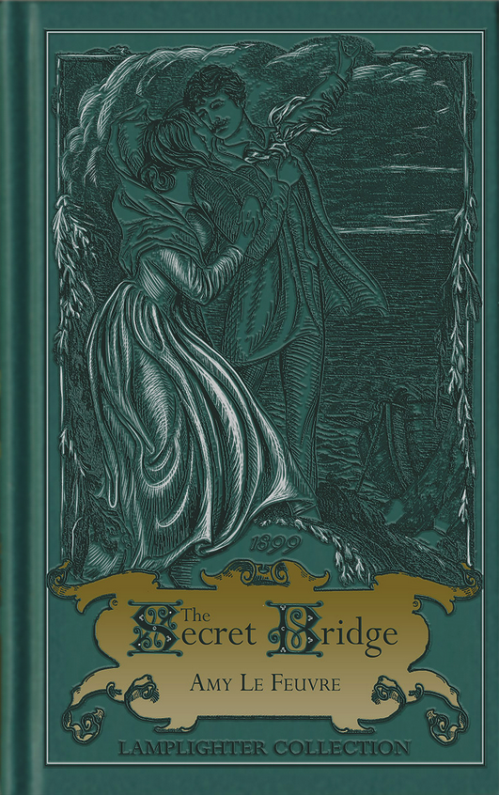 I have been familiar with Mark Hamby and
Lamplighter Publishing
for a number of years, since I first heard him as a gripping keynote speaker at our state homeschool convention, so I was delighted to be chosen to review their newest title,
The Secret Bridge
by Amy Le Feuvre (originally published in 1899).
If you aren't familiar with Lamplighter Publishing, let me tell you just a little bit about them. The purpose of the company is to republish rare books from the 17th, 18th, and 19th century, with an eye to encouraging and building up people of Godly character. The books chosen for publication either illustrate characters who exhibit high moral standards, or are more cautionary tales of those who make wrong choices and suffer the consequences. The idea being that good stories will instill in their hearers/readers (whether children or adults) the desire to model their characters after the good characters of the heros/heroines of the stories.
Now~ a little bit about the physical qualities of Lamplighter Books. They are all beautifully bound, a this one is no exception! The cover catches your eye immediately, with its gilded title and embossed illustration. I mentioned the "hand" of a book in a recent review, and the hand of this book is delightful, with a lovely smooth feel. Everyone who has seen it has been drawn to it immediately. The photo above really does not do it justice, and I'm sure mine won't either, but here are a few more shots, to try to give you an idea of the shine, detail, and texture:
Finally~ because you can't judge a book by its cover, even if the cover is simply amazing, I will tell you a bit about the story itself. :)
Some of my favorite books were written by 19th Century authors, so I was immediately comfortable with the language and syntax of Amy Le Feuvre. Her main characters, Godfrey and Bridget come to life on the page immediately.
We learn that Bridget is the orphan of an English expat, who has returned to England to throw herself on the mercy of her uncle. She discovers that her uncle has passed away before her arrival, and she is left alone, with no money, family or friends (barring a friend made on her voyage home, one Godfrey Bullingham). Although she tries to find gainful employment and make it on her own, Godfrey steps in to save her from sure destitution.
Bridget and Godfrey strike up a correspondence when he is called to duty with the British Navy. I must note once again the care with which this volume was crafted~ with different fonts for each hand writing a letter. I love that attention to detail!
At the beginning of the story, neither Bridget nor Godfrey are close to God, but soon Bridget is brought into contact with a delightful character, Mr. Jocelyn. Although not exactly a member of the clergy, he is certainly a minister of The Truth. He urges Bridget to "Acquaint thyself with Him" and gives her little Scriptural clues,
rungs on a ladder to climb
if you will, in her search for Truth.
One of the quotes that I mulled over for awhile comes when Bridget is speaking with Mr. Jocelyn as they walk in the same direction. He is a great naturalist, and enjoys explaining bits and pieces of his discoveries, interspersed with the words of The Creator. At the end of the walk, Bridget thanks Mr. Jocelyn:
"Thank you for what you have told me. You have interested me in more natural history this afternoon than I could ever have thought possible, and your other words--"
"They're not mine," he said abruptly, "and they're too costly to be treated lightly. The less said about them the better. Man's words will sometimes destroy their beauty, like the rough fingers of a schoolboy on a butterfly's wing. Thought is the only hand fit to touch them -- thought and prayer." (P114)
In today's world, where so many think they have the corner on what God means, and write multiple books explaining their view of God's truth, it might behoove us to take Mr. Jocelyn's advice, and simply go back to the original, the Word of God.

I won't tell you any more of the story, but will note that there is plenty of gentle mystery to keep the reader's interest while exploring the themes of faith, trust, and loyalty. This is the sort of literature that is truly a breath of fresh air when so much around us today is gritty and saturated with the pollution of the prevalent worldview.

Lamplighter Books would make excellent heirloom quality gifts for the reader in your life, and there are titles suitable for ages 6-11, 9-14, and 12-adult. They offer a book club and a number of different collections. There are even comprehension quizzes that can be purchased to go with each book if you so desire.
Lamplighter Publishing... Building Christlike Character, One Story At A Time.
Not So Nutty Nitty Gritty
As always, I hope that this review was useful to you as you choose where best to spend your homeschool budget.
Blessings~