Some of my readers may remember my review of
Apologia Educational Ministries
'
Writers in Residence
last spring. This Spring we were given the opportunity to review the next installment in Debra Bells' series,
Readers in Residence Volume 1 (Sleuth)
.
The set-up is very similar to the Writers in Residence curriculum, with a large, ring-bound student text/workbook and teacher manual.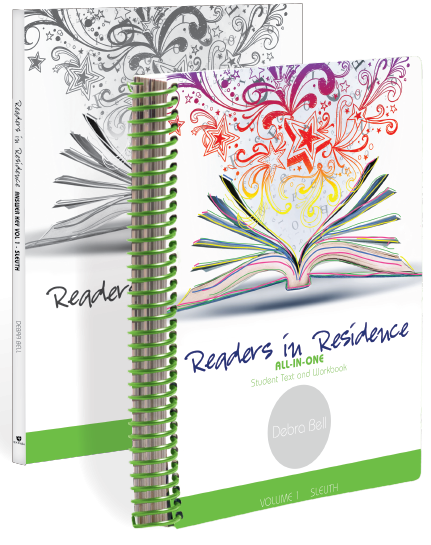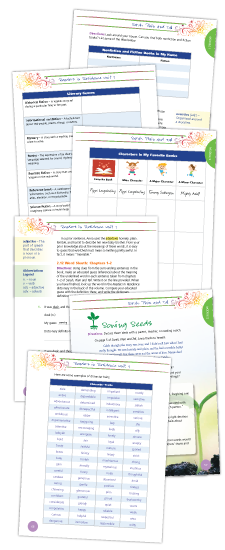 This first volume includes six units, with One, Three, and Five using specific books, with units Two, Four and Six being "On Your Own" units using books of your own choosing. Because this curriculum is appropriate for grades 4-6, there are a variety of suggestions for the On Your Own units, and each is listed with suggested grade levels so that you can choose appropriately for your child. I appreciate this level of detail.

The three main units contain 4 modules each, focusing on the specific book genre and various reading tools, the follow-up on your own units are only one module, typically focusing on the same genre.
Unit 1: Sarah, Plain and Tall Genre: Historical Fiction
Focus: Character Development, Inferences, Context Clues, Analysis, Theme

Unit 2: On Your Own Historical Fiction (Choose your own, or use one of the suggestions: Adam of the Road, The Bronze Bow, The Door in the Wall, The Golden Goblet, Johnny Tremain, Number the Stars, A Single Shard, The Sword in the Tree).
Focus: Character development, Comparison and Contrast

Unit 3: Charlotte's Web Genre: Animal Fantasy
Focus: Plot Development, Denotation, Connotation, Figures of Speech
Unit 4: On Your Own Animal Fantasy (Choose your own, or use one of the suggestions: The Lion the Witch and the Wardrobe, The Mouse and The Motorcycle, Mrs. Frisby and the Rats of NIMH, Perloo the Bold, Redwall, Stuart Little, The Trumpet of the Swan).
Focus: Plot, Comparison and Contrast
Unit 5: Because of Winn-Dixie Genre: Contemporary Realistic Fiction
Focus: Setting, Figures of Speech, Turning Point, Theme
Unit 6: On Your Own Choice ~Any Fiction title (Choose your own, or use one of the suggestions: Caddie Woodlawn, In the Year of the Boar and Jackie Robinson, Kindred Souls, My Side of the Mountain, Pictures of Hollis Woods, The summer of Riley, The Wheel on the School).
Focus: Setting, Comparison and Contrast
Because another curriculum I use included Sarah, Plain and Tall, I decided to do what we homeschoolers do best, and tweak it to work for me. I didn't want youngest to miss out on many of the focus lessons that were covered in the first unit, as they build on one another and reference previous lessons, so we worked through those that weren't exactly title specific first.

I love that this manual/text/workbook includes a suggested schedule ~ it made it very easy for me to keep track of which lessons we had gone over since I wasn't going through the first Unit in order.

Here are some of the workbook pages- a few youngest filled out, others he dictated to me as I didn't mind being his scribe.
Each Module includes Word Sleuth vocabulary sections, Aha! sections that cover comprehension of the story, Ruminate sections that help the reader learn to connect the story to their own lives, in addition to sections that relate to the focus topics for each module. One other section that sets Readers in Residence apart from many typical reading programs is the Sowing Seeds section. Sowing Seeds looks at the book with a Scriptural worldview and poses discussion questions that relate the book to the reader's life and both of those to passages in the Bible. Love this part!
A Ruminate section for an On Your Own Historical Fiction Selection
This would be a fantastic curriculum to use in a co-op setting or book club setting, which is actually highly recommended in the manual. There are suggestions for book club party/gathering/get togethers for each of the three assigned books as well as a final gathering when the entire workbook is completed. There are suggestions for themes, food, activities and of course, discussion questions.
I think that any student who completes this Readers in Residence course will come away with tools that will last a lifetime as they learn not only to enjoy "story" but to also appreciate the crafting of the story by the authors and illustrators. They will also learn to relate what they read to their own lives, no matter the era or setting of the story.
For more information, you can visit the Apologia Blog where you can find a free sample download of the first three modules and more FAQs related to the curriculum.
Not So Nutty Nitty Gritty
Visit Apologia on their Social Media Pages:
Facebook
,
Instagram
,
Twitter,
and
Pinterest
Please click the banner below to visit the TOS Homeschool Review Crew and see what others had to say. As always, I hope that this review was useful to you as you choose where best to spend your homeschool budget.
Blessings~