Does your family enjoy board games and family game nights?

The TOS Homeschool Review Crew was recently sent a game (that could end up on some gift lists for your older children?) for review.
Commissioned
is a cooperative, historical strategy game by
Chara Games
, intended for ages 14+ (Although younger siblings/children can be included in the play).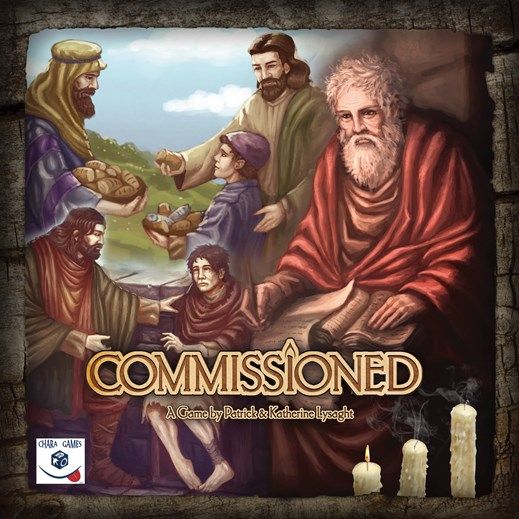 Top of box
Commissioned is a strategy game following actual experiences of the Apostles, where the players grow their faith (cards) and the church, (small white blocks), while overcoming trials and collecting the Canon of the New Testament.
Board set up for play
The set-up is a little more involved than my mostly card game, word game, and physical logic game playing family is used to, but should be fairly familiar for those who play more involved board games. There are Faith Cards (with point values 1-4) and Apostle Cards (I didn't realize they were in the same package, so it took a while before I figured that one out the first time playing), Trial cards, Church Member Blocks, Apostle Pawns, and Meeple Missionaries. There are also blocking tokens and other tokens that increase the complexity of play.
Close up of Apostle board, faith cards and apostle cards (Which all have the same back)
Each player chooses an Apostle "Board" and receives their 6 Apostle Cards, and two 2-point Faith Cards. From here the players choose one of 5 Game scenarios to play (some are more difficult than others, and we've only played the basic Acts of the Apostles so far), and choose a difficulty level for the trials (Disciple or Martyr level).
We found the instructions to be a little confusing, even after watching the half-hour introductory video, but I think that we have finally started to get the hang of it. There were also a few Faith Cards that we couldn't really figure out, in spite of the extremely detailed Rulebook. However, instead of letting that interfere with our play, we just removed them from the deck, and put them back in the box.
It is interesting to watch my kids play, as they are all quite competitive in their own ways, so playing a cooperative
game was a new experience for them. My Youngest enjoyed being part of the game play, even if he didn't totally understand it all. My Middlest found it the most interesting, and likened it to playing Risk, but with cooperation instead of competition, and a lot more strategy involved with the inclusion of the trial cards (the instructions suggest that this is a one hour game, but we found that it took us longer than that, although with more play there may be a reduction in time).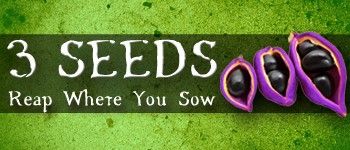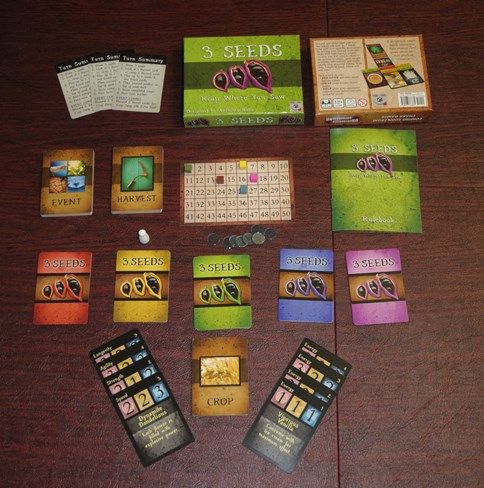 My Eldest, who is very much a word game, fast-paced card game, strategy game with simple set up type of player would probably not choose on her own to play Commissioned, but could possibly be more interested in a new game which
Chara Games has just released after a successful Kickstarter campaign,
3 Seeds.
Some of the Crew members will be reviewing soon, so keep your eyes out on the Crew Blog for those reviews. It looks like it could be a nice option for a stocking stuffer if you do those, or even a shared family gift.
Not So Nutty Nitty Gritty
Company: Chara Games
Product:

Commissioned Ages 14+, $44.00
3 Seeds (I don't have the information for this game yet, so check back for the Crew Reviews later)
Please click the banner below to visit the TOS Review Crew and see what others had to say. As always, I hope that this review was useful to you as you choose where best to spend your homeschool budget.


Blessings~