Every now and again we are asked to review items that are more elective

s

vs core. That would definitely be where this latest group

of material falls on the spectrum.
Leadership Garden Legacy
sent me

a set of books, pdf files and mp3 aud

io books

to be used in what I would call a Character Train

ing Course for future leaders.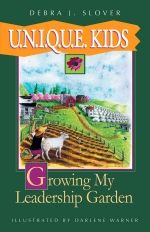 The main product that I used in this set was the book U.N.I.Q.U.E. KID

S

: Growing My Leadership Garden. This paperback book is an 8 chapter allegory set on a farm. The story follows a timid little sheep named Hugh, who learns through visits with the animals on the farm how to harness his Understanding, Nurturing, Inventive, Quality, Unstoppable, and Expression qualities that will help him to develop his own unique style of leadership, based on his strengths. Throughout the story Hugh also learns how to

weed out

weaknesses (or weeds) in his

leadership garden.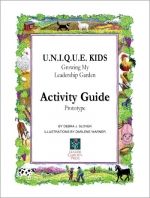 The Activity Guide (pdf file) includes discussion questions and activity suggestions for each chapter as well as "Standards" descriptions if your state requires such integration (thankfully, that section is all Greek to me at this point :) ). There are a number of activities that lend themselves more to classroom use t

han homeschool use, and some of them seemed a little more nebulous than my concrete thinkers were able to appreciate.
Included in the

Activity Guide download
was the Leadership Garden Journal, which includes themed journal and activity pages that are integrated with the activity guide above. I will admit that my children take after their mother and are not great "journalers" so this was not as useful to me at this point in time

.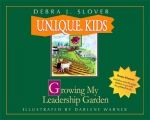 For those who find value in hearing as well as, or instead of, reading an audio version of the book is available as an MP3 download. My children generally tend to prefer to read on their own or listen to me, but I *do* appreciate the option.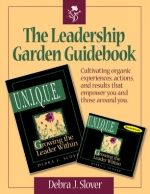 There is an adult version of the book available as well, that is a little more detailed, but follows the same general storyline as the U.N.I.Q.U.E. KIDS book

:

U.N.I.Q.U.E. Growing the Leader With

i

n

.
The
Leadership Garden Guidebook contains similar materials to the children's Activity book and Journal, but on a higher level.
One of the tools that I particularly enjoyed using (for myself as well as my children) was the Leadership B

a

lance Wheel which gives you an idea of where your strengths together with areas that could use strengthening in order to be more well-rounded.
There are definitely things to appreciate about this story and the many of the lessons found there. The whole thing sort of struck me as a response to the helpless victim mentality that we so often see in society today. Rather

than being

a generation of responsible and capable people, so m

any in

our society

today

seem not to know what to think or do. As a result they just let life happen to them, instead of taking charge of their lives. Many of

the lessons covered are an attempt to help alleviate that sense of helplessness and apathy.
I see

a rather significant caveat to these books as a follower of Christ~
Because the secular world also needs guidance in leadership qualities it seems that this

course

may have been written to allow for inclusion in

a public classroom. In order to do this, it appears that
the humanistic tenden

cy of so many

self-help books today,
the power of positive thinking,

has slipped in

as the cornerstone of success.
There is a bit of a tightrope walk that in my mind is difficult to accomplish without mentioning

faith in God and HIS strength

. . .

positive thinking will only take one so far. It can be a powerful TOOL, but the real power comes in acknowledging that "I can do all things through Christ, who strengthens me" Phil

ippians 4:13.
What I'm trying to say here is that while I wouldn't throw the baby out with the bathwater here

, I would proceed with the understanding that I may wish to supplement the lessons with Biblical principals as well.
Not So Nutty Nitty Gritty
Products and

Prices:

Physical Books:
Leadership

Garden

Legacy

is offering the TOS Community a

"Spring Special Discount"

of

20% on all their Empowerment Tools

.
This is in addition to their already discounted Tool Kit bundles.
To receive your discount, enter the discount code:

TOS-SS20D

upon checkout.
This is a limited time offer and the code will expire on May 31, 2013.
With the bundle price of the Family Empowerment Tool Kit and the TOS extra 20% discount this is a $28.70 TOS savings off the retail price of the products.
I can see pulling this out every couple of years as a refresher/review

in addition to a picture of progress made.
Please click the banner below to visit the TOS Review Crew and see what others had to say. As always, I hope that this review was useful to you as you choose where best to spend your homeschool budget.