I am a fan of many things natural, and NOT a fan of wearing most makeups (in part because they aren't natural....). I had heard of mineral makeup for a few years, but never got around to trying it (because, quite frankly, I don't tend to wear makeup much these days). However, I have been curious about mineral makeup in general, and was grateful for the opportunity to try it out, as part of The Old Schoolhouse Review Crew. The possibility of trying out makeup with a list of ingredients I could easily identify~ novel concept! :D I was also interested in how my daughter would fare with it. She's not a makeup wearer either, but as a competitive Irish Step-dancer, at some point, makeup will become a little more necessary, so this seemed like a good time to try it out on her. :)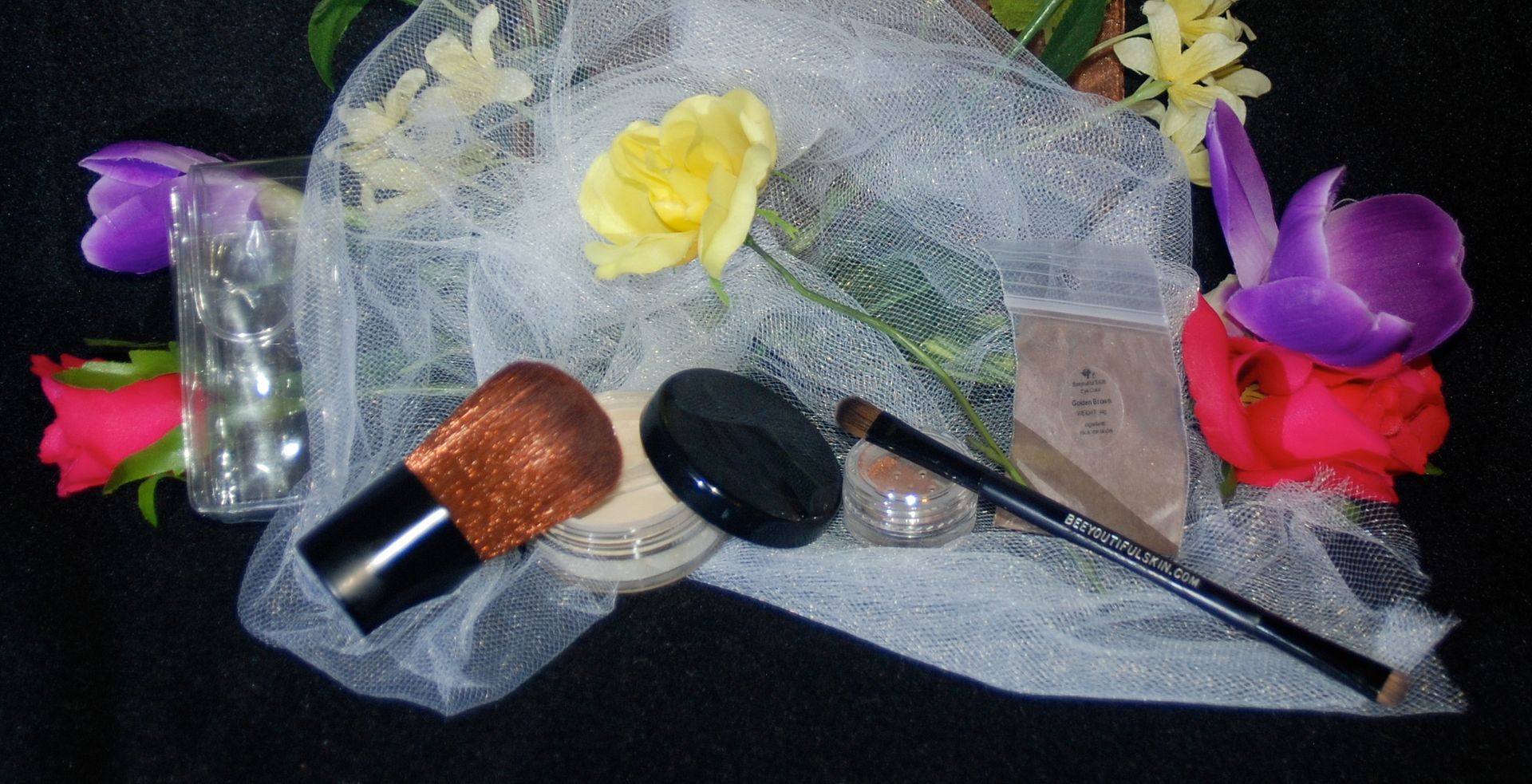 We received items similar to those in the photo above~ A Foundation Brush, Foundation (I chose Isabella), and eye color (I chose Apricot Shimmer~ which I also used as a blush and Lip Color), a multi-purpose brush, and a small ziplock baggie with a sample of another eye color (I chose Harvest Oak).
On of the fun things about this review (Since I'm not much of a makeup wearer...) was choosing the colors to request. After perusing the
Foundation/Skin color chart,
we were sent three of the tiny sample baggies of foundation to help us choose the correct shade for our skin. I had a girls' night out with a friend, and I appreciated her help in choosing the foundation color, as well as the 2 eye colors (There are 48 shades to choose from, so help in narrowing it down was a good thing in my case!). The gold shimmer was certainly a temping option~ how fun.
However, because I tend to go au'natural, I wanted to choose shades that would be very earthy and natural looking for me. Apricot Shimmer seemed a to be a good multi-purpose choice for eye/lip/cheek color, and the Harvest Oak was a rich, darker shade for "eye-liner" purposes.
BeeYoutiful Skin has a series of videos on their site that show
how to apply mineral makeup
, if this is something with which you are not familiar. I found the instruction to be very useful, as I felt I was a bit of a novice in this arena. ;) The powders are all 100% finely ground minerals with no fillers, so the amount necessary to "cover" is pretty tiny compared to traditional foundations.
Here is a before/after picture of me :
What I liked:
Lightweight
Smooths out skin tones
Color choices
"Shimmer" in eye/lip/cheek colors
Very "Natural" appearance~ not heavy caked-on look.
What I didn't care for
Seemed to accentuate puffiness under eyes
Accentuated large pores on my face (Can't see that in the pictures, really, but I noticed)
The feeling that I was wasting minerals when applying to my face and a fine dust would come of the brush (Even after tapping it a bit)
and a before/after picture of my eldest:
Her thoughts:
"I don't like makeup! Any Makeup! Do we have to do this?"
"Do you have to take pictures?"
She did mention a little tingly sensation on one cheek after applying the foundation powder, so she may have a sensitivity to one of the minerals, but there was no rash or breakout. She also refused to keep the makeup on, and rinsed it off as soon as we were done with the photos. Funny girl! :)
My thoughts:
I'm pleased that she's not into makeup in general, but upon occasion, when called for, I think that the mineral makeup is very light and natural, and creates a lovely polished look~ don't you agree?
I'm happy to have an alternative to the makeups of my youth for my daughter. She's not terribly interested in wearing it at the moment, and that's just fine, but if she ever changes her mind, it's nice to know that this is out there for her.
Not So Nutty Nitty Gritty
Product:
This mineral make-up is pure, 100% minerals with no fillers, and it is even gluten-free.
Ages: Teens and moms... ;)
While we (or rather, *I* ) had fun playing around with the mineral makeup, as did some other TOS Review Crew members, there were a number of Crew members who received either a skin care package or a more "Health/skin care" package. Please consider clicking the banner below to read more about their experiences. As always, I hope that you enjoyed this review~ it was a fun one for me to bring to you! :)
Blessings~
Disclaimer: I received this/these item(s)/service for free as part of the TOS Review Crew Program. I was not required to write a positive review. The opinions I have expressed are my own. I am disclosing this in accordance with the Federal Trade Commission's 16 CFR, Part 255: "Guides Concerning the Use of Endorsements and Testimonials in Advertising."