Perfect timing once again~ This year my eldest is in 9th grade, and we need to be making sure we have good solid courses to enter on her transcripts. Literature is one of those subjects that I wasn't sure exactly what to do, so it was wonderful when we found out we were to receive a literature course from
Everyday Education
to review. The course we received was
English 1 Introduction to Literature with Honors Option
. We were given the ebook version for review.
I will preface this review by mentioning that we were only given enough time to fully complete the first unit, which was a
short story
unit, so I'm not able to be as thorough in my thoughts and assessment as I normally like to be, given that the majority of the units are dealing with
novel length
literature.

The basics of the program~
Each unit is broken down into 4 weeks of reading, analyzing, and writing. The first 2 weeks in most of the units are spent reading the novel(s) and beginning to analyze them. This is done in a number of ways.
Janice Campbell has pulled together extensive resources to encourage the students to read, listen to and watch material that will enrich their understanding of the historical, artistic and literary events and times that shaped the author's worldviews.
Each unit (With the exception of the 1st
Short Story
Unit) requires an Author Profile as well as an essay of one variety or another. In Unit 1 the required essay is a "Compare and Contrast" essay. Other Units require essays that answer a specific question or are historical in nature.
Other assignments include taking on the voice of the author and writing in their style. I am interested to see how these future assignments go over with my avid reader/reluctant writer.
Here is a list of the literature covered in this first year program: you can see that this is no
lightweight
Literature program~ it is indeed college prep-worthy!
Unit 1
: Short Stories by-
• Sarah Orne Jewett: A White Heron
• Edgar Allen Poe: The Purloined Letter (Not scary, if you're concerned about that.)
• Guy de Maupassant: The Diamond Necklace
• O. Henry: The Ransom of Red Chief
• Eudora Welty: A Worn Path
• James Thurber: The Secret Life of Walter Mitty
Unit 2:
Around the World in Eighty Days by Jules Verne
Honors: 20,000 Leagues Under the Sea by Jules Verne
Unit 3:
A Connecticut Yankee in King Arthur's Court by Mark Twain
Honors: The Prince and the Pauper by Mark Twain
Unit 4:
Jane Eyre by Charlotte Brontë
Honors: Shirley or Villette by CharlotteBrontë
Unit 5:
Pygmalion by George Bernard Shaw
Honors: Murder in the Cathedral by T.S. Eliot
Unit 6:
Treasure Island by Robert Louis Stevenson
Honors: Kidnapped by Robert Louis Stevenson
Unit 7
: Animal Farm by George Orwell
Honors: 1984 by George Orwell
Unit 8:
The Tempest by William Shakespeare
Honors: A Midsummer Night's Dream by William Shakespeare
Unit 9:
Gulliver's Travels by Jonathan Swift
Honors: The Pilgrim's Progress by John Bunyan
Now for some pros and cons~
Pros:
This course is mostly intended to be done independently. This is very appropriate for students heading towards college, and it doesn't hurt those who have other plans either. Taking responsibility for their time and work is always a good ethic to instill. The main job of the homeschool parent is to make sure that the work is being done, and to offer a little support and guidance when necessary.
I really appreciate all of the "Behind the scenes" work that is suggested. It makes the literature more accessible, interesting, and alive when one has more background.
Many resources and links are included for background author information, audio options, visual resources, music and other online information. How handy not to have to scour the internet ourselves!
In this case, I enjoyed the ability to add the ebook to my eldest's itouch library, so that she always had the ability to look things up quickly and on her own.
I am fairly impressed with the selections required for reading~ good classic literature is... Good! :) (Learn more about how Janice chose the literature for the course in her blog post)
Cons:
This one is a little nit-picky, but the links provided don't always seem to be directly clickable for some reason. They appear to require copying and pasting if they comprise more than one line of text, which isn't unreasonable, just not as seamless as I might hope.
Another nit-picky item~ Many times the assignment schedule starts on one page, and ends on the next. I would like to see this organized so that the assignment schedule for each unit is completely on a single page, so that we can see at a glance what needs to be accomplished. It would be nice to be able to print up just one assignment page for each unit to add to her schedule (clearly, I CAN copy and paste and make my own assignment page... see, I told you this was nit-picky.... ;) ).
We were not able to locate a copy of any recommended writing handbook in time to use it to help complete any of the assignments before this review was due, so I am sure that there are things that would have been a little easier if we had had the book in hand. I do not recall ever writing an "Approach Paper", or actually, several of the other styles of essay required for this course, so I am glad that our writer's handbook is enroute to us. I have heard from local friends that Writers, Inc is VERY good, and that they use it on a weekly if not daily basis. However, this is not really a CON for the program, just my particular situation during the review period.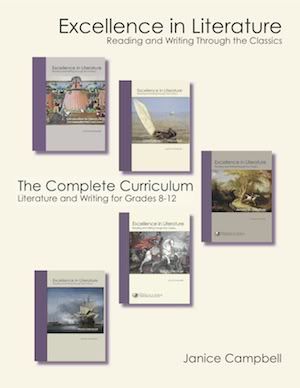 You can download a
sample unit
(Unit 3 A Connecticut Yankee in King Arthur's Court by Mark Twain)
to get a feel for the course. (Thank you, Janice! Love the
try it before you buy it
option!)
Now the rest of the Nitty Gritty
Age: The entire curriculum covers
Literature and Writing for grades 8-12
, and comprises 5 separate levels. You can download a pdf of the complete course booklist
here
.
The individual levels are:
English I: Introduction to Literature (The one we reviewed)
English II: Literature and Composition
English III: American Literature (Co-published by Andrew Pudewa of IEW)
English IV: British Literature (Co-published by Andrew Pudewa of IEW)
English V: World Literature
Price: Each unit is available with 2 options:
Print version $29 +$4.95 Priority Mail or
Ebook version $27 and no shipping, obviously. :)
There is also an option to purchase The Complete Curriculum
Print Version (In a professionally printed binder with tabs) $139 + Shipping ($10?)
Ebook Version $135 and no shipping (This brings each year's course down to $27!)
To sum up, I feel that this course would be perfect for the student who is motivated and responsible. It would be good for the student who is interested in and curious about the way people think. I believe it would also be beneficial for those students who aren't naturally inclined towards diligence and structure, if used correctly and with a little more parental guidance.
As always, I hope that this review is helpful to you as you choose where best to invest your time and money as you go about the business of training and teaching your children. For more opinions, please be sure to swing by the
TOS Crew blog
and see what others had to say.
Blessings~
Disclosure of Material Connection: I received this/these item(s)/service for free as part of the TOS Crew Review Program. I was not required to write a positive review. The opinions I have expressed are my own. I am disclosing this in accordance with the Federal Trade Commission's 16 CFR, Part 255: "Guides Concerning the Use of Endorsements and Testimonials in Advertising."