I was one of the TOS Crew members selected to receive the ENTIRE
Eclectic Education Series
(as a free download for review, vs the CD's that that paying customers will receive). Now this is a HUGE amount of information, and comprises more or less the potential for an entire K-12 education, so this review will be based upon generalities, and only a few specifics, as there is no way I could look at it all.
For those who are looking to replicate the education of our forefathers, The Eclectic Education Series should fill the bill. From the Dollar Homeschool Website:
The Eclectic Education Series (EES) is a set of textbooks which from roughly 1865 to 1915 WAS education in the United States, almost exclusively. They were the standard textbooks in many states and were chosen independently by over 10,000 school boards as their standard textbooks.
The books included in this massive collection include(In Dollar Homeschool's categories)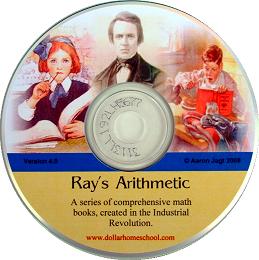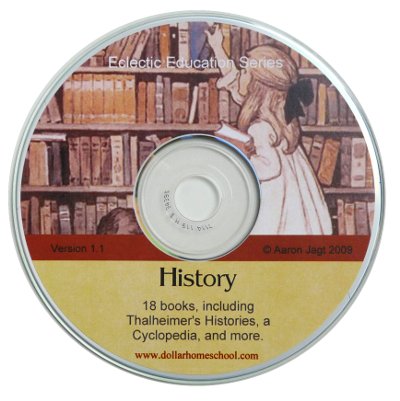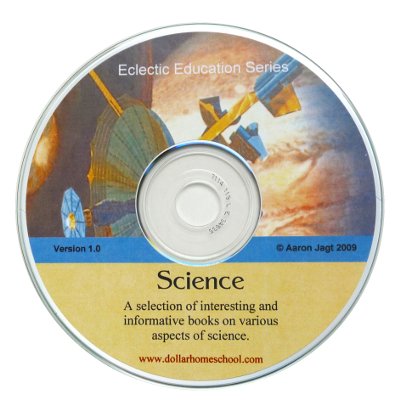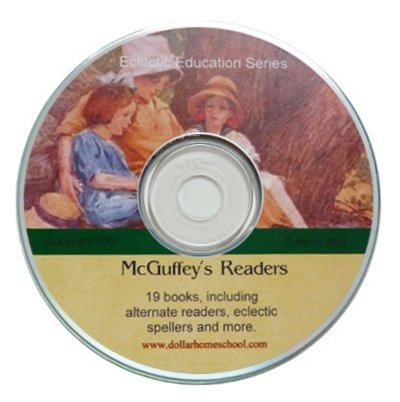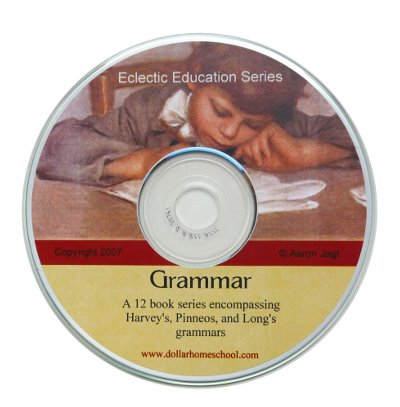 MATH~(39 books) The entire Ray's Arithmetic series (covering primary arithmetic all the way to calculus) and MORE... if you click on the "Math" link and scroll to the end, there is a listing of every book included on the CD.

HISTORY and SOCIAL STUDIES~(18 books) A variety of histories and historical studies (Thalheimer, Cromwell, and the Constitution) as well as a "Progressive Course in Reading" and "Good Morals and Gentle Manners" among others.
SCIENCE~ (13 books) Norton's Sciences and others, including unusual titles like "Complete Book Keeping" and

"Schuyler's Principles of Logic

".
McGUFFEY'S READERS~ (19 books) Beyond the Eclectic Readers, I had no idea that there were also "Eclectic Speaker" and "Eclectic Speller" books, and more.
THE GRAMMAR SERIES~ (12 books) including "Long's Language", "Pinneo's Grammar", and "Harvey's Grammar"
TEACHER'S BOOKS~ (3 books, included on the Science CD) The Manual of Methods, Successful Teaching in Rural Schools, and a "Question Book"
So, by my count this encompass over 100 complete books. Like I said, a LOT of information. (You can find a complete list and descriptions
here
.)
Pros:
Includes pretty much all the material needed to complete a formal education from K-12

All in one set of CD's (not taking up huge amounts of bookshelf space!)
In comparison to other complete curriculum, fairly inexpensive
Sometimes neglected topics like "manners", "logic", and "speaking" are included
If you enjoy books written in an old-fashioned style like Charlotte Mason's books, you'll likely enjoy the Teacher's Books.
The ability to print out and/or use only portions of the books at a time.

Cons:
While some of the topics are "Timeless" by which I mean the fundamentals are the same, like Ray's Arithmetic and McGuffey's Readers, I had a hard time with the Thalheimer Histories, which were very dry bulleted lists. I would also have a hard time with teaching a science course that doesn't include the last hundred years of discoveries....
Because these are scanned images, rather than computer generated, there are sometimes issues with the quality of the scan(I'm assuming that is the cause). What I couldn't quite figure out was why it seemed to be an issue more with the earlier McGuffey's Readers, where illustrations that are often integral to the lesson were barely discernible. On the other hand, the images in the science texts that I checked out for comparison seemed to be fairly regularly clear. If you are seriously interested in McGuffey's Readers, tho', I would recommend finding a print version with clear illustrations.

If you prefer more "modern" prose and instruction, as compared to the style of the 1800's, then these may be a little thick for you to slog through.
Likewise, if you don't appreciate an old-fashioned type-face, these may be difficult for you to read on a regular basis. (Ok, so maybe I'm odd, but sometimes my ability to concentrate gets waylaid by an odd typeset or font....)

For those that dislike teaching from a computer, and would rather have a "hard copy" book in their hands... these are definitely NOT for you, unless printing isn't an expense that you worry about.

My final analysis~
Much of what is contained in these books doesn't really fit * my style * of teaching (or learning), but it could be modified. While much of what is included is scripted in old-style language, that could either be changed, or used as a "hook" to gain your student's interest. (Like... "Why is mom talking like that, with those funny words like "hence"?" )
This could be exactly what a number of you may be looking for in a very "no frills", old-fashioned sort of education...
I would definitely look elsewhere for science and history spines, and use those that are included as occasional supplements. I certainly thought that the Nature Book on the Science CD would be a nice supplement to those doing a nature study, particularly in conjunction with Anna Botsford Comstock's "Handbook of Nature Study" (She wrote the preface to the Nature Book).

I can't speak to the numerous books included that are High School level, as I haven't gotten there yet (My oldest is only 12). My guess is that Ray's Arithmetic would be a good fit for a self-motivated student, and that the Grammar books would be good references as well.
So just exactly how much money are we talking about here?
Well, the entire set (Over 100 "books") is available for $159
If you are only interested in one or two of the series, you can purchase the Ray's Arithmetic CD for $59, and each of the others is available for $39.
Satisfaction is guaranteed, with a full 30 day refund if you aren't happy.
Be sure to check out the rest of the
TOS Crew mates' reviews
to get a more complete picture if you are interested, as this could be a very economical purchase for the right family, and I know that a variety of opinions may be useful.
As always, I hope that this review has been useful to you as you consider where to best spend your homeschool budget.
Blessings~
Disclosure of Material Connection: I received this item/service for free as part of the TOS Crew Review Program. I was not required to write a positive review. The opinions I have expressed are my own. I am disclosing this in accordance with the Federal Trade Commision's 16 CFR, Part 255: "Guides Concerning the Use of Endorsements and Testimonials in Advertising."